This Audio-Technica AT-LP120XUSB review is about an inexpensive but exciting deck. In fact, it is a replacement for the original AT-LP120USB, released in 2009, which has already gained advanced positions among audiophiles. The new version can suit even professional DJs, but for home audio, some additional features will pleasantly surprise you.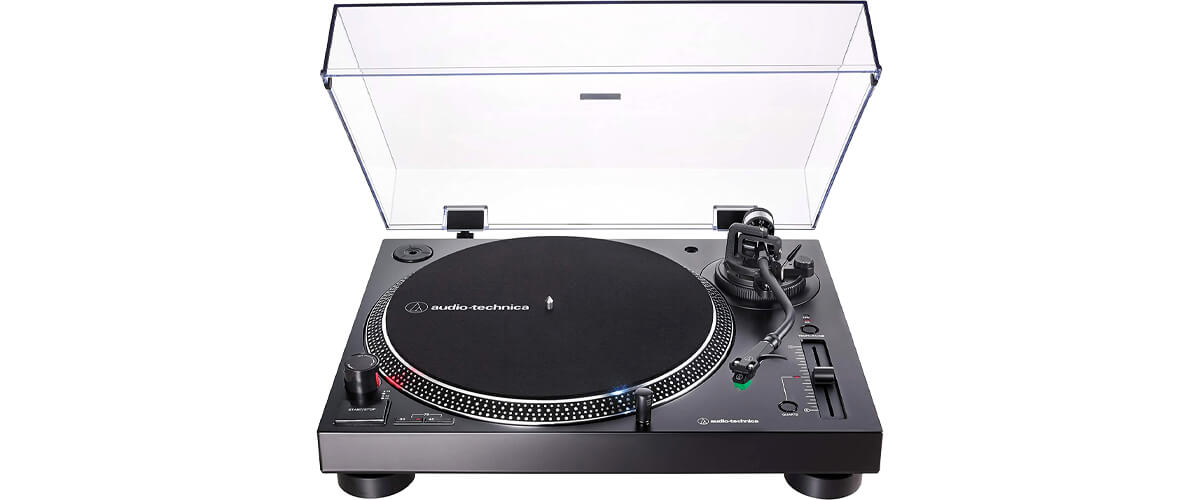 We see an elegant record player in a modern style with a matte black or silver color of your choice. One of the main functions that turntable designs should provide is stability. And the AT-LP120XUSB turntable does that well. First, the deck has a damped base construction. The 17.6 lbs weight and four feet also provide a certain amount of anti-resonance. The cast aluminum disc and professional-grade felt pad dampen motor vibrations well.
All the necessary controls and buttons are on the case: start/stop, record speed switch, switching the built-in preamp to external, variable pitch control with quartz speed lock. This control will be handy for DJs but will also make it easier for everyday use. So will the balanced metal S-tone arm with hydraulically damped lift control and lockable stop. Of course, carbon tonearms are better, lighter, and more reliable, but such a drawback is perfectly acceptable for this price range.
The LP120XUSB measures 17.80 "W x 13.86 "D x 5.57 "H, so you can place it wherever you like. And you'll find a dust cover and a removable plug-in target light for easy aiming in low light.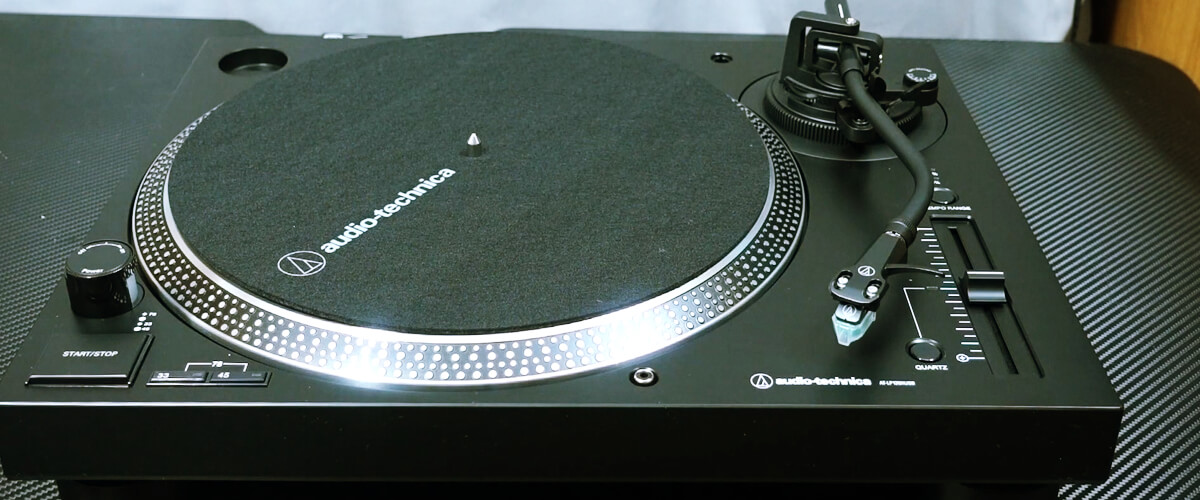 The AT-LP120XUSB vinyl turntable has a DC direct drive servo motor. But it comes with an AC/DC conversion adapter outside the cabinet, which reduces the noise level of the signal circuit. It also has a built-in phono preamp, which saves you money the first time. Although I always recommend buying an external one to improve the sound quality of any deck.
The tonearm with the adjustable dynamic anti-scatting feature is a nice feature that catches my attention. And there's also the phono cartridge AT-VM95E Dual Magnet with an elliptical stylus. It's excellent because it's replaceable, one of the most wearable parts. Moreover, you don't have to worry about what records to put on the LP120XUSB, and it supports all three speeds 33-1/3, 45, and 78 rpm.
Of the extras not often found even on more expensive decks, a USB output connects to your Mac and PC. This option comes in handy when you digitize your favorite records. A USB cable is included for that purpose. There is also a removable RCA output cable for dual RCA outputs.
Considering all the advantages above, I would conclude that this turntable is entirely worth its money. The AT-LP120XUSB is really stable. I didn't need to weigh it down further to avoid vibrations when operating it. The built-in phono stage was also quite good, and the overall picture, in the end, was not just satisfying but pleasing to me. As a test, I chose my favorite Fleetwood Mac, whose compositions have a lot of high and middle frequencies. The deck did its job! The sound is clean and detailed, with even balance, good frequency gradation, and bass depth.
Key specs
Drive type: direct.
Operation type: manual.
Speeds, RPM: 33 1/3, 45, 78.
Phono Pre-Amp: yes.
USB: yes.
AUX: no.
Bluetooth: no.
Speakers: has RCA output.