Whether you're a seasoned audiophile or new to the turntable world, a semi-automatic model may be just what you need to take your listening experience to the next level. They offer a unique combination of convenience and control, making them popular among vinyl enthusiasts. And in this review, I've selected the best semi-automatic turntables on the market that can provide the convenience of everyday listening and high-quality analog sound.
Our pick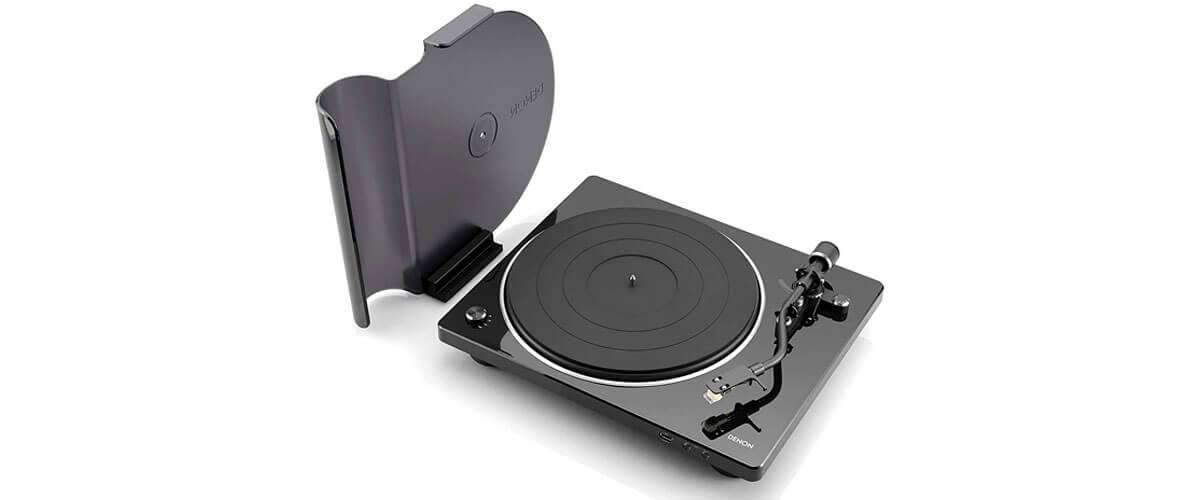 Denon DP-450USB
Best semi-automatic turntable
The Denon DP-450USB can play records at 33 1/3, 45, and 78 RPM, including vintage 78s. It also has a USB-A output for easy vinyl recording onto a USB drive in MP3 or WAV formats. Enjoy your entire collection with ease.
Read the full review
.
Semi-automatic turntables comparison table
Name
Drive type
Operation type
Speeds, RPM
Phono Pre-Amp
Review
Denon DP-450USB

best overall

belt
semi-automatic
33 1/3, 45
yes
Review
Music Hall CLASSIC
direct
semi-automatic
33 1/3, 45
yes
Review
Dual CS 618Q
direct
semi-automatic
33 1/3, 45, 78
yes
Review
Best semi-automatic turntable reviews
My Denon DP-450USB review will seem familiar to those who have already seen the Denon DP-400 model. It is essentially the same player, with the additional function of recording tracks from records to a USB drive in MP3 or WAV format. Otherwise, the decks are as similar as twins, except for the price. The DP-450USB is slightly more expensive. For those unfamiliar with the DP-400, it will be interesting to see the specifications of the two models in one review.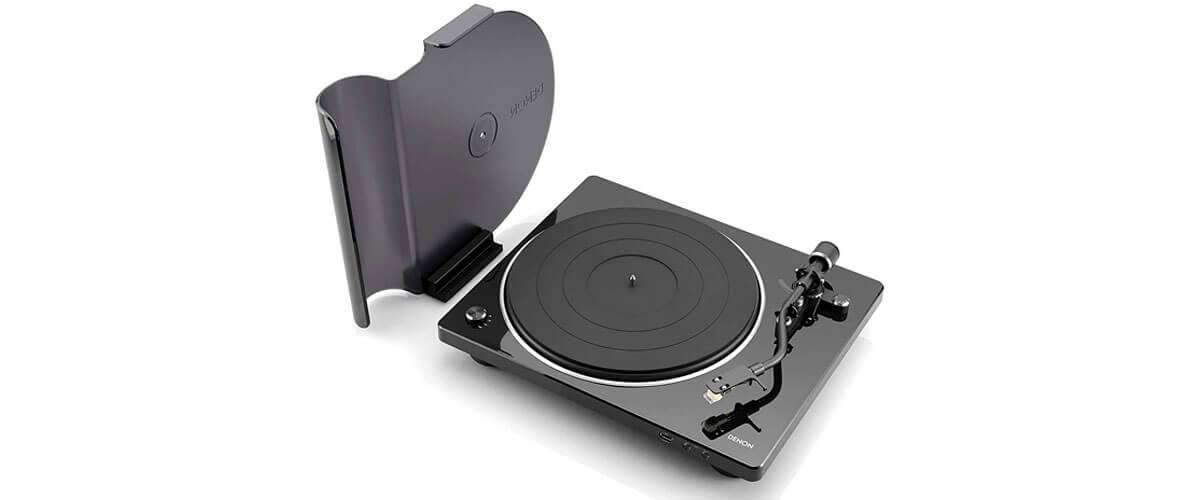 The minimalistic, modern DP-450USB record player looks stunning with its rounded corners. Two color options for the glossy case are White and Royal Black. But I'm covered in a cold sweat at the sight of such a surface, imagining greasy fingerprints accumulating and dust settling on it. So I highly recommend the use of gloves when operating it.
The unique shape of the dust cover deserves a separate paragraph. First, it is not attached to the case but is placed in a special compartment when you remove it. This compartment can also be used as a record cover holder. That said, the deck has a compact size of 16.2 x 13.7 x 5.2 inches, and it would not allow you to place the cover on the turntable unless you remove the record. It is not a problem for me, but I know people who might resent this fact. Secondly, this cover will not fully protect the turntable and only covers the platter and tonearm.
The weight of the turntable serves as stability, protecting your records from external and internal vibrations. The DP-450USB is not very heavy, but it's not light either. Many decks weigh about 12 pounds, and this model is no exception. So I would pick the most level surface to place it on. But to be fair, the cymbal is pretty weighty and will be able to provide extra stability.
The Denon DP is a semi-automatic turntable, so its control lies in the presence of a gear shift knob on the top panel. The narrow front panel has a USB jack and buttons to record in MP3 or WAV format.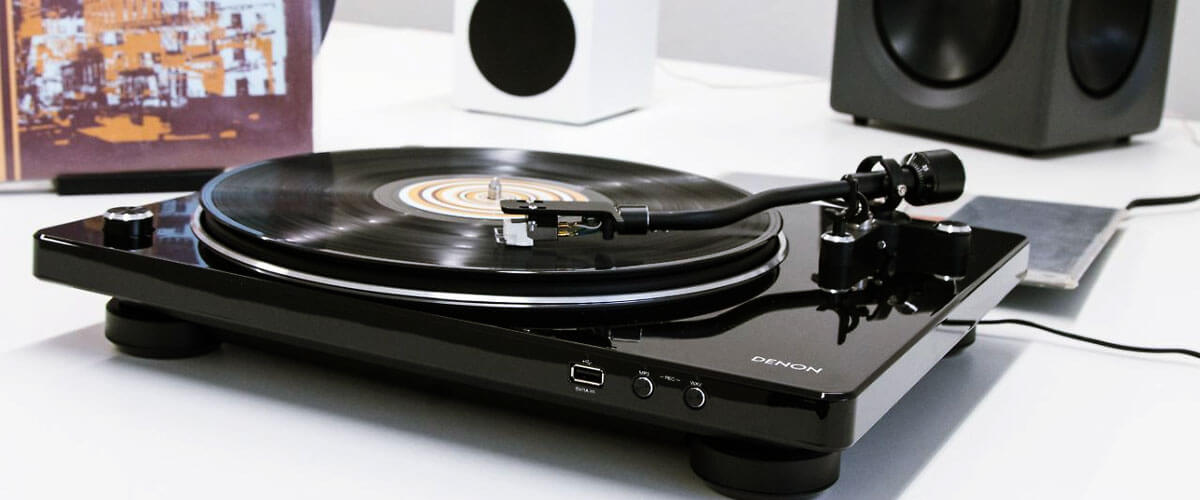 The automation ends there, and you'll have to set the S-tonearm manually. Even if you have no experience, it's no problem. The detailed instructions, in my opinion, will be understandable even to a child. And some fiddling with the deck at the first stage definitely brings you closer, I know from my experience.
The Denon turntable comes with a DC motor, which proved to be wonderful in operation, demonstrating a smooth rotation. But you probably noticed no Start/Stop button on the case. It is not a problem because the automatic shutdown function will do everything if you listen to the end of the record. For those who don't need it, there is a control to disable the function on the back panel. But when I wanted to turn the record in the middle, I was in for a surprise. After returning the needle to the tonearm, the disc continued spinning instead of stopping as I expected. So I had to turn it off manually.
I don't like worrying about the record's format and matching it to my deck. So I appreciated that the DP-450USB plays records at the three available speeds of 33 ⅓, 45, and 78 rpm. Also, if you don't plan to invest extra in the deck, a plus for you is the built-in phono stage, which is surprisingly not as bad as most built-in counterparts. Of course, you can connect an external phono stage of your choice. The mode switch on this model is called Phono Equalizer, but don't let that confuse you. In On mode, you activate the linear signal. It is also worth noting that if you decide to optimize the cartridge to audiophile MC, it will not work with the built-in phono equalizer.
The cartridge itself remains to be mentioned. It is a Denon MM with a DSN-85 stylus with a diamond tip. I'd say it's good or very good. I'm confident in its durability, accuracy, and sound extraction quality. But of course, there are better options, and it's up to you to decide if you need the extra cost. Unless you're a sophisticated connoisseur, I wouldn't recommend replacing it immediately. But know that you can change it anytime you want.
Even in its basic configuration, the DP-450USB sounds lovely. It has really good components that make a difference in sound quality. Not the finest in the world, but very good. The player has a smooth, warm sound, excellent tonal range, a variety of bass, and excellent midrange and treble. I did not find any extraneous noise or obvious faults. But remember that by replacing some components, it can still be improved.
If you, for example, want to spend your money once, take the unit out of the box and start enjoying the analog sound of your favorite records for years, you've come to the right place. The DP-450USB is easy to set up and operate, reliable, quality, and incredibly attractive. It's sure to make your friends jealous. But don't forget to handle it with gloves only!
Key specs
Drive type: belt.
Operation type: semi-automatic.
Speeds, RPM: 33 1/3, 45.
Phono Pre-Amp: yes.
Speakers: no.
Bluetooth : no.
USB: yes.
Aux in.: no.
The Denon DP-450USB is the best semi-automatic turntable in my selection for value for money. The sound is terrific, with crisp, clean highs and rich, deep basses that bring out the best in my vinyl collection. The build quality is also outstanding, and the semi-automatic controls make it easy to use.
Music Hall CLASSIC
In this Music Hall CLASSIC review, you will learn about the semi-automatic record player of the "plug and play" configuration. The company that made it has been producing turntables for so long that using the word CLASSIC really means the traditions of the 60s and 70s of the last century. The deck's exterior also hints at its belonging to the old-fashioned style. Let me tell you more about it.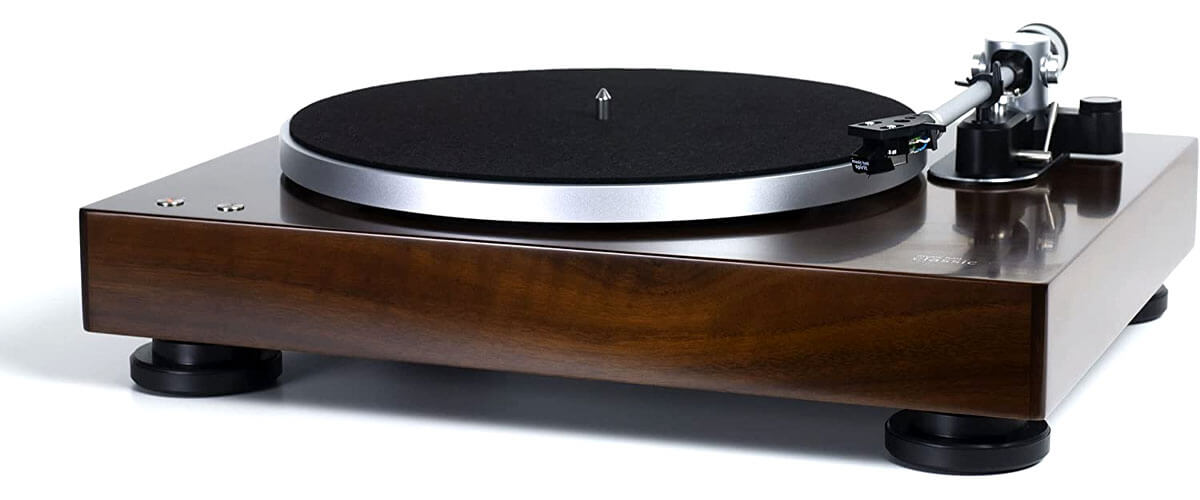 So, the design of the Music Hall turntable is a Solid MDF case measuring 14.5 x 17.1 x 6.2 inches and weighing 15.2 pounds (6.9 kg). These are very good parameters, well enough to provide stability and vibration damping. In addition, an aluminum platter with a felt mat also provides additional weight. Plus, it has adjustable vibration-damping feet. It was immediately obvious to me that the manufacturer knew this was one of the most important aspects and took it into account wherever necessary.
The On/Off and Autostop On/Off buttons are right on the back of the case. It seemed logical because they don't visually interfere and are not buttons you often use. Two neat metal touch buttons are located on the case for shifting speeds, one of which also serves as the Power button. They have barely noticeable blue backlighting, and this small detail reminds me of the player's modernity.
The unique uni-pivot tonearm design is straight, which I don't really appreciate (I think S-shaped tonearms are more accurate), but with a curved removable head (which makes up for my dissatisfaction). You'll have to adjust it manually when you assemble your vinyl turntable. But I can confidently say that it's a fun, uncomplicated process that will only add to your experience if you've never done it before. Music Hall has carefully plotted a line on the back of the tonearm to tell you how to install the counterweight properly. Plus, the instructions are exceptionally detailed. I like messing around with the assembly; it brings me closer to the unit.
I should mention that it comes with a dust cover, which also looks old-fashioned. The color is dark walnut wood veneer finish adds to the style.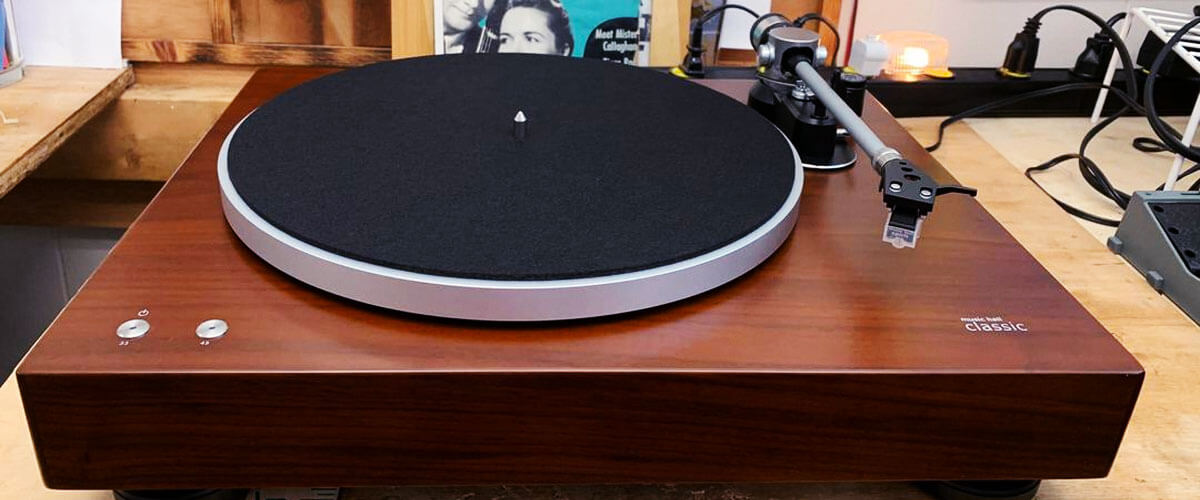 Proceeding to the specifications review, I note that everything is quite expected for the average price category of the Music Hall CLASSIC record player. It has a DC motor, for which there is a 12V, 2A power adapter. It also has a built-in phono stage, which is good if you don't want the extra cost initially. In any case, a Phono/Line switch on the rear panel allows you to upgrade your unit with an external high-quality phono preamp at any time.
It is also quite expected that the turntable supports two rotation speeds. As I've said, the 33 and 45 speeds are switched via buttons. Of the features, I would like to mention the removable Music Hall Spirit MM head with a built-in cartridge, which means you can easily replace it if necessary.
Let me remind you that this is a semi-automatic record player. And here, too, CLASSIC traditions are preserved. There is no return option for the tonearm; it just lifts at the end of the track, and you have to put it back in place manually. But, as I said before, I like the interaction with the technique, so it doesn't bother me. If you want a tonearm return, look for fully automatic models.
As for the sound of the Music Hall CLASSIC, it sounds incredible. It's not a cheap turntable, and one would expect that with a claimed Wow and a flutter < ±0.15% (DIN WTD), it would be good. I have encountered some comments regarding spin speed, but I try to be as objective as possible in my reviews. So I will say that you will not be confused by anything if you are not a connoisseur, not an audiophile with perfect absolute hearing. The sound is clear, detailed, warm, and deep without obvious flaws and tinkling in the upper frequencies, and it has good bass. In terms of value for money, I consider the record player a decent device, especially since you can improve it.
Key specs
Drive type: direct.
Operation type: semi-automatic.
Speeds, RPM: 33 1/3, 45.
Phono Pre-Amp: yes.
USB: no.
AUX: no.
Bluetooth: no.
Speakers: no.
You will be impressed with the sound quality of the Music Hall CLASSIC, even though it is the most inexpensive model on my list. The clarity and warmth of the music are truly remarkable. In addition, the semi-automatic feature of this turntable is a bonus, making it easy to use without sacrificing sound. I recommend the Music Hall CLASSIC for those looking for a high-performance at an affordable price.
Dual CS 618Q
My Dual CS 618Q review is about a turntable designed for experienced audiophiles for whom the sound, the quality of the parts that affect it, and its durability are important. The style, stunning build quality, and old-fashioned exterior will be appreciated by classic lovers, but prepare to empty your wallet. However, looking ahead, this expensive, high-quality plug-and-play record player won't leave many vinyl fans indifferent.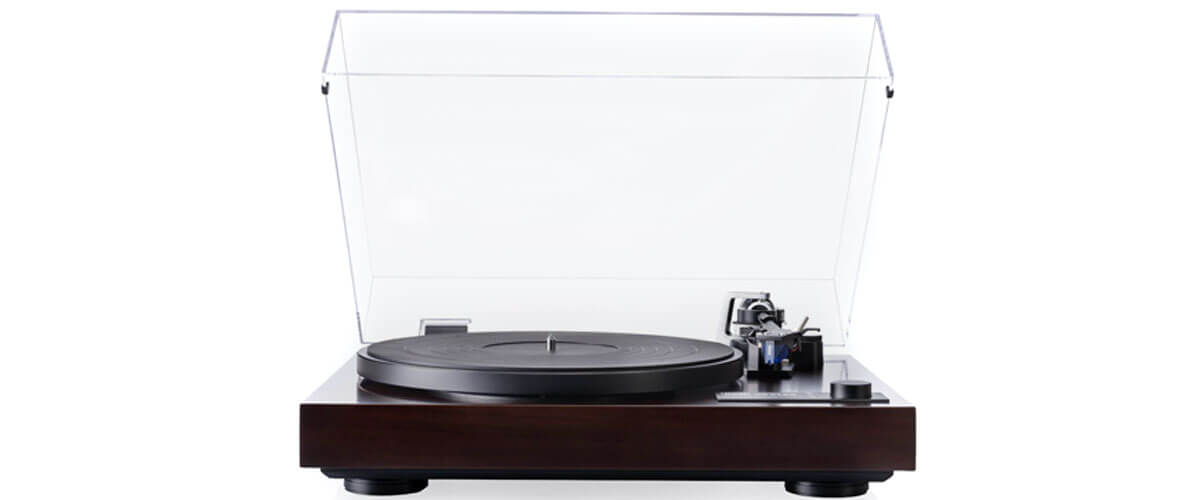 The Dual CS 618Q has a great design. The heavy (15 lb/7 kg) MDF body, complete with an elastomer vibration absorber integrated inside the feet, provides good anti-vibration stability, further enhanced by a heavy cast aluminum platter (3 lb/1.45 kg) with a heavy rubber mat. I didn't experience any difficulty assembling it, so I can claim that anyone can handle it.
The dust cover included in the package matches the old-fashioned style. The three colors of Vinyl Veneer/Black, Gloss/Black, and Veneer/Walnut look incredibly stylish. I had Walnut, and it looks really spectacular.
I wouldn't say I like straight tonearms because of their lack of accuracy, but in this case, I accept that fact. Why? Because many of the finest S-shaped tonearms would ruin the look of the turntable. In any case, the manufacturer somewhat compensated for this shortcoming by placing the detachable headshell at an angle. As a result, the accuracy was also increased. It should be noted that Dual also invested in a solid aluminum construction with a precision rotary ball bearing. And also in the contents of the headshell, but more on that later.
The deck control is automatic, except you must return the tonearm to the holder after stopping the record. On the top of the case, there is a small panel with the model name and a single knob that turns the CS 618Q on, turns it off and changes speeds. You'll find two more Phono/Line, and Autostop off-mode switches on the rear panel, ground spindle, and RCA jacks. Nothing extra, just simple control of the most necessary functions.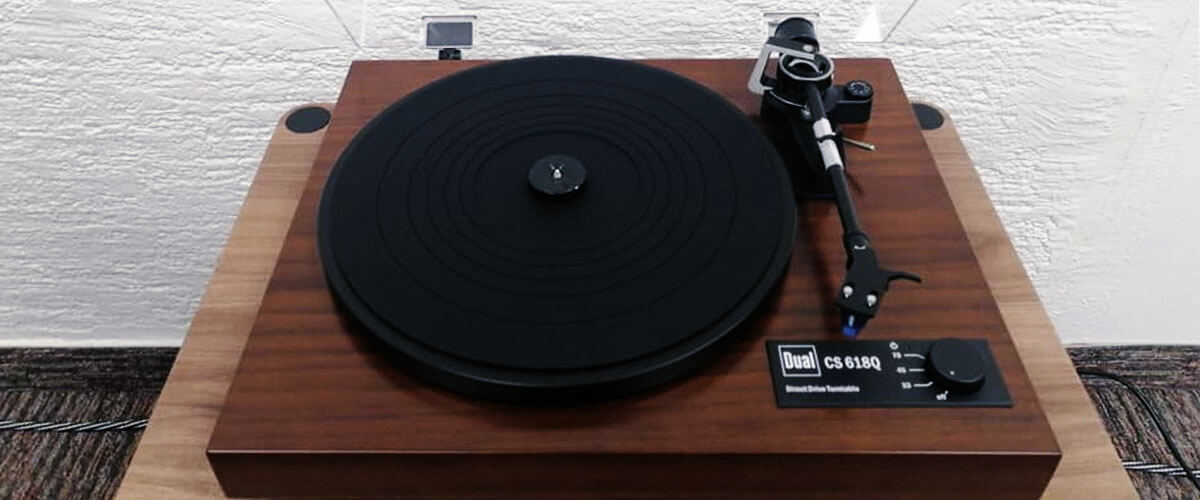 As you would expect, the Dual CS 618Q turntable has excellent specifications. The quartz-stabilized motor with direct drive provides the quietest possible operation. So I didn't hear its operation, only the performer's music and voice. It is a success because such motors usually make noise. Still, in the case of this model, the manufacturer has taken care of coreless inductors and rotor magnets with double shielding. As a result, everything works perfectly.
The manufacturer provided the CS 618Q with a phono stage. And even though external phono preamps are always better than built-in ones, you don't have to incur additional costs. I can't imagine an expensive thing with cheap accessories, so I highly recommend getting an external phono stage over time. Investing in all the parts is better, especially since the sound of the device and the audio system depend on the phono preamplifier.
Of the features, I would like to mention the pre-installed Ortofon 2M Blue cartridge. Considering the overall cost of the vinyl turntable, you'd expect high-quality parts. In addition, it has an anti-skating feature and a tracking force of up to 4g. So, there's no need to talk about a quick replacement here. Instead, your record will stay in one piece for a long time. Plus, the Auto-Stop / Auto Tonarmlift feature also contributes to the preservation of both the needle and the record.
I really like that the turntable supports all three speeds of 33 1/3, 45, and 78 RPM. Unfortunately, many expensive turntables only have two speeds, so you must keep this in mind when buying new tracks on vinyl.
The Dual CS 618Q sounds excellent. Vibration dampening is not just a statement; I did not hear anything unnecessary, I confirm. Skeptics will say that the turntable should not be automatic, but you and I will not argue. Everyone should pick up the technique for themselves, especially - good quality equipment. So, wowed Wow and flutter < ±0.07% (DIN WTD), and the record of the ABBA band shone with new facets. Stunning realism. Each instrument sounded separate, creating a harmonious melody at all frequencies and low bass. I had no complaints. The vinyl player is worth its money, especially if you appreciate quality details. But still buy an external phono stage; I assure you will hear the difference, and you will never regret the additional investment.
Key specs
Drive type: direct.
Operation type: semi-automatic.
Speeds, RPM: 33 1/3, 45, 78.
Phono Pre-Amp: yes.
Bluetooth: no.
USB: no.
AUX: no.
The Dual CS 618Q semi-automatic record player has a higher price than previous models in my selection, but it's worth every penny. Thanks to its precision-manufactured tonearm and the adjustable counterweight, it delivers flawless sound every time. In addition, the sturdy construction and sleek design make it a stylish addition to any equipment. If you're serious about your vinyl collection, this turntable is a worthy investment.
What are the differences between semi-automatic, automatic, and automatic turntables?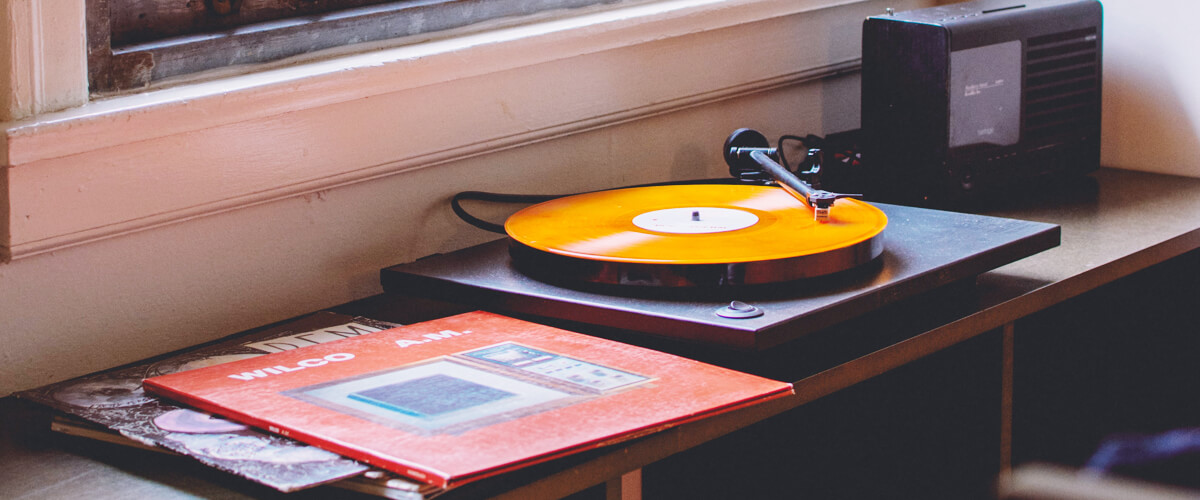 Players come in three basic types: manual, semi-automatic, and fully automatic. Each type has advantages and disadvantages, and choosing which one to use depends on your preferences and specific needs.
Manual turntables require the user to manually raise and lower the tone arm and place the needle on the record. It may be seen as an advantage for some music lovers who enjoy the ritualistic aspect of playing vinyl records, but it may not be ideal for those who simply want to listen to music without too much effort.
Semi-automatic turntables offer a compromise: With a semi-automatic turntable, the user simply raises and places the tonearm on the record. Then, the turntable automatically lowers the tone arm and starts playing the record. When the record is finished, the tonearm will automatically lift and return to its original position. It is an advantage for those who wish to have some control over the playback process but do not wish to watch the turntable all the time.
Fully automatic turntables offer the most convenience, performing the entire playback process with minimal user intervention. The turntable automatically lifts, sets on the record, and lifts again at the end of the recording. It minimizes the risk of damage to the stylus and the record due to user error or mishandling. Such turntables also have an advantage for those with physical limitations that make it difficult to operate the turntable manually.
Regarding sound quality, manual turntables are often considered the best because they have fewer moving parts. Semi-automatic and fully automatic turntables may have more complex mechanisms to introduce additional noise or distortion into playback. However, many high-quality semi-automatics and fully automatic turntables on the market provide pretty good sound quality.
FAQ
What are the main advantages of using a semi-automatic turntable?
Semi-automatic turntables have several advantages over manual or fully automatic turntables. One of the main advantages is that they allow for hands-free operation while providing a certain level of control over the playback process. It means that the turntable can automatically lower the tonearm to the record and raise it again at the end of playback. In addition, they are often equipped with features such as adjustable downforce and anti-skate controls that help reduce the wear and tear on vinyl records, minimizing the chance of accidental scratching or damage. At the same time, they provide better sound quality than fully automatic ones because they typically use higher-quality components and fewer moving parts.
How do I properly set up and calibrate my semi-automatic turntable for optimal performance?
To set up and calibrate the semi-automatic turntable, follow these general steps:
First, place the turntable on a stable surface and level it.
Next, install and level the cartridge and adjust the anti-skate and tracking force.
Then, use the manometer to set the stylus pressure.
Finally, test the playback and make any necessary adjustments for optimum performance.
Do manual turntables really sound better than automatic turntables?
Whether manual turntables sound better than automatic turntables is a personal preference and depends on various factors, such as the quality of components, tonearm, and cartridge. Some people believe (mostly audiophiles) that manual turntables provide better sound quality because they lack the additional components and mechanisms required for automatic operation, which can potentially create noise and vibration. In addition, the manufacturer does not have to sacrifice the quality of the main parts in favor of auxiliary parts. However, high-quality automatic players can also provide good sound quality, and many people prefer the convenience of automatic controls. Ultimately, it is up to the listener to decide which type of player best suits their needs and preferences. And the real difference in sound is most often invisible to the average listener.