In this Crosley C200 review, I introduce you to a reasonably priced, fully automatic deck with awesome features. Moreover, Crosley is quite a popular manufacturer of budget and inexpensive turntables and already has fans worldwide. Thus, this vinyl turntable can satisfy the wishes of many users who don't want to spend a lot of money on a record player. Besides, it doesn't need an additional investment at the initial stage. I'm sure you're already intrigued, so let's get to the fun part.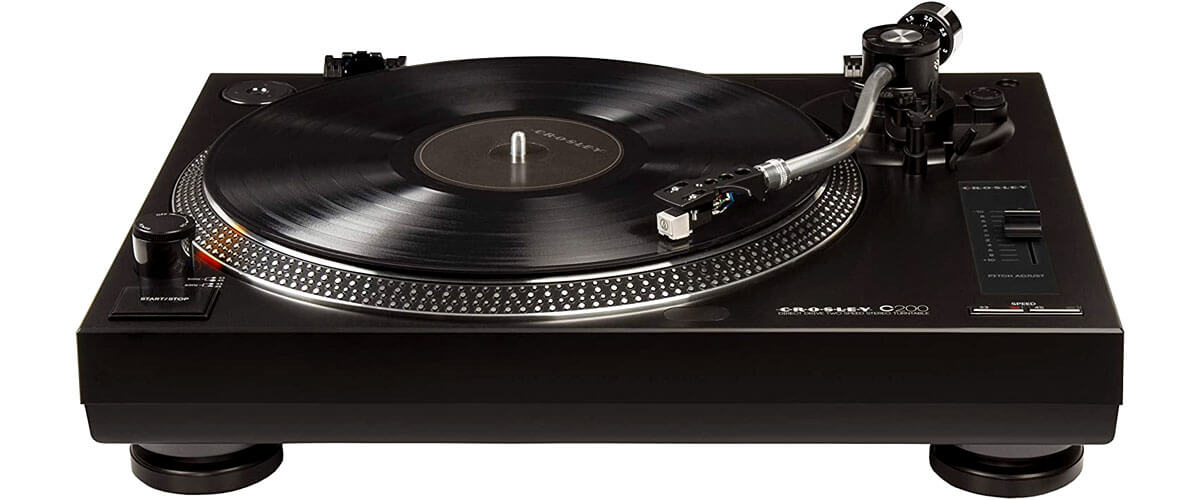 The C200 turntable is incredibly similar to the Audio-Technica AT-LP120 but a bit cheaper. If they were standing next to each other on a shelf in a store, I wouldn't notice the difference at all. It is a sleek black cabinet with strobe dots around the cymbal measuring 17.75″ W x 14.0″ D x 6.0″ H. But its construction is not very heavy. Although the case has nice feet for vibration control, I would suggest further weighting it or placing the turntable on an as flat surface as possible.
The other parts also deserve attention. For example, the cast aluminum disk is quite heavy and will help the record spin smoothly without outright "bouncing". And I would consider the aluminum S-shaped tone arm one of the advantages of the turntable. Such tonearms are clearer than straight ones and are rarely found in inexpensive turntables.
You will find the On/Off switch, Start/Stop, speed changeover, and pitch control from the controls on the body of the deck. Everything is the same as on the AT-LP120, in the same places and shape. Thus, the deck pretends to be in DJ format. However, you can use pitch control even in home conditions if you are interested in it or don't mind learning a new professional occupation, even if it is on an amateur level.
A dust cover and RCA cables included in the package are very short. I would replace them.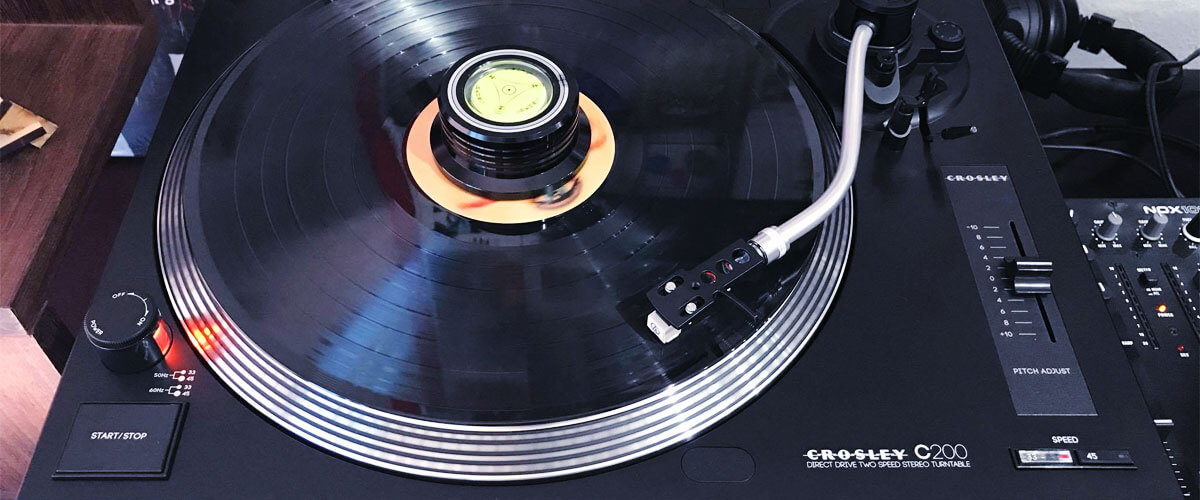 The specifications of the Crosley record player for its price category pleased me. The model with a direct drive motor plays records at 33 1/3 and 45 rpm speeds. I tried both and didn't notice any glaring imperfections that needed adjustment.
The good news is that the turntable has a built-in phono preamp. But it, of course, really hums at high volume. Actually, I didn't expect anything supernatural, and I recommend buying an external one. Especially since you can easily switch the Phono/Line mode on the back of the device, but at first, it will save you money by providing a plug-and-play format.
In addition to the optimal shape I've described, the tonearm is also good because it has a removable head, a pre-installed Moving Magnet cartridge, an adjustable counterweight, and an anti-skate. Very good for the price. I'll chalk it up to advantages.
I don't think this turntable can satisfy the needs of a sophisticated audiophile or DJ. It's not a bad device for users with a limited budget, beginners, or those who do not attach importance to the sound, clinging to every fuzzy note. But on the whole, it sounds good, especially taking into account the, frankly speaking, low-quality preamp. The Crosley C200 plays the melody quite clearly, without outright flaws inherent to inexpensive turntables. It doesn't tinkle in the upper frequencies or hum in the bass, but remember not to turn it up to full volume until you get an external phono stage. And I recommend making it as fast as you can. I'd also advise replacing the cartridge over time, although that may have to wait. Not a bad investment of a little bit of money in something you can upgrade and enjoy vinyl for years to come.
Key specs
Drive type: direct.
Operation type: manual.
Speeds, RPM: 33 1/3, 45.
Phono Pre-Amp: yes.
USB: no.
AUX: no.
Bluetooth: no.
Speakers: no.