In this Music Hall CLASSIC review, you will learn about the semi-automatic record player of the "plug and play" configuration. The company that made it has been producing turntables for so long that using the word CLASSIC really means the traditions of the 60s and 70s of the last century. The deck's exterior also hints at its belonging to the old-fashioned style. Let me tell you more about it.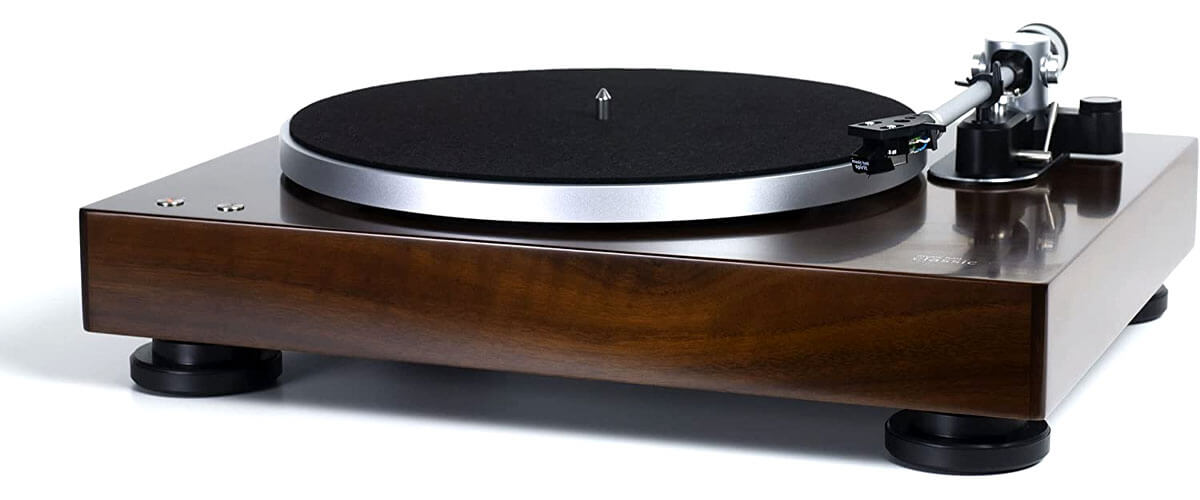 So, the design of the Music Hall turntable is a Solid MDF case measuring 14.5 x 17.1 x 6.2 inches and weighing 15.2 pounds (6.9 kg). These are very good parameters, well enough to provide stability and vibration damping. In addition, an aluminum platter with a felt mat also provides additional weight. Plus, it has adjustable vibration-damping feet. It was immediately obvious to me that the manufacturer knew this was one of the most important aspects and took it into account wherever necessary.
The On/Off and Autostop On/Off buttons are right on the back of the case. It seemed logical because they don't visually interfere and are not buttons you often use. Two neat metal touch buttons are located on the case for shifting speeds, one of which also serves as the Power button. They have barely noticeable blue backlighting, and this small detail reminds me of the player's modernity.
The unique uni-pivot tonearm design is straight, which I don't really appreciate (I think S-shaped tonearms are more accurate), but with a curved removable head (which makes up for my dissatisfaction). You'll have to adjust it manually when you assemble your vinyl turntable. But I can confidently say that it's a fun, uncomplicated process that will only add to your experience if you've never done it before. Music Hall has carefully plotted a line on the back of the tonearm to tell you how to install the counterweight properly. Plus, the instructions are exceptionally detailed. I like messing around with the assembly; it brings me closer to the unit.
I should mention that it comes with a dust cover, which also looks old-fashioned. The color is dark walnut wood veneer finish adds to the style.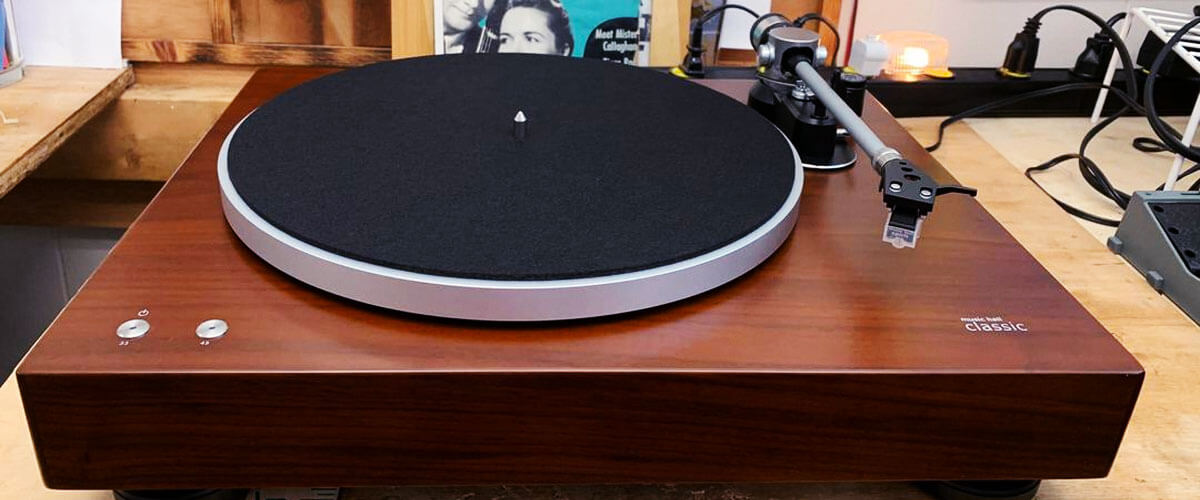 Proceeding to the specifications review, I note that everything is quite expected for the average price category of the Music Hall CLASSIC record player. It has a DC motor, for which there is a 12V, 2A power adapter. It also has a built-in phono stage, which is good if you don't want the extra cost initially. In any case, a Phono/Line switch on the rear panel allows you to upgrade your unit with an external high-quality phono preamp at any time.
It is also quite expected that the turntable supports two rotation speeds. As I've said, the 33 and 45 speeds are switched via buttons. Of the features, I would like to mention the removable Music Hall Spirit MM head with a built-in cartridge, which means you can easily replace it if necessary.
Let me remind you that this is a semi-automatic record player. And here, too, CLASSIC traditions are preserved. There is no return option for the tonearm; it just lifts at the end of the track, and you have to put it back in place manually. But, as I said before, I like the interaction with the technique, so it doesn't bother me. If you want a tonearm return, look for fully automatic models.
As for the sound of the Music Hall CLASSIC, it sounds incredible. It's not a cheap turntable, and one would expect that with a claimed Wow and a flutter < ±0.15% (DIN WTD), it would be good. I have encountered some comments regarding spin speed, but I try to be as objective as possible in my reviews. So I will say that you will not be confused by anything if you are not a connoisseur, not an audiophile with perfect absolute hearing. The sound is clear, detailed, warm, and deep without obvious flaws and tinkling in the upper frequencies, and it has good bass. In terms of value for money, I consider the record player a decent device, especially since you can improve it.
Key specs
Drive type: direct.
Operation type: semi-automatic.
Speeds, RPM: 33 1/3, 45.
Phono Pre-Amp: yes.
USB: no.
AUX: no.
Bluetooth: no.
Speakers: no.