Even though Denon is not exclusively a manufacturer of vinyl turntables, I decided to do a Denon DP-300F review. Because the equipment of this brand deserves attention for its quality, and you will agree, it will be interesting to know what this fully automatic model has to offer.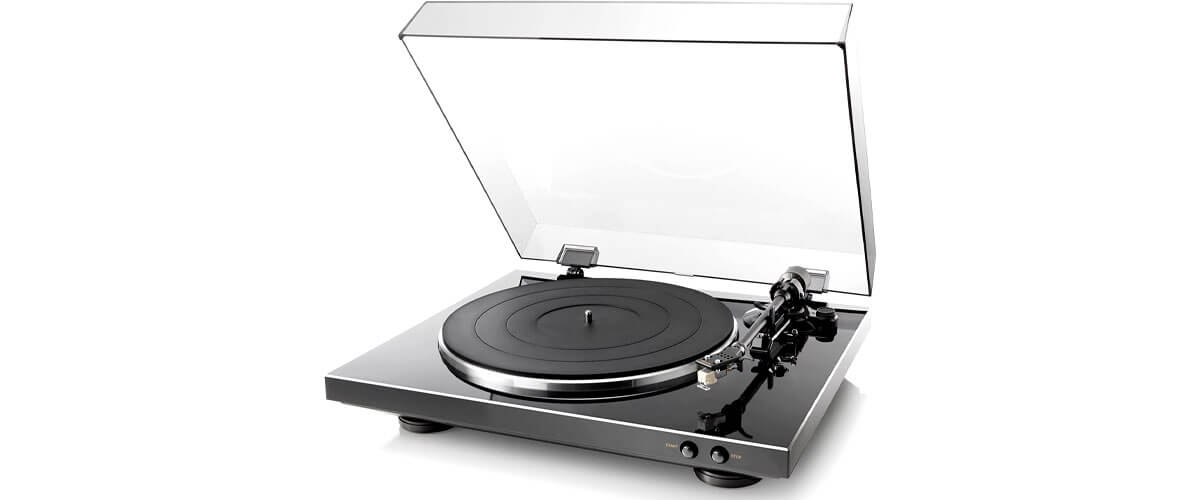 Visually, the Denon turntable resembles the Pro-Ject Debut Carbon. Although you look closely, you can see the differences: the case is not made in Royal Black gloss as it may seem; it is rather a very dark gray. The design is simple and understated. I prefer it because I like discreet things that do not stand out in the interior.
The DP-300F is also inferior to the Debut Carbon in its susceptibility to vibration. However, its 12-pound weight and overall construction on a flat surface can provide ample stability. The cast aluminum platter compensates for this deficiency by providing additional resonance suppression.
There are only two neat Start and Stop buttons on the front panel and next to the platter under the tonearm – the buttons to change the playing speed and record size. However, everything is simple and clear, so it will suit those who dislike tinkering with the equipment or even beginners audiophiles.
The tonearm here is plastic and straight. I would refer to this as a disadvantage. For this price, they could have avoided plastic in such an important and often used part. But I will assume that the manufacturer spared it because you don't have to touch it with your hands. The tonearm is automated as well.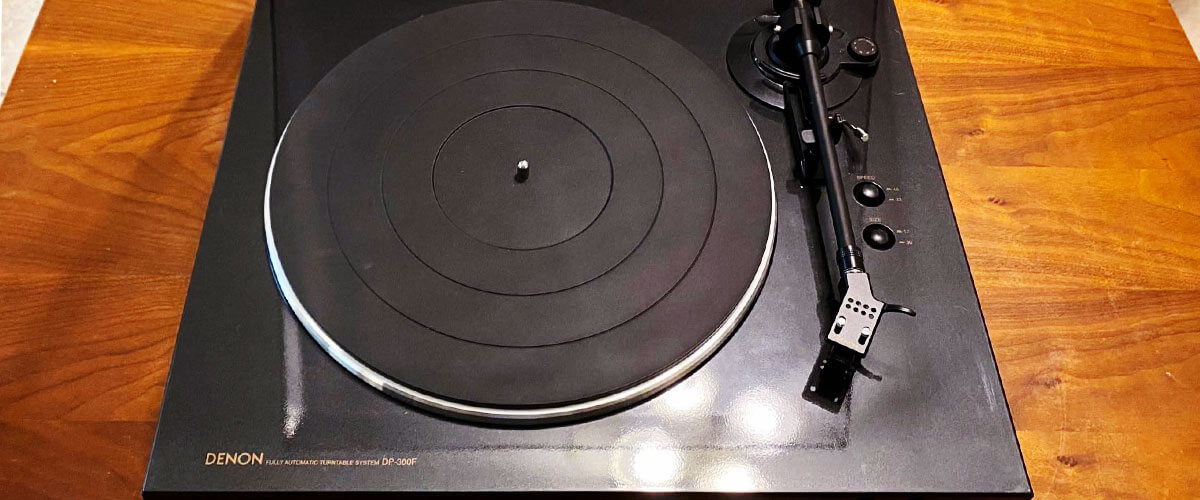 From the general data regarding the design, I would like to note that the deck dimensions are 17,1 x 4,7 x 13,8 inches, the turntable also comes in Premium Silver color, and it also has a dust cover, which I respect.
The DP-300F record player specifications are fairly simple and standard for its price range. For example, it has a DC servo motor, belt drive, and two record speeds of 33 and 45 rpm.
Among the advantages, I would mention the built-in phono stage. Not all decks of this rank have it. The phono pre-amp is expectedly not of the highest quality. But if you choose the turntable by the price criterion, you will not have to pay extra money at the beginning. But later you can buy an external one to improve the sound quality.
Another bonus is the tonearm with a removable head. It has a CN-6518 MM stylus cartridge with a DSN-85 interchangeable needle. And it can be replaced, which is rare on a turntable like this. It is a great option because, initially, the stylus is not the highest quality, which is normal for this price. You can manually place the needle anywhere on the record if this is important to you.
On the downside, I refer to the built-in wires. For me, it does not seem possible not to have the ability to replace the wires at all. That is, in case of breakage, only to repair. But, of course, I may exaggerate; I have a dog, and the wires are my pain. So think about whether it matters to you.
Now a few words about how the Denon DP-300F sounds. It doesn't sound bad, even good, I should say. It is not an audiophile device but produces warm, uncluttered tones even in its original configuration. It lacks a bit of pitch and bass depth, but the overall picture is pleasing to the ear. Nevertheless, the important thing is that by buying a turntable for this price, you mustn't spend more money at first and later invest in details and get a much more advanced device.
Key specs
Drive type: belt.
Operation type: fully automatic.
Speeds, RPM: 33 1/3, 45.
Phono Pre-Amp: yes.
Speakers: no.
Bluetooth: no.
USB: no.
AUX: no.