My Denon DP-450USB review will seem familiar to those who have already seen the Denon DP-400 model. It is essentially the same player, with the additional function of recording tracks from records to a USB drive in MP3 or WAV format. Otherwise, the decks are as similar as twins, except for the price. The DP-450USB is slightly more expensive. For those unfamiliar with the DP-400, it will be interesting to see the specifications of the two models in one review.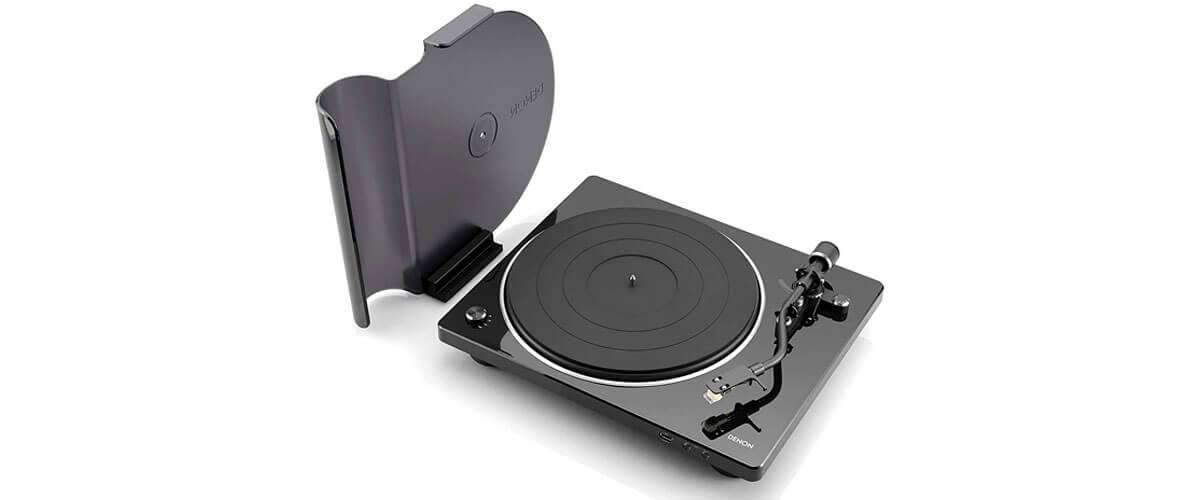 The minimalistic, modern DP-450USB record player looks stunning with its rounded corners. Two color options for the glossy case are White and Royal Black. But I'm covered in a cold sweat at the sight of such a surface, imagining greasy fingerprints accumulating and dust settling on it. So I highly recommend the use of gloves when operating it.
The unique shape of the dust cover deserves a separate paragraph. First, it is not attached to the case but is placed in a special compartment when you remove it. This compartment can also be used as a record cover holder. That said, the deck has a compact size of 16.2 x 13.7 x 5.2 inches, and it would not allow you to place the cover on the turntable unless you remove the record. It is not a problem for me, but I know people who might resent this fact. Secondly, this cover will not fully protect the turntable and only covers the platter and tonearm.
The weight of the turntable serves as stability, protecting your records from external and internal vibrations. The DP-450USB is not very heavy, but it's not light either. Many decks weigh about 12 pounds, and this model is no exception. So I would pick the most level surface to place it on. But to be fair, the cymbal is pretty weighty and will be able to provide extra stability.
The Denon DP is a semi-automatic turntable, so its control lies in the presence of a gear shift knob on the top panel. The narrow front panel has a USB jack and buttons to record in MP3 or WAV format.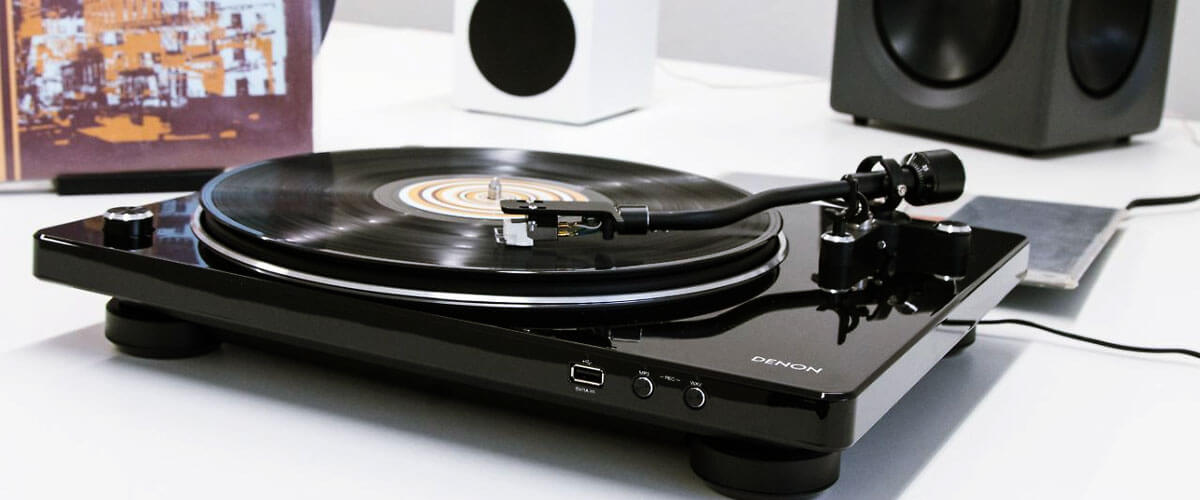 The automation ends there, and you'll have to set the S-tonearm manually. Even if you have no experience, it's no problem. The detailed instructions, in my opinion, will be understandable even to a child. And some fiddling with the deck at the first stage definitely brings you closer, I know from my experience.
The Denon turntable comes with a DC motor, which proved to be wonderful in operation, demonstrating a smooth rotation. But you probably noticed no Start/Stop button on the case. It is not a problem because the automatic shutdown function will do everything if you listen to the end of the record. For those who don't need it, there is a control to disable the function on the back panel. But when I wanted to turn the record in the middle, I was in for a surprise. After returning the needle to the tonearm, the disc continued spinning instead of stopping as I expected. So I had to turn it off manually.
I don't like worrying about the record's format and matching it to my deck. So I appreciated that the DP-450USB plays records at the three available speeds of 33 ⅓, 45, and 78 rpm. Also, if you don't plan to invest extra in the deck, a plus for you is the built-in phono stage, which is surprisingly not as bad as most built-in counterparts. Of course, you can connect an external phono stage of your choice. The mode switch on this model is called Phono Equalizer, but don't let that confuse you. In On mode, you activate the linear signal. It is also worth noting that if you decide to optimize the cartridge to audiophile MC, it will not work with the built-in phono equalizer.
The cartridge itself remains to be mentioned. It is a Denon MM with a DSN-85 stylus with a diamond tip. I'd say it's good or very good. I'm confident in its durability, accuracy, and sound extraction quality. But of course, there are better options, and it's up to you to decide if you need the extra cost. Unless you're a sophisticated connoisseur, I wouldn't recommend replacing it immediately. But know that you can change it anytime you want.
Even in its basic configuration, the DP-450USB sounds lovely. It has really good components that make a difference in sound quality. Not the finest in the world, but very good. The player has a smooth, warm sound, excellent tonal range, a variety of bass, and excellent midrange and treble. I did not find any extraneous noise or obvious faults. But remember that by replacing some components, it can still be improved.
If you, for example, want to spend your money once, take the unit out of the box and start enjoying the analog sound of your favorite records for years, you've come to the right place. The DP-450USB is easy to set up and operate, reliable, quality, and incredibly attractive. It's sure to make your friends jealous. But don't forget to handle it with gloves only!
Key specs
Drive type: belt.
Operation type: semi-automatic.
Speeds, RPM: 33 1/3, 45.
Phono Pre-Amp: yes.
Speakers: no.
Bluetooth : no.
USB: yes.
Aux in.: no.