In this Pioneer PLX-1000 review, I will tell you about an audiophile deck designed for DJs. Professionals often compare it to the famous Technics SL-1200, which are similar in functionality. Say, if you're interested in getting a decent alternative at a lower price, you'll find this review helpful. From a home turntable perspective, the deck is also good, especially considering its durability. How comfortable the turntable is, whether it's easy to handle, how it sounds, and what its advantages are, you'll find out right now.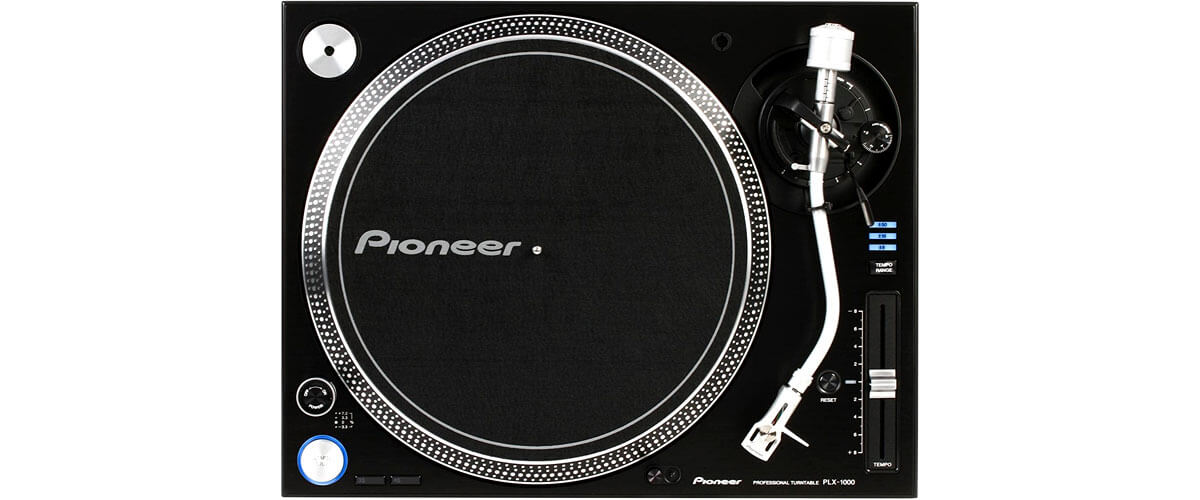 It is no ordinary record player, even for its price range. The solid construction weighs 28.9 pounds and measures 17.8 x 6.3 x 13.9 inches. Thanks to zinc casting and additional bottom reinforcement, it is very resistant to inherent and external vibration. Standard turntables of this rank are lighter and can't provide this kind of stability. You never have to worry about where and how to place the PLX-1000 turntable. Additionally, the cast aluminum platter also ensures anti-resonance stability.
I think the S-shaped tonearm is the finest one because it's incredibly accurate. Plus, it has a tongue on it for easy operation. But why be surprised if the turntable claims to be professional? And I don't think it will take much effort to set the tonearm up. It comes with counterweights for adjustment and a headshell with a detachable weight.
The rest of the control is done with buttons. You can find a backlit On/Off control on the left side, making it easier to interact with the deck on a cozy, intimate evening (for example). Under it, there is a completely silent Start/Stop button, and a little lower the small buttons for switching the records rotation speed. On the right side is the Tempo slide control, which I'll discuss later.
Overall, I can conclude that the controls are quite simple and clear, and the vinyl player definitely claims to serve you for many years. By the way, it comes with a dust cover.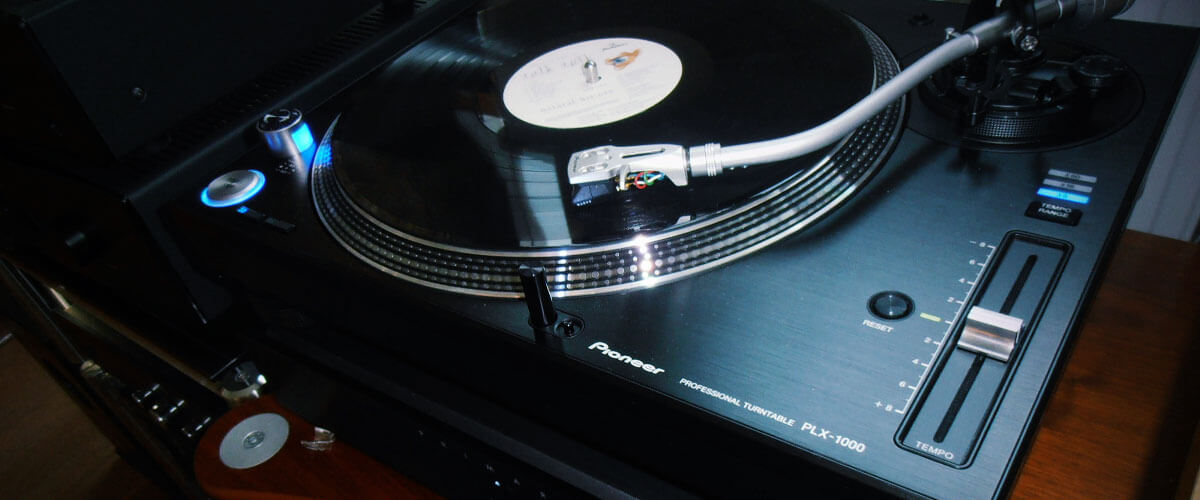 The PLX-1000 specs are worthy of its price or more. The standard two speeds are 33 1/3 and 45 rpm, and there is no built-in phono stage. Perhaps the quartz direct belt drive deserves special attention, as its torque is at least 4.5 kg/cm on start. It's more of a DJ thing, but if you're choosing a deck for the home, you might try experimenting with scratching! The turntable also has a 3-phase brushless DC motor and an electronic brake system.
The tonearm, as I said, is good all around. Thanks to the anti-skating and thick rubber insulation, it provides the most precise control and minimizes errors. A difficult feature to attribute to the pluses is the lack of a cartridge and needle in the kit. Of course, this is because professionals know what parts are ideal for them. So if you want this turntable for your home, you will have to research the issue. This is also an additional cost, so you should be prepared for that. On the other hand, you can put whatever cartridges or needles you want and replace them if you're unhappy with something or it breaks. And that's definitely a virtue of the turntable.
The next feature for DJs is the Tempo slide control, which I mentioned earlier. You can choose a pitch range of +/- 8, 16, or 50%. I tried it, and it works very accurately. Easy to operate, with no click on zero, and there is a pitch reset button.
Regarding the turntable's sound, I can say it was great with all the records I listened to. Among them were Bruce Springsteen, Elvis Presley, and AC/DC. Great detail, tonalities, crisp pickup of sounds, and incredibly deep bass. Note that I used my external amplifier and cartridge; you may have others. The quality of the final result depends very much on them.
It is often written about the turntable that when it is placed close to the monitors of the speakers, it produces a strong hum. I have not tested this fact. So when you install it for playing in a club – try beforehand the distance at which this will not happen.
So, I believe the Pioneer PLX-1000 is a quality DJ for great money. For home, it's a cool, reliable, durable deck that you don't have to fuss with when installing it, but you'll have to invest the extra money.
Key specs
Drive type: direct.
Operation type: manual.
Speeds, RPM: 33 1/3, 45.
Phono Pre-Amp: no.
USB: no.
AUX: no.
Bluetooth: no.
Speakers: no.