I find it interesting to do a Pro-Ject Automat A1 review, an entry-level turntable (as the manufacturer positions it). It is the first fully automatic model of the company, so I want to tell you about its functions, features, and advantages, especially since it has quite an affordable price. The deck is handmade in Germany, including almost all components, and is an elegant minimalistic plug-and-play device. Let's go!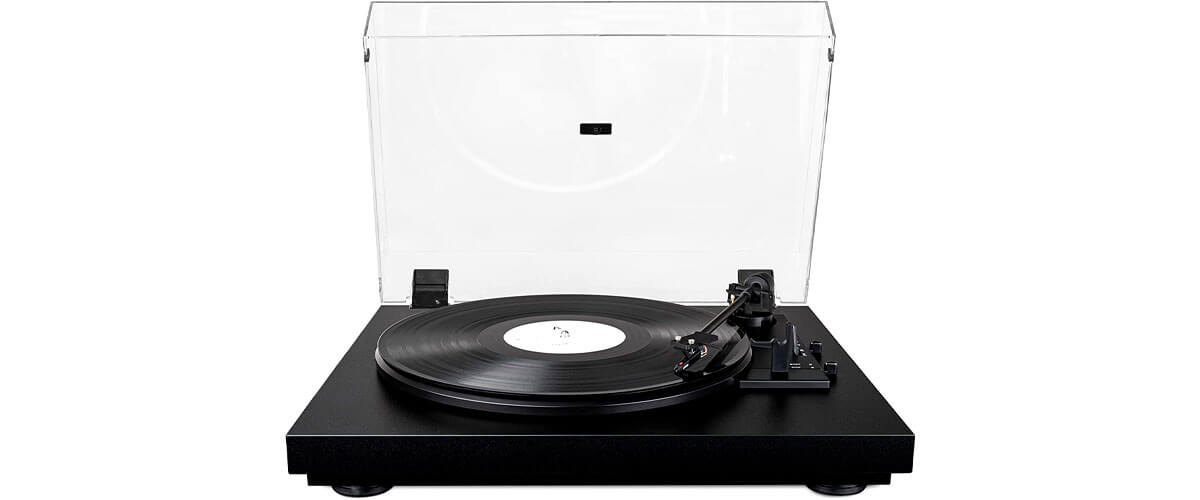 This model measures 14.37 x 16.93 x 5.12 inches, weighs a bit more than 12 pounds, and comes in a Black matt color. The manufacturer claims the wooden chassis to have almost no voids, thus providing the necessary stability and anti-resonance. The damped aluminum plate should provide balance with minimal wow and flutter deflection. And while the data is initially not bad, it's still not optimal. I would have followed the A1 turntable and perhaps picked the flattest surface in advance. But I didn't have that opportunity. During testing, I did not notice any obvious shortcomings.
Right next to the plate is a simple control panel. Nothing complicated: the start/stop, velocity switches, and tonearm preference. Nothing else. Nothing has to be adjusted or figured out. The tonearm is pre-tuned at the factory and is a straight 8.3″ long ultralight aluminum construction, for which there is a holder right there next to the control panel.
I like devices to live up to their description, so I sincerely believe the turntable will suit any user. It comes with a dust cover and a half-balanced RCA phono cable for an E connection to the amp. It's really not bad quality, with good shielding.
The Pro-Ject A1 record player with belt drive has two record speeds of 33 1/3 and 45 rpm. Unfortunately, there is no third speed at 78 rpm, but this is usual for turntables of this rank. However, there is an adapter for playing 7" records.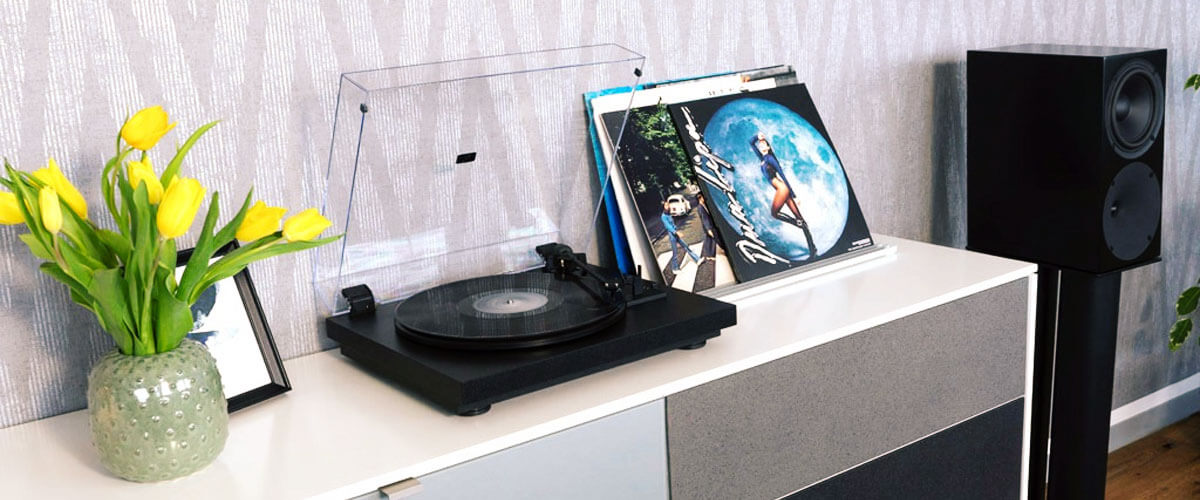 I did not find anything exclusive in the technical specifications of the turntable. Perhaps we should mention the built-in preamplifier. It is always a plus for those who don't want to make additional investments when buying a deck (we assume you have speakers). And here, it is not the most obnoxious, although all audiophiles know that you need an external one exclusively. That's probably why the more expensive models don't have it. The manufacturer knows that the advanced user will take care of it himself. Accordingly, when you buy an external preamplifier, switch the Phono/Line mode, and enjoy the higher sound quality.
Another nice perk of the Pro-Ject A1 is the Ortofon OM10 cartridge, which is really quite good for this price segment. And it's already pre-installed and adjusted for instant use. Also, the headshell is made of carbon fiber-reinforced polymer. It's super lightweight yet incredibly strong. It will save you from having to replace it soon.
You won't find any USB or Bluetooth functions here. And it seems to me that a fully automatic model in this price range should have them.
Although mid-range turntables usually sound equally good, the Pro-Ject Automat A1 pleasantly surprised me. The smooth, soft sound envelops and immerses me in thoughtfulness. Perhaps this was because I was testing it with a Frank Sinatra record. But, you know, jazz is pretty picky. You want to hear the timbre of the voice clearly, and all the subtleties of the highs and mids. And it worked! Frankly speaking, the bass isn't deep enough. But I will try not to cling to the nuances, keeping in mind that this is a fully automatic non-professional deck. Nevertheless, the overall picture satisfied me. And if you don't have an absolute musical ear, which can be spoiled by a slight deviation from the top flight – you'll like the A1.
Key specs
Drive type: belt.
Operation type: fully automatic.
Speeds, RPM: 33 1/3, 45.
Phono Pre-Amp: yes.
Speakers: no.
Bluetooth : no.
USB: no.
Aux in.: no.