This Sony PS-LX310BT review will be interesting for those who want to buy a turntable for a small amount of money but be confident in its quality. The deck doesn't look cheap in its minimalist design and doesn't require complicated setup and installation as it's completely ready to play out of the box. It also offers a Bluetooth feature that will certainly be useful to many.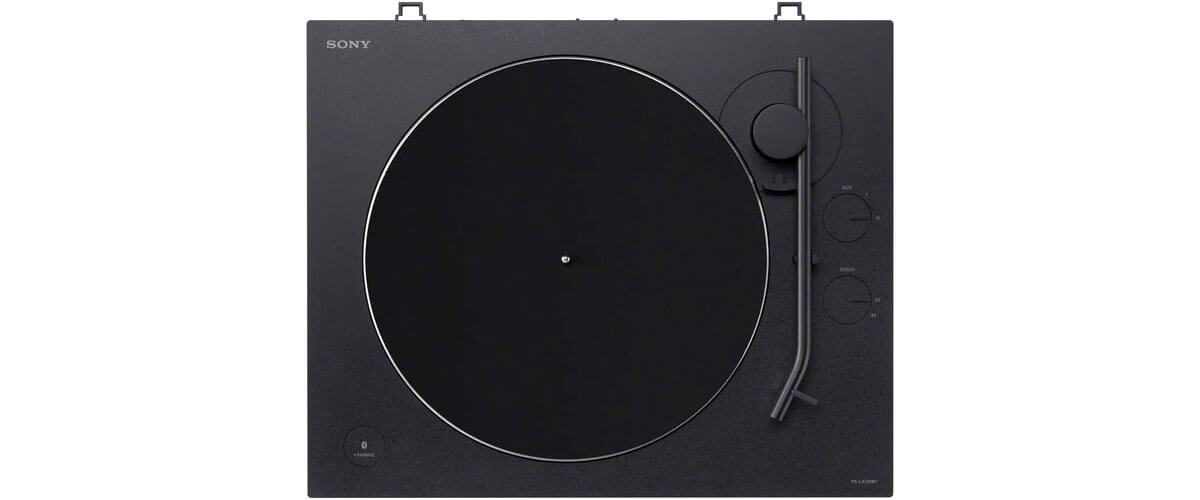 Very light (only 7.7 lbs), the body is made of plastic. Although the plastic here is dense and even looks like aluminum. Of course, it is too light, and stability is out of the question. This means you'll need weighting or a super smooth surface for the record to play without inaccuracy. But I was expecting something like this for this price range, so I do not consider it a serious disadvantage.
The design is elegant, though slightly reminiscent of 90's tech. I liked it- kind of retro. Heavy cast disc with a diameter of 11.65 inches is made of aluminum. And it handles anti-resonance issues quite well. You'll find a hole in the disc to slip the strap onto the passicle easily.
Again, the Sony turntable is very easy to handle, and all controls in the form of start, stop buttons, speed change, and switching the size of the record used (7 and 12 inches), together with the tonearm control button, are on the body. So it is easy to guess that the record player is fully automatic.
I also find its elegant curved aluminum tonearm attractive, but even so, you don't have to touch it if you don't want to. In addition, it's fully adjustable, and you won't have to worry if you don't know how to expose the load. All in all, a model for the lazy or beginner. It also comes with a dust cover.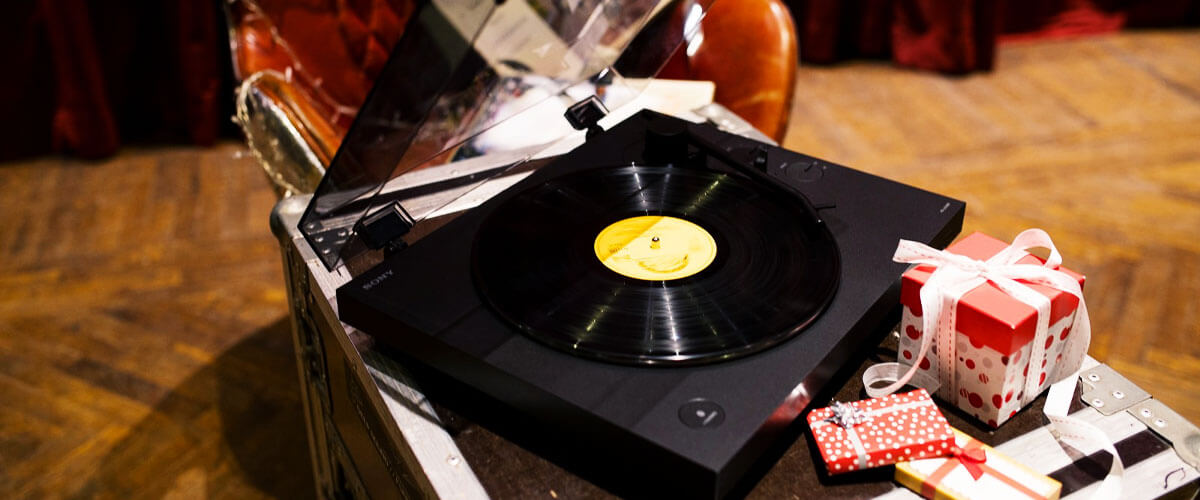 The specs of the PS-LX310BT are simple and quite expected to me, considering its price. First, it's fully set up, you take it out of the box, put the disc on the pulley and the shifting strap, and you can enjoy listening to your favorite music at two speeds of 33 1/3 rpm and 45 rpm.
The anti-skating and downforce of the built-in cartridge are also installed. By the way, as for the MM cartridge, it's removable here. It is a rarity for this price range; I've only seen it in a few models. And this option opens up the possibility of replacing it with another one of better quality over time.
The phono stage is also built-in. So if you want to pay once and get a finished product – this is it. But I advise buying an external phono amplifier because it is always better quality. On the back of the case, you will find a PHONO/LINE switch that allows you to use an external preamp as well as a built-in RCA cable. And this is where I was left unsatisfied. I don't understand the point of built-in cables unless you install the deck in one place and never touch it.
As a bonus, the turntable has Bluetooth and a Type-B USB output jack. It will appeal to those who like wireless headphones or speakers and don't feel the difference between analog and digitized sound.
Before I start describing what I heard, let me remind you that the PS-LX310BT is not much more expensive than budget players. And all of its parts are inexpensive, and of low quality, so you won't find something "that blew my mind" here. But Sony tried to make the most of the minimum. Moreover, all the parts that affect the sound are replaceable, so you can improve it yourself over time. And don't forget that many also depend on your speakers or receiver.
In its original configuration, the deck sounds very pleasant. It lacks detail and bass depth, but the weight is quite good in the middle frequencies. The sound is not mixed into one continuous "mush". The melody is distinct, without obvious errors. The turntable captures the tonal differences, rhythm, and drive. Very decent for its money!
Key specs
Drive type: belt.
Operation type: fully-automatic.
Speeds, RPM: 33 1/3, 45.
Phono Pre-Amp: yes.
Phono out: yes.
Speakers: no.
Bluetooth: yes.
USB: output port Type-B.
AUX: no.