In recent years, vinyl has made a comeback. And with it, the demand for high-quality turntables has respectively grown. Direct-drive turntables have become increasingly popular among audiophiles due to their superior sound quality and accuracy. In this review, I am going to take a look at some of the best direct-drive turntables available in the market and analyze their features and performance.
Our pick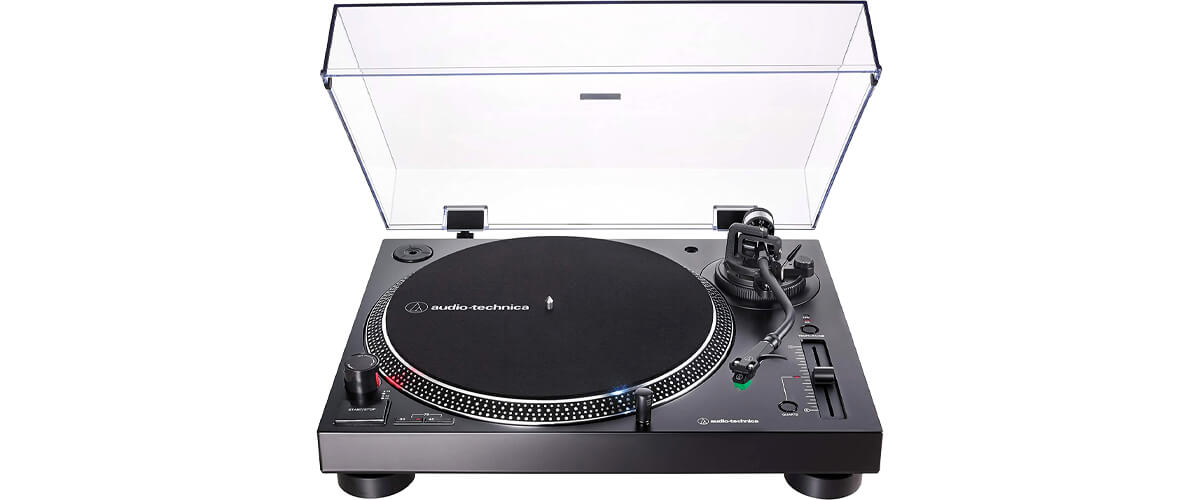 Audio-Technica AT-LP120XUSB
Best direct drive turntable
The AT-LP120-USB turntable includes a new motor, anti-skate control, and preamp options. It's fully manual, can play records at 33-1/3, 45, and 78 RPM, and has a USB output for direct computer connection.
Read the full review
.
Direct drive turntables comparison table
Name
Drive type
Operation type
Speeds, RPM
Phono Pre-Amp
Review
Audio-Technica AT-LP120XUSB

best overall

direct
manual
33 1/3, 45, 78
yes
Review
Crosley C200

budget

direct
manual
33 1/3, 45
yes
Review
Pioneer PLX-1000

great for DJ

direct
manual
33 1/3, 45
no
Review
Technics SL-100C

premium

direct
manual
33 1/3, 45, 78
no
Review
Best direct drive turntable reviews
This Audio-Technica AT-LP120XUSB review is about an inexpensive but exciting deck. In fact, it is a replacement for the original AT-LP120USB, released in 2009, which has already gained advanced positions among audiophiles. The new version can suit even professional DJs, but for home audio, some additional features will pleasantly surprise you.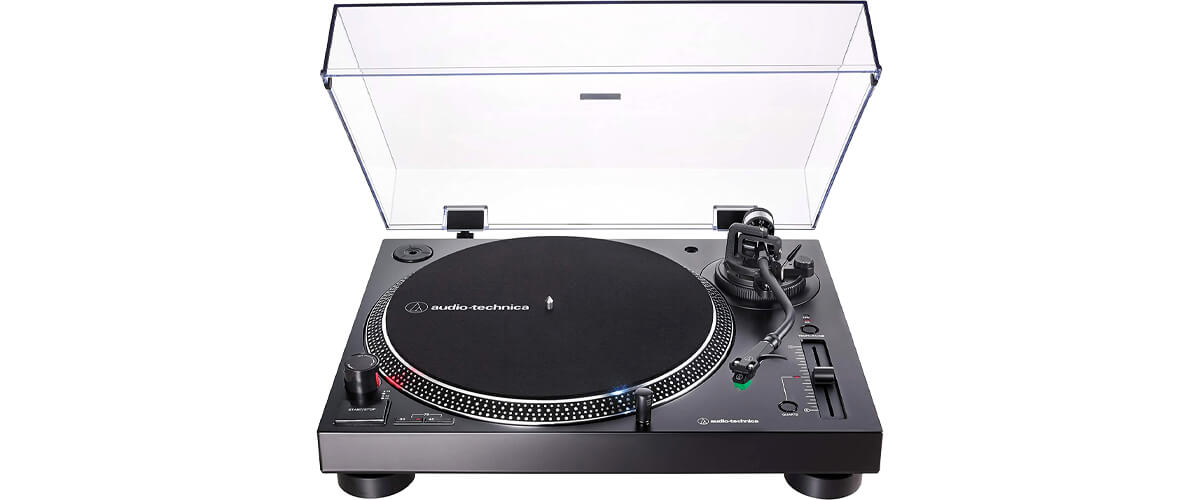 We see an elegant record player in a modern style with a matte black or silver color of your choice. One of the main functions that turntable designs should provide is stability. And the AT-LP120XUSB turntable does that well. First, the deck has a damped base construction. The 17.6 lbs weight and four feet also provide a certain amount of anti-resonance. The cast aluminum disc and professional-grade felt pad dampen motor vibrations well.
All the necessary controls and buttons are on the case: start/stop, record speed switch, switching the built-in preamp to external, variable pitch control with quartz speed lock. This control will be handy for DJs but will also make it easier for everyday use. So will the balanced metal S-tone arm with hydraulically damped lift control and lockable stop. Of course, carbon tonearms are better, lighter, and more reliable, but such a drawback is perfectly acceptable for this price range.
The LP120XUSB measures 17.80 "W x 13.86 "D x 5.57 "H, so you can place it wherever you like. And you'll find a dust cover and a removable plug-in target light for easy aiming in low light.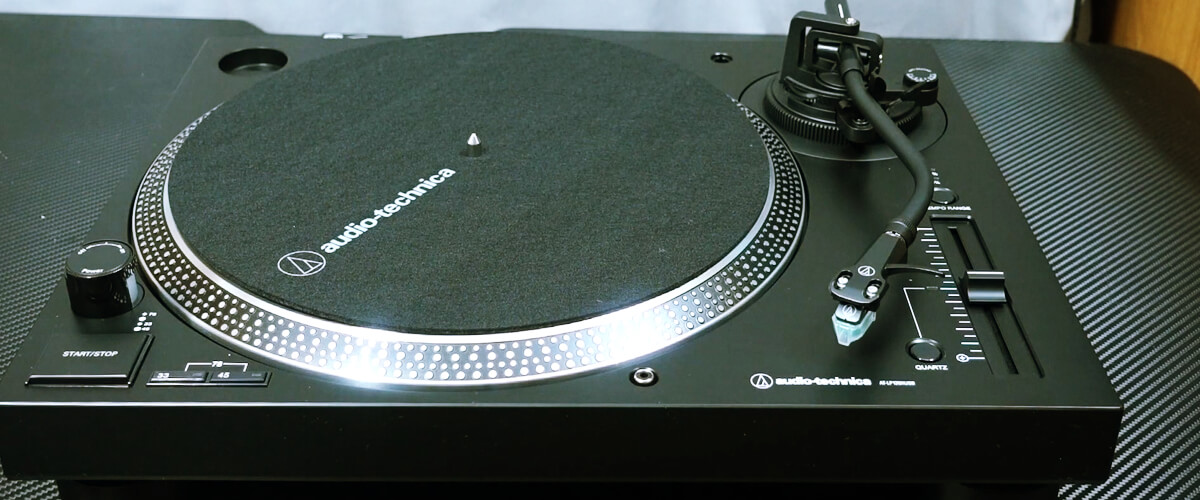 The AT-LP120XUSB vinyl turntable has a DC direct drive servo motor. But it comes with an AC/DC conversion adapter outside the cabinet, which reduces the noise level of the signal circuit. It also has a built-in phono preamp, which saves you money the first time. Although I always recommend buying an external one to improve the sound quality of any deck.
The tonearm with the adjustable dynamic anti-scatting feature is a nice feature that catches my attention. And there's also the phono cartridge AT-VM95E Dual Magnet with an elliptical stylus. It's excellent because it's replaceable, one of the most wearable parts. Moreover, you don't have to worry about what records to put on the LP120XUSB, and it supports all three speeds 33-1/3, 45, and 78 rpm.
Of the extras not often found even on more expensive decks, a USB output connects to your Mac and PC. This option comes in handy when you digitize your favorite records. A USB cable is included for that purpose. There is also a removable RCA output cable for dual RCA outputs.
Considering all the advantages above, I would conclude that this turntable is entirely worth its money. The AT-LP120XUSB is really stable. I didn't need to weigh it down further to avoid vibrations when operating it. The built-in phono stage was also quite good, and the overall picture, in the end, was not just satisfying but pleasing to me. As a test, I chose my favorite Fleetwood Mac, whose compositions have a lot of high and middle frequencies. The deck did its job! The sound is clean and detailed, with even balance, good frequency gradation, and bass depth.
Key specs
Drive type: direct.
Operation type: manual.
Speeds, RPM: 33 1/3, 45, 78.
Phono Pre-Amp: yes.
USB: yes.
AUX: no.
Bluetooth: no.
Speakers: has RCA output.
The Audio-Technica AT-LP120XUSB is a reliable and versatile direct-drive turntable suitable for professional DJs and home audio enthusiasts. It offers stability, easy-to-use controls, and a built-in phono preamp to comfortably immerse yourself in vinyl. The deck produces clean and detailed sound with even balance, good frequency gradation, and bass depth, so I believe it is the best direct drive turntable on the market.
Crosley C200 – best budget
In this Crosley C200 review, I introduce you to a reasonably priced, fully automatic deck with awesome features. Moreover, Crosley is quite a popular manufacturer of budget and inexpensive turntables and already has fans worldwide. Thus, this vinyl turntable can satisfy the wishes of many users who don't want to spend a lot of money on a record player. Besides, it doesn't need an additional investment at the initial stage. I'm sure you're already intrigued, so let's get to the fun part.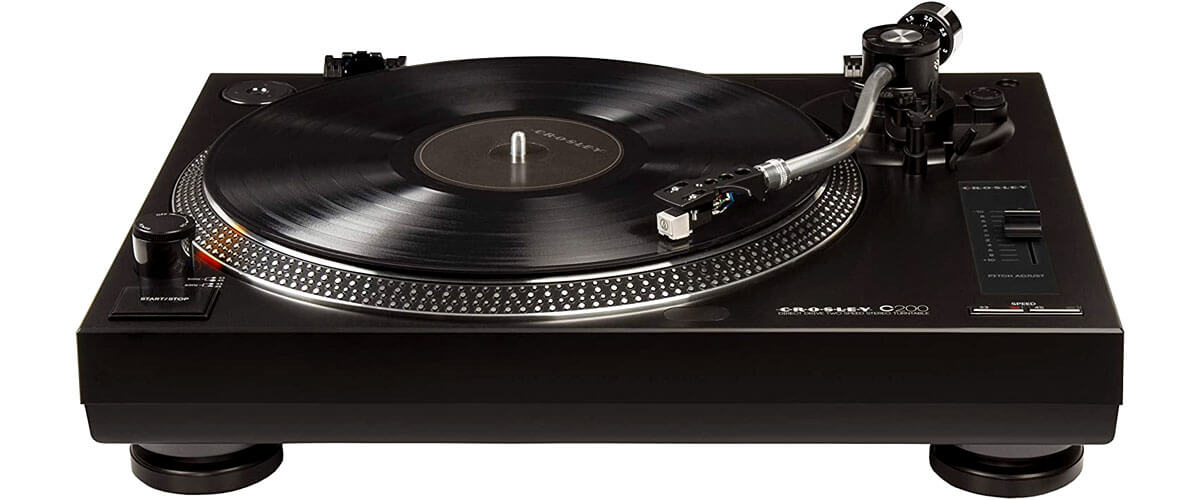 The C200 turntable is incredibly similar to the Audio-Technica AT-LP120 but a bit cheaper. If they were standing next to each other on a shelf in a store, I wouldn't notice the difference at all. It is a sleek black cabinet with strobe dots around the cymbal measuring 17.75" W x 14.0" D x 6.0" H. But its construction is not very heavy. Although the case has nice feet for vibration control, I would suggest further weighting it or placing the turntable on an as flat surface as possible.
The other parts also deserve attention. For example, the cast aluminum disk is quite heavy and will help the record spin smoothly without outright "bouncing". And I would consider the aluminum S-shaped tone arm one of the advantages of the turntable. Such tonearms are clearer than straight ones and are rarely found in inexpensive turntables.
You will find the On/Off switch, Start/Stop, speed changeover, and pitch control from the controls on the body of the deck. Everything is the same as on the AT-LP120, in the same places and shape. Thus, the deck pretends to be in DJ format. However, you can use pitch control even in home conditions if you are interested in it or don't mind learning a new professional occupation, even if it is on an amateur level.
A dust cover and RCA cables included in the package are very short. I would replace them.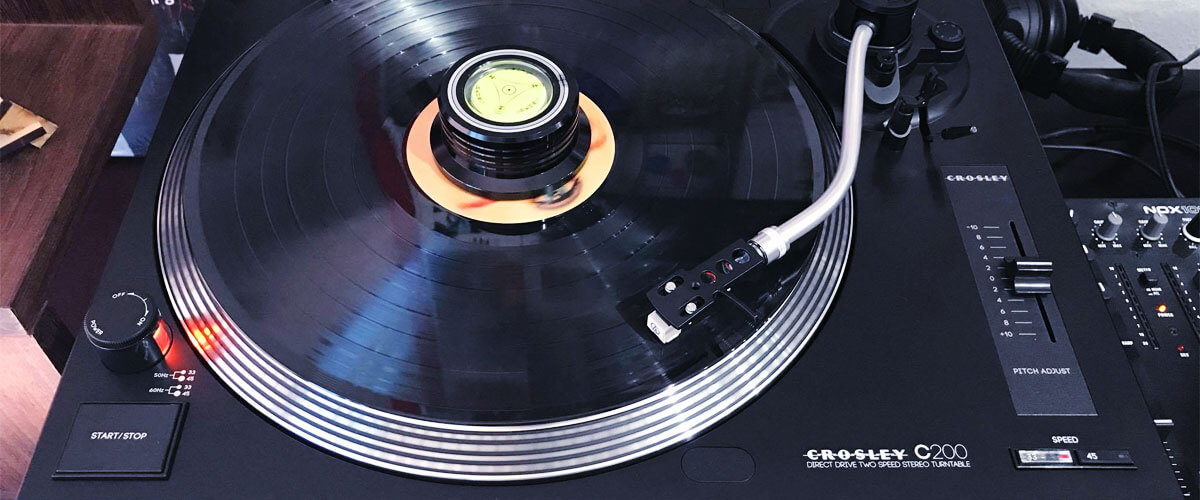 The specifications of the Crosley record player for its price category pleased me. The model with a direct drive motor plays records at 33 1/3 and 45 rpm speeds. I tried both and didn't notice any glaring imperfections that needed adjustment.
The good news is that the turntable has a built-in phono preamp. But it, of course, really hums at high volume. Actually, I didn't expect anything supernatural, and I recommend buying an external one. Especially since you can easily switch the Phono/Line mode on the back of the device, but at first, it will save you money by providing a plug-and-play format.
In addition to the optimal shape I've described, the tonearm is also good because it has a removable head, a pre-installed Moving Magnet cartridge, an adjustable counterweight, and an anti-skate. Very good for the price. I'll chalk it up to advantages.
I don't think this turntable can satisfy the needs of a sophisticated audiophile or DJ. It's not a bad device for users with a limited budget, beginners, or those who do not attach importance to the sound, clinging to every fuzzy note. But on the whole, it sounds good, especially taking into account the, frankly speaking, low-quality preamp. The Crosley C200 plays the melody quite clearly, without outright flaws inherent to inexpensive turntables. It doesn't tinkle in the upper frequencies or hum in the bass, but remember not to turn it up to full volume until you get an external phono stage. And I recommend making it as fast as you can. I'd also advise replacing the cartridge over time, although that may have to wait. Not a bad investment of a little bit of money in something you can upgrade and enjoy vinyl for years to come.
Key specs
Drive type: direct.
Operation type: manual.
Speeds, RPM: 33 1/3, 45.
Phono Pre-Amp: yes.
USB: no.
AUX: no.
Bluetooth: no.
Speakers: no.
Overall, the Crosley C200 is an excellent budget direct drive turntable packing a punch with its features. It offers great value for its price. With a direct drive motor, adjustable counterweight, and anti-skate features, it will work great for everyone who wants to enjoy vinyl without breaking the bank. The built-in phono preamp is a nice addition, although an external one would greatly improve sound quality.
Pioneer PLX-1000 – great for DJs
In this Pioneer PLX-1000 review, I will tell you about an audiophile deck designed for DJs. Professionals often compare it to the famous Technics SL-1200, which are similar in functionality. Say, if you're interested in getting a decent alternative at a lower price, you'll find this review helpful. From a home turntable perspective, the deck is also good, especially considering its durability. How comfortable the turntable is, whether it's easy to handle, how it sounds, and what its advantages are, you'll find out right now.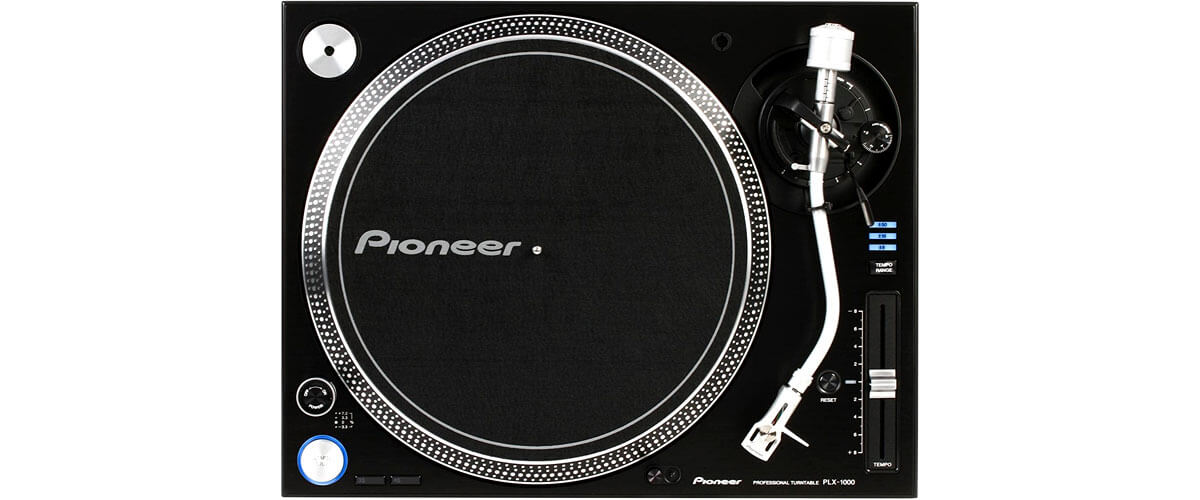 It is no ordinary record player, even for its price range. The solid construction weighs 28.9 pounds and measures 17.8 x 6.3 x 13.9 inches. Thanks to zinc casting and additional bottom reinforcement, it is very resistant to inherent and external vibration. Standard turntables of this rank are lighter and can't provide this kind of stability. You never have to worry about where and how to place the PLX-1000 turntable. Additionally, the cast aluminum platter also ensures anti-resonance stability.
I think the S-shaped tonearm is the finest one because it's incredibly accurate. Plus, it has a tongue on it for easy operation. But why be surprised if the turntable claims to be professional? And I don't think it will take much effort to set the tonearm up. It comes with counterweights for adjustment and a headshell with a detachable weight.
The rest of the control is done with buttons. You can find a backlit On/Off control on the left side, making it easier to interact with the deck on a cozy, intimate evening (for example). Under it, there is a completely silent Start/Stop button, and a little lower the small buttons for switching the records rotation speed. On the right side is the Tempo slide control, which I'll discuss later.
Overall, I can conclude that the controls are quite simple and clear, and the vinyl player definitely claims to serve you for many years. By the way, it comes with a dust cover.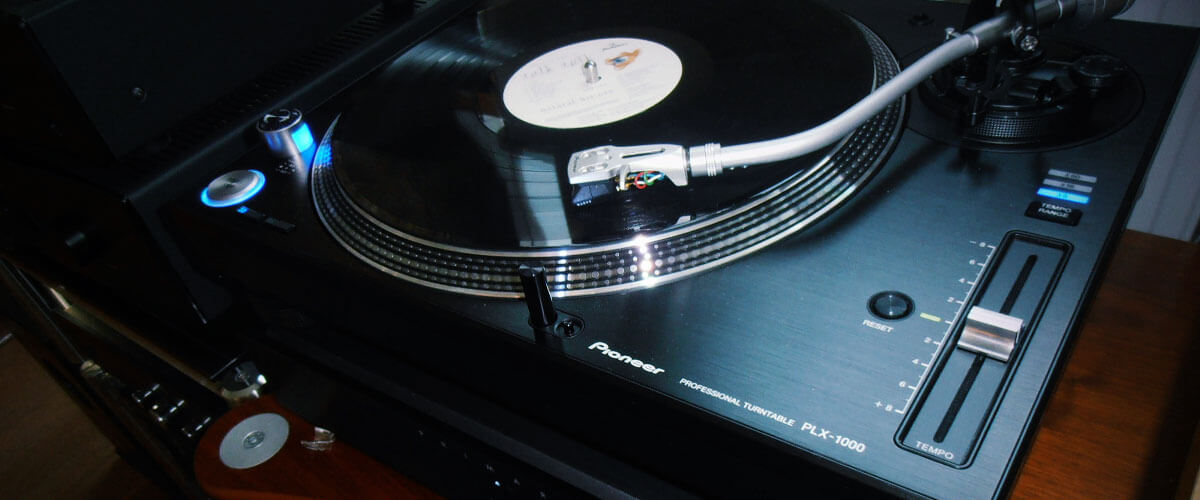 The PLX-1000 specs are worthy of its price or more. The standard two speeds are 33 1/3 and 45 rpm, and there is no built-in phono stage. Perhaps the quartz direct belt drive deserves special attention, as its torque is at least 4.5 kg/cm on start. It's more of a DJ thing, but if you're choosing a deck for the home, you might try experimenting with scratching! The turntable also has a 3-phase brushless DC motor and an electronic brake system.
The tonearm, as I said, is good all around. Thanks to the anti-skating and thick rubber insulation, it provides the most precise control and minimizes errors. A difficult feature to attribute to the pluses is the lack of a cartridge and needle in the kit. Of course, this is because professionals know what parts are ideal for them. So if you want this turntable for your home, you will have to research the issue. This is also an additional cost, so you should be prepared for that. On the other hand, you can put whatever cartridges or needles you want and replace them if you're unhappy with something or it breaks. And that's definitely a virtue of the turntable.
The next feature for DJs is the Tempo slide control, which I mentioned earlier. You can choose a pitch range of +/- 8, 16, or 50%. I tried it, and it works very accurately. Easy to operate, with no click on zero, and there is a pitch reset button.
Regarding the turntable's sound, I can say it was great with all the records I listened to. Among them were Bruce Springsteen, Elvis Presley, and AC/DC. Great detail, tonalities, crisp pickup of sounds, and incredibly deep bass. Note that I used my external amplifier and cartridge; you may have others. The quality of the final result depends very much on them.
It is often written about the turntable that when it is placed close to the monitors of the speakers, it produces a strong hum. I have not tested this fact. So when you install it for playing in a club - try beforehand the distance at which this will not happen.
So, I believe the Pioneer PLX-1000 is a quality DJ for great money. For home, it's a cool, reliable, durable deck that you don't have to fuss with when installing it, but you'll have to invest the extra money.
Key specs
Drive type: direct.
Operation type: manual.
Speeds, RPM: 33 1/3, 45.
Phono Pre-Amp: no.
USB: no.
AUX: no.
Bluetooth: no.
Speakers: no.
The Pioneer PLX-1000 is, in my opinion, a must-have direct-drive record player for DJs. It comes without a cartridge and needle, giving you the freedom to outfit the deck with the desired configuration. In addition, you may play with the Tempo slide control to produce the perfect mix. Also, this deck has outstanding sound quality. You'll appreciate the fine detail, tonalities, and deep bass. Overall, the Pioneer PLX-1000 is a high-quality, dependable deck that is well worth the money.
Technics SL-100C – premium
My Technics SL-100C review is about a turntable that will appeal to those who like high-end stuff with simple and comfortable functionality. This model of the already legendary SL line is a bit cheaper than the bestselling Technics SL-1500C, which at the same time, has retained many of its features. So it's worth taking a closer look at it, isn't it? I'll tell you the differences and advantages (and disadvantages) I found in the SL-100C.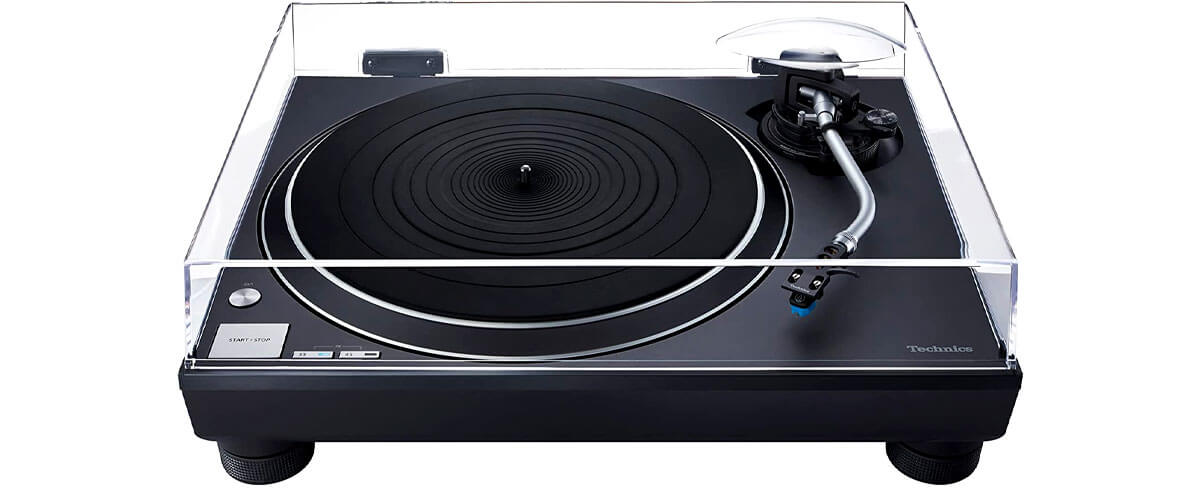 The exterior of the turntable is magnificent. It represents the Premium Class, and its elegance, sleekness, and minimalism say it all. The body has increased stiffness and a highly damped insulator. These factors and its rather heavy weight of 21.82 lbs provide excellent anti-resonance and damping of own and external vibrations. The platter combines a dual-layer structure of rubber and aluminum. Playing the record is very smooth and soft; I could literally feel it.
The matte black case measures 453 x 169 x 372 mm and is a detailed reproduction of the Technics SL-1500C design. The same control buttons: On/Off, Start/Stop, and gear change, as well as the elegant high-sensitivity S-shaped aluminum tonearm of high precision. The only difference is that all these parts are silver, not black, like the SL-1500C.
The package, of course, includes a dust cover. All in all, the Technics record player is made for style connoisseurs. I like it very much.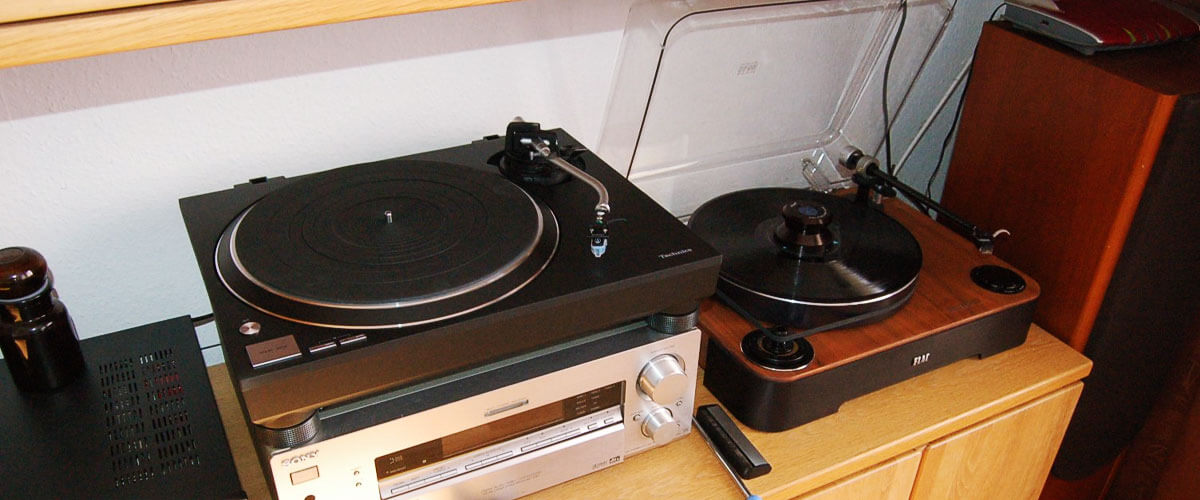 The SL-100C turntable is also restrained in its technical features, as it should be in the upper class. But all the parts are of high quality and reliable. And also replaceable, which for me is extremely important. After all, if I want to invest a lot of money in a device, I want it to serve me for a long time.
I should probably start with the engine. But, first, and not to repeat the manufacturer's convoluted definitions, I will limit myself to saying that it is a single-rotor, direct-drive coreless motor, which has already been used in the SL-1200GR. And at this point, it ensures that the platter rotates evenly, reducing resonance to a minimum.
The deck has no phono stage, and this is often found in turntables of this price rank, but I consider it a disadvantage. So you have to buy an external phono stage from the start, and you have already spent a lot. They could have built-in. Incidentally, the SL-500C has one. On the other hand, any self-respecting audiophile will buy an external preamp right after buying the turntable, or maybe even earlier.
On the plus side, the Technics SL-100C plays records at three speeds, which is rare for most turntables. So it is an excellent bonus. I, for example, have a very good collection of old records, and I want them to live on.
Another benefit of the model in question is the stylus with static balance and auto-lift function. I had no problems with the stylus, and it performed very well. An Audio-Technica AT-VM95C cartridge is pre-installed in the tonearm, which includes a tapered stylus, aluminum cantilever, and coil. And, of course, it is replaceable.
Well, the SL-100C sounds great! The excellent balance makes the needle float through the record's grooves. Extracted sounds are crisp and clear, every instrument can be heard, and there is great detail in the voice. On classical music (I played Beethoven), the upper frequencies sounded delightful, crystal clear, and resonant, yet not ringing. But, in fact, this is exactly what you would expect from a turntable of this rank.
I dare to conclude that it is made for connoisseurs of style and quality, for those who like things to speak for themselves. Of course, true audiophiles will take care to buy a quality external preamplifier and most likely replace the cartridge. But it is safe to say that the turntable will serve you for a long time, pleasing you with the splendor of analog sound.
Key specs
Drive type: direct.
Operation type: manual.
Speeds, RPM: 33 1/3, 45, 78.
Phono Pre-Amp: no.
USB: no.
AUX: no.
Bluetooth: no.
Speakers: no.
Everything in Technics SL-100C tells that this is a high-end direct drive turntable. Its sleek design, detail quality, and level of playback details immediately hint that this is no ordinary deck. SL-100C delivers exceptional sound quality and performance, enabling you to hear the whole range of instruments encoded in tracks.
How to choose the right direct drive turntable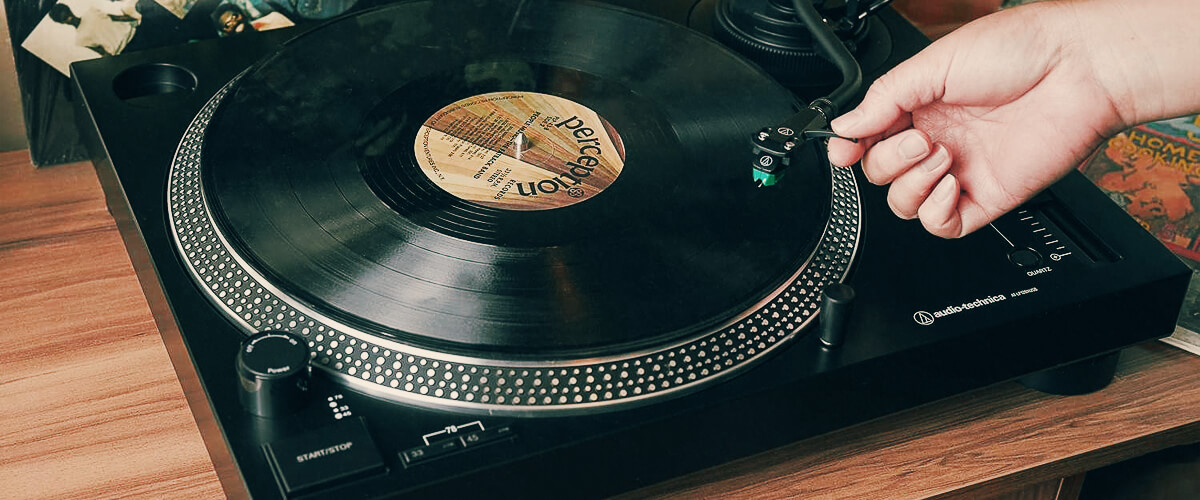 Selecting the appropriate direct-drive turntable can seem like a complex task, especially if you're new to the world of vinyl. If you need help understanding the workings of a vinyl player and its structure, make sure to read up on it, as possessing basic knowledge will significantly aid in making an informed decision.
Understanding the basics
If the mechanics of a vinyl player are somewhat of a mystery to you, it's essential to familiarize yourself with its foundational principles. Acquiring this foundational understanding will be invaluable in making a well-informed choice and will enable you to appreciate the different characteristics and features of various models.
Establishing your budget
You must first determine (based on your capabilities) what price range of devices you will consider. The price point is generally indicative of the quality and refinement you can expect. More expensive units are likely to offer robust construction, advanced features, enhanced stability, superior tonearms, and the flexibility of cartridge replacement. So, before delving into the myriad of available options, it's pivotal to allocate a specific amount you are willing to spend.
Features and specifications
In addition to the basic capability of a vinyl turntable (to play LPs), there are a number of other things that are quite important. You should also pay attention to the set of additional features and specifications:
Bluetooth connectivity: Useful for wireless streaming.
USB port: Allows for easy connection to various devices.
Built-in preamplifier: Important for enhancing the sound quality.
Speakers: Some models come with built-in speakers, eliminating the need for external ones.
Engage in a conversation about what you value most in a turntable. Do you prioritize sound quality, specific features, or perhaps the overall aesthetic? Understanding your preferences will guide you through the selection process, enabling you to find the turntable that resonates most with your desires and needs. By following my guidelines, you will be well on your way to owning a direct-drive turntable that brings you endless musical enjoyment.
FAQ
What is the difference between a direct drive turntable and a belt drive turntable?
The primary distinction between a direct-drive turntable and a
belt-drive turntable
is how the platter is turned. The platter of a direct drive turntable is directly linked to the motor, which implies that the platter is rotated by the motor. In contrast, the motor in a belt drive turntable turns a separate pulley linked to the platter by a rubber belt.
What are the advantages of a direct drive turntable over a belt drive turntable?
Direct-drive turntables outperform belt-drive turntables in several ways. First, direct-drive turntables often have more constant speed accuracy because the platter is directly linked to the motor. This makes them more appropriate for applications requiring accurate speed, such as DJing. Since the motor is built into the turntable, direct-drive turntables also have fewer components and require less maintenance than belt-drive ones. Also, they have more torque than belt drive turntables, letting you achieve higher starting and stopping speeds much faster. That's why they are commonly referred to as audiophile direct drive turntables.
What are the disadvantages of the direct drive system?
The direct drive technology can occasionally create undesirable vibrations and noise, which may have a negative impact on your listening experience. Also, direct-drive turntables are more expensive than belt-drive decks.
Can I use a direct drive turntable for DJing?
Absolutely, you can DJ with a direct-drive turntable. The direct drive technology lets you quickly adjust the record speed, which is useful for beatmatching and other DJ techniques.
Can you scratch on a direct drive turntable?
Sure, you can use a direct drive turntable for scratching. These decks enable you to execute precise scratching techniques that heavily rely on the quick adjustment of the record speed.