All true audiophiles love vinyl for its warm, authentic sound. Therefore, fully automatic turntables are becoming increasingly popular because they offer a simple and convenient way to enjoy vinyl without manual intervention. In this review, I've selected the best automatic turntables in different price ranges, among which you can find a decent device. Also, at the end of the article, you will find answers to some important questions about automatic vinyl turntables.
Our pick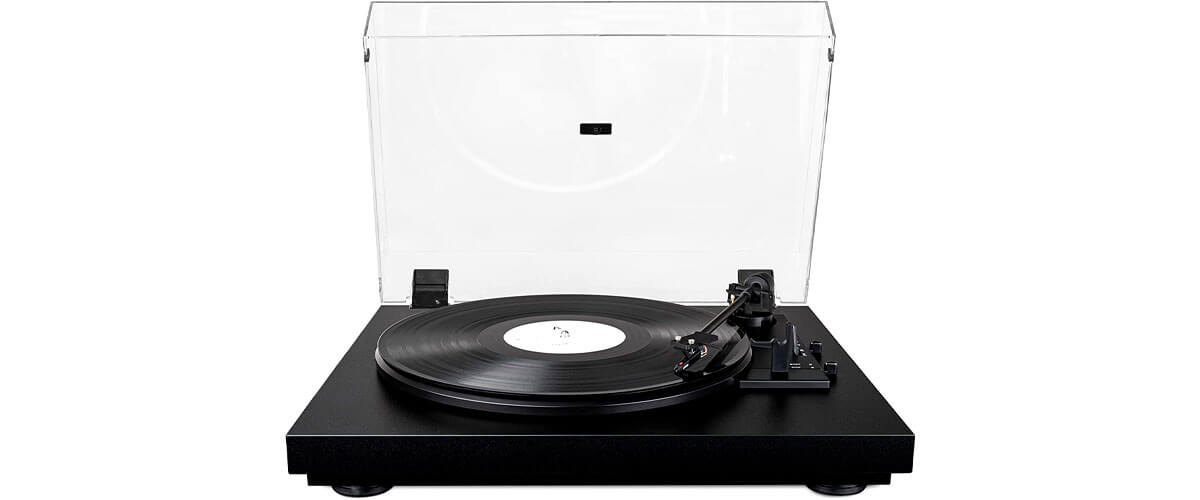 Pro-Ject Automat A1
Best automatic turntable
The Pro-Ject Automat A1 features an Ortofon OM10 cartridge, built-in, switchable phono preamp, and precise mechanics with automated start and stop to get the most out of your vinyl collection.
Read the full review
.
Automatic turntables comparison table
Name
Drive type
Operation type
Speeds, RPM
Phono Pre-Amp
Review
Pro-Ject Automat A1

best overall

belt
fully automatic
33 1/3, 45
yes
Review
Audio-Technica AT-LP60X

budget

belt
fully automatic
33 1/3, 45
yes
Review
Denon DP-300F

also a great choice

belt
fully automatic
33 1/3, 45
yes
Review
What is an automatic turntable?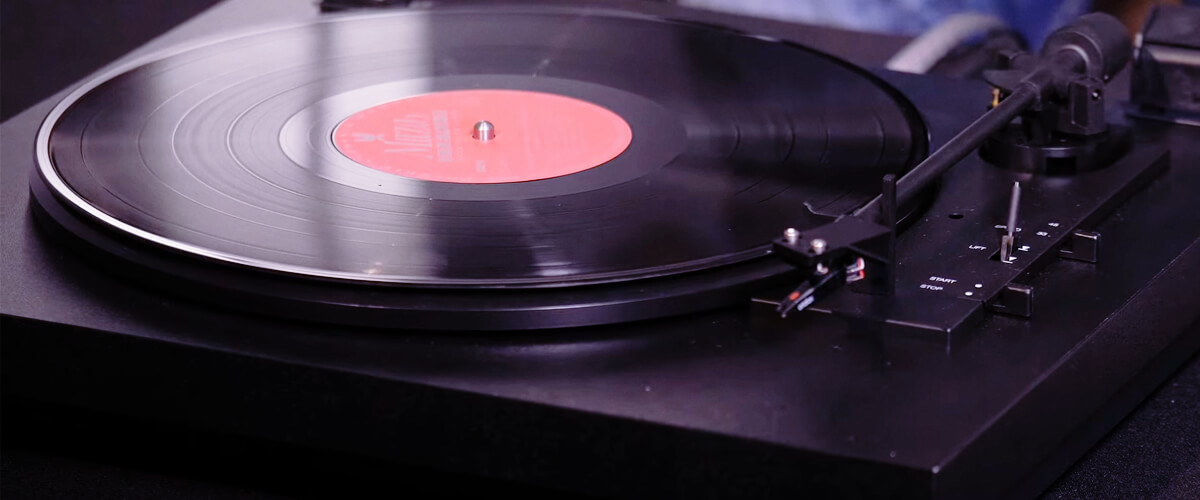 A fully automatic vinyl player is a device that is designed to automatically raise and set the tonearm, position it over the record, and start playback without any manual intervention. Instead, you just press a button, and everything happens by itself: the tonearm lifts and moves into position over the record, the platter begins to rotate, and the stylus dips into the record's groove and starts playback. In addition, most automatic turntables come with a built-in phono stage, making them plug-and-play devices and making your life even easier.
Fully automatic record players are often preferred by beginners or those who do not have much experience with this kind of equipment. However, experienced music fans prefer manual turntables because they offer more control and potentially better sound quality. Ultimately, choosing between a fully automatic or manual type depends on your preference and needs.
What are the advantages of an automatic player?
There are several advantages to using a fully automatic turntable:
First, convenience. You don't have to set up your record player; you get a ready-to-use device.
Simplicity. Even an inexperienced user can easily operate such a turntable by pressing the appropriate buttons.
Reduced likelihood of record wear and tear. A good automatic vinyl turntable does its job clearly, without harming the record.
Cost. You don't have to buy additional devices (such as a phono stage).
Best automatic turntable reviews
I find it interesting to do a Pro-Ject Automat A1 review, an entry-level turntable (as the manufacturer positions it). It is the first fully automatic model of the company, so I want to tell you about its functions, features, and advantages, especially since it has quite an affordable price. The deck is handmade in Germany, including almost all components, and is an elegant minimalistic plug-and-play device. Let's go!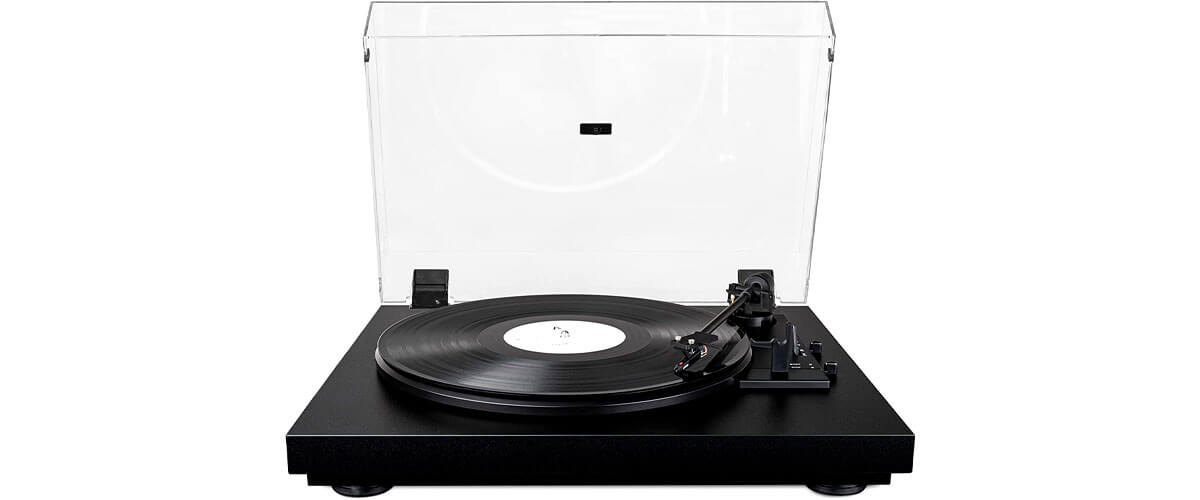 This model measures 14.37 x 16.93 x 5.12 inches, weighs a bit more than 12 pounds, and comes in a Black matt color. The manufacturer claims the wooden chassis to have almost no voids, thus providing the necessary stability and anti-resonance. The damped aluminum plate should provide balance with minimal wow and flutter deflection. And while the data is initially not bad, it's still not optimal. I would have followed the A1 turntable and perhaps picked the flattest surface in advance. But I didn't have that opportunity. During testing, I did not notice any obvious shortcomings.
Right next to the plate is a simple control panel. Nothing complicated: the start/stop, velocity switches, and tonearm preference. Nothing else. Nothing has to be adjusted or figured out. The tonearm is pre-tuned at the factory and is a straight 8.3" long ultralight aluminum construction, for which there is a holder right there next to the control panel.
I like devices to live up to their description, so I sincerely believe the turntable will suit any user. It comes with a dust cover and a half-balanced RCA phono cable for an E connection to the amp. It's really not bad quality, with good shielding.
The Pro-Ject A1 record player with belt drive has two record speeds of 33 1/3 and 45 rpm. Unfortunately, there is no third speed at 78 rpm, but this is usual for turntables of this rank. However, there is an adapter for playing 7'' records.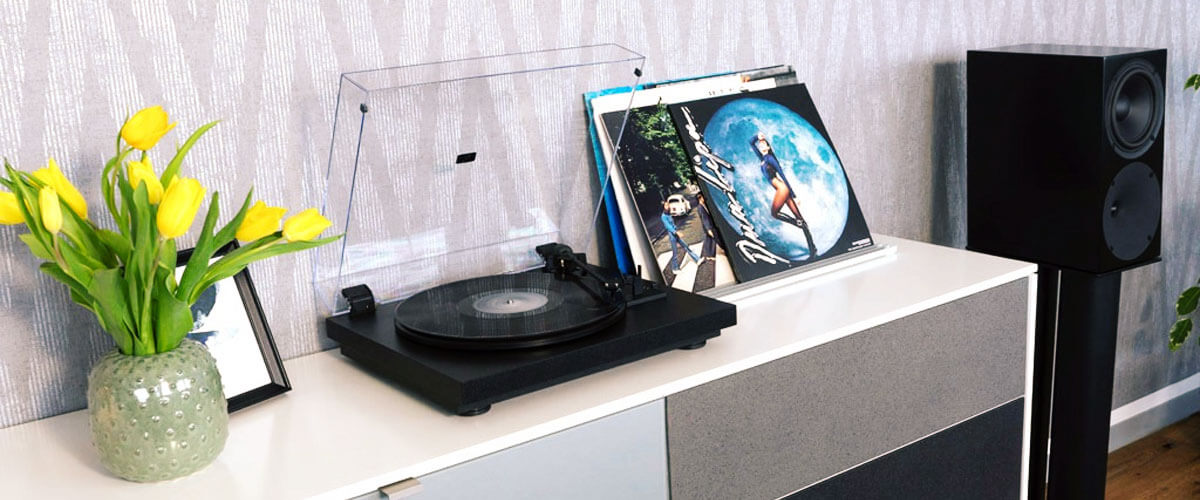 I did not find anything exclusive in the technical specifications of the turntable. Perhaps we should mention the built-in preamplifier. It is always a plus for those who don't want to make additional investments when buying a deck (we assume you have speakers). And here, it is not the most obnoxious, although all audiophiles know that you need an external one exclusively. That's probably why the more expensive models don't have it. The manufacturer knows that the advanced user will take care of it himself. Accordingly, when you buy an external preamplifier, switch the Phono/Line mode, and enjoy the higher sound quality.
Another nice perk of the Pro-Ject A1 is the Ortofon OM10 cartridge, which is really quite good for this price segment. And it's already pre-installed and adjusted for instant use. Also, the headshell is made of carbon fiber-reinforced polymer. It's super lightweight yet incredibly strong. It will save you from having to replace it soon.
You won't find any USB or Bluetooth functions here. And it seems to me that a fully automatic model in this price range should have them.
Although mid-range turntables usually sound equally good, the Pro-Ject Automat A1 pleasantly surprised me. The smooth, soft sound envelops and immerses me in thoughtfulness. Perhaps this was because I was testing it with a Frank Sinatra record. But, you know, jazz is pretty picky. You want to hear the timbre of the voice clearly, and all the subtleties of the highs and mids. And it worked! Frankly speaking, the bass isn't deep enough. But I will try not to cling to the nuances, keeping in mind that this is a fully automatic non-professional deck. Nevertheless, the overall picture satisfied me. And if you don't have an absolute musical ear, which can be spoiled by a slight deviation from the top flight - you'll like the A1.
Key specs
Drive type: belt.
Operation type: fully automatic.
Speeds, RPM: 33 1/3, 45.
Phono Pre-Amp: yes.
Speakers: no.
Bluetooth : no.
USB: no.
Aux in.: no.
The Pro-Ject Automat A1 is the best automatic turntable on my list, even though it is the most expensive. It is functional and easy to use, and the high-quality construction and components provide superior sound. The well-damped tonearm, quiet motor, and precise speed control ensure a clear, detailed, and dynamic sound that will impress not only a novice user.
Audio-Technica AT-LP60X – best budget
I prepared this Audio-Technica AT-LP60X review because I am always interested in budget models of advanced brands. This model is also interesting because it is an upgraded version of the previous AT-LP60. And I like to see what improvements have been made, especially since the manufacturer has yet to raise the price.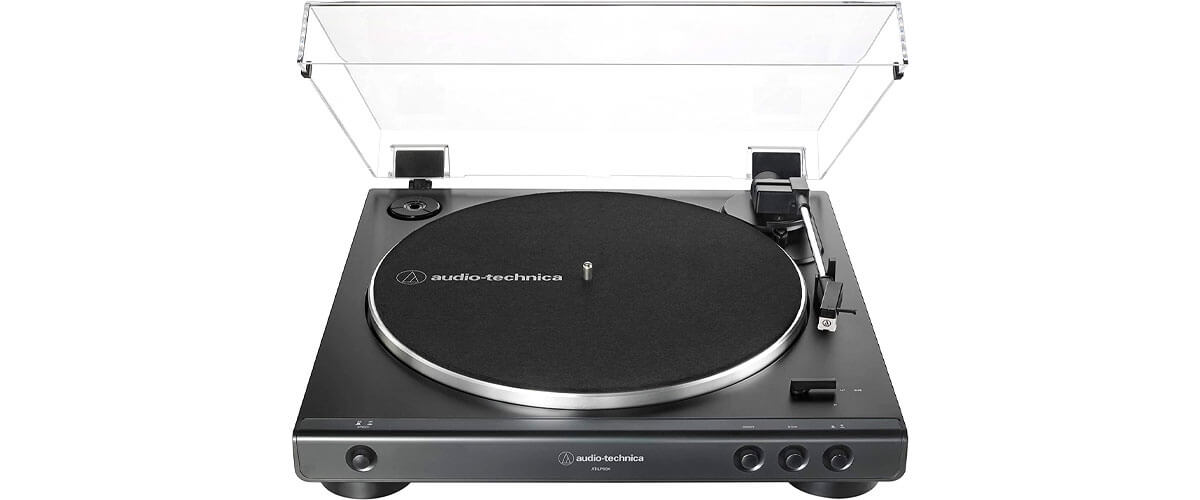 The exterior is pleasantly surprising. Sure, the body is plastic, but the record player doesn't look cheap. Instead, it looks more like the machinery of the 90s. For those who like variety in the design, a front panel is available in four colors: Black, Red, Brown, and Gun Metal. It also has the Start, Stop, and Speed Shift buttons, just like the original LP60. I find this handy.
The turntable weighs only 5.6 pounds. That is an innovation over its predecessor, which had the power supply built-in, but now it's outboard. And I'm not sure for the better because, unfortunately, it won't give you stability, but it makes it portable! Still, I would recommend a heavier case.
On the top panel, everything is pretty expected. The cast aluminum disc weighs down the deck, but not enough, in my opinion. The straight, simple tonearm is quite light and sits comfortably effortlessly in the holder. The manufacturer claims the redesigned tonearm base and headstock provide tracking and resonance reduction, but you can only test that with time. Plus, it has a handy tongue for easy hand control, something its predecessor didn't have.
To me, the dust cover included in the kit is an essential attribute of any turntable because dust and dirt for records are just death. So, in the end, everything is simple but quite elegant.
As for the specifications of the LP60X, I'd say everything here is pretty standard. First of all, it is fully automatic, including the tonearm return. The speed change from 33-1/3 to 45 rpm is also done with a button.
Despite the lightness and instability of the cabinet, the manufacturer ensured the reduction of extraneous noise by a servo-controlled DC motor and a remote AC/DC adapter.
Typical for devices in this price range, the AT-LP60X turntable has a built-in phono stage. Unfortunately, its quality leaves much to be desired, but the option to switch PHONO/LINE (the button is located on the back panel) allows you to buy an external quality phono stage if you wish. So, at least in the beginning, no extra cost is needed!
I would point out that important built-in parts, including the cartridge, can be replaced. Or rather not the Dual Magnet cartridge itself, but its ATN3600L diamond stylus. For me, this is a big plus. After all, having first invested in a budget player, you can upgrade it over time.
Another nice difference from the LP60 is the Y-cable with a 3.5mm mini-jack on one side and standard RCA on the other. In the original, it was "stitched in". So this part can also be replaced if it breaks.
As you have already understood, this is not an audiophile device. The AT-LP60X will not impress your imagination with its unforgettable sound in its initial configuration. Though, to be fair, I'd say it sounds pretty normal. The turntable isn't noisy, hoarse, or tinkling in the upper frequencies. The detailing isn't the sharpest, but it didn't leave me feeling blurry. And if you place the deck on as flat a surface as possible, vibrations are not noticeable. The overall impression is pleasant, and the tonal range is even quite wide.
But it is not without reason that I accentuated the fact that the manufacturer tried to make almost all parts replaceable. This is what sets the LP60X apart from other models of its rank. After all, gradually replacing parts can achieve a much better sound if you can not afford to spend a lot of money at once.
Key specs
Drive type: belt.
Operation type: fully automatic.
Speeds, RPM: 33 1/3, 45.
Phono Pre-Amp: yes.
Speakers: no.
Bluetooth: no.
USB: no.
AUX: no.
The Audio-Technica AT-LP60X is an excellent turntable with an auto return that provides decent sound quality at an incredibly low price. The well-designed tonearm and cartridge provide a clear and accurate sound that is sure to please. The Audio-Technica AT-LP60X is a great choice for those who want to reach the full potential of their record collection, especially if you're just at the beginning of your analog music experience.
Denon DP-300F – also a great choice
Even though Denon is not exclusively a manufacturer of vinyl turntables, I decided to do a Denon DP-300F review. Because the equipment of this brand deserves attention for its quality, and you will agree, it will be interesting to know what this fully automatic model has to offer.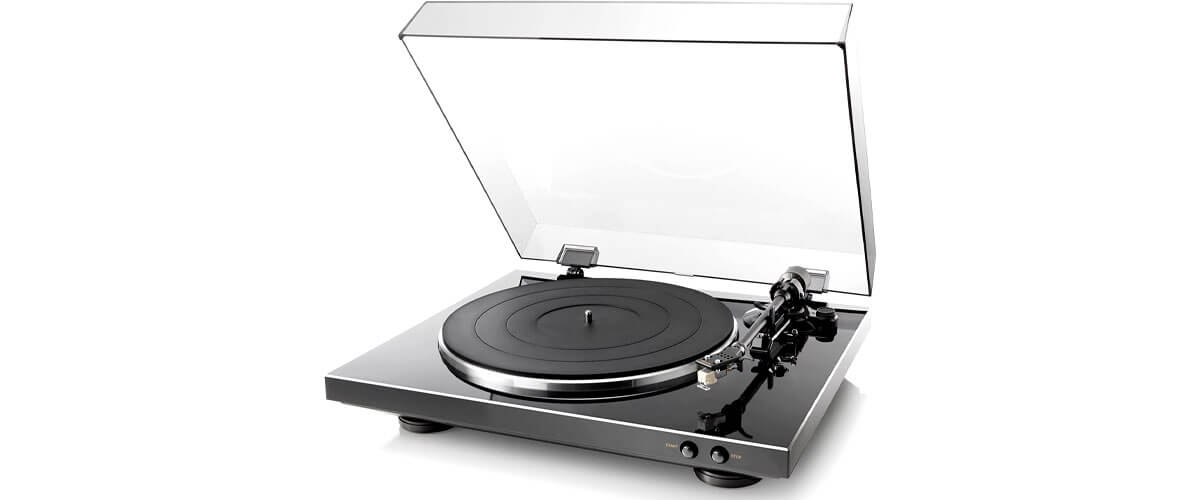 Visually, the Denon turntable resembles the Pro-Ject Debut Carbon. Although you look closely, you can see the differences: the case is not made in Royal Black gloss as it may seem; it is rather a very dark gray. The design is simple and understated. I prefer it because I like discreet things that do not stand out in the interior.
The DP-300F is also inferior to the Debut Carbon in its susceptibility to vibration. However, its 12-pound weight and overall construction on a flat surface can provide ample stability. The cast aluminum platter compensates for this deficiency by providing additional resonance suppression.
There are only two neat Start and Stop buttons on the front panel and next to the platter under the tonearm - the buttons to change the playing speed and record size. However, everything is simple and clear, so it will suit those who dislike tinkering with the equipment or even beginners audiophiles.
The tonearm here is plastic and straight. I would refer to this as a disadvantage. For this price, they could have avoided plastic in such an important and often used part. But I will assume that the manufacturer spared it because you don't have to touch it with your hands. The tonearm is automated as well.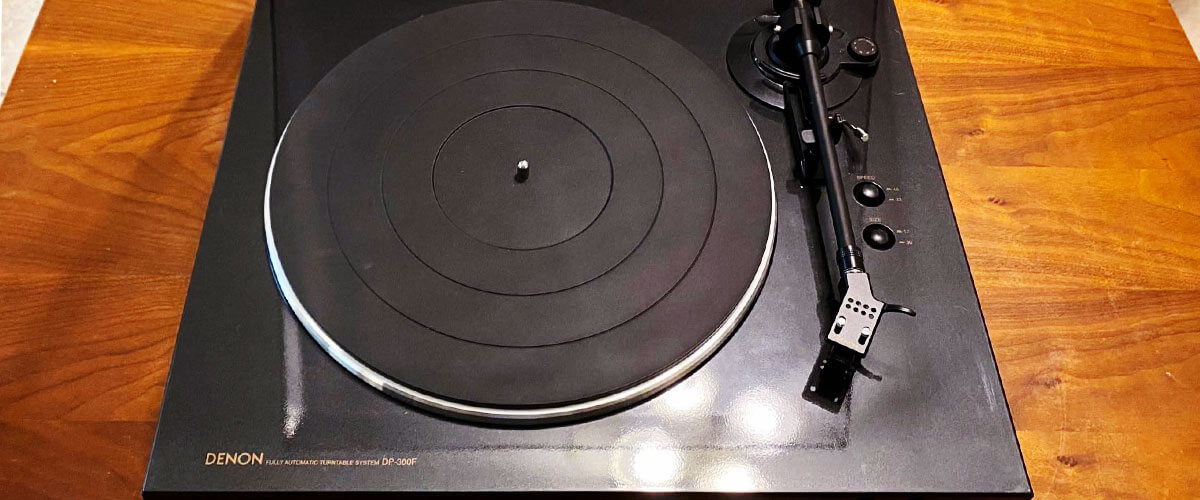 From the general data regarding the design, I would like to note that the deck dimensions are 17,1 x 4,7 x 13,8 inches, the turntable also comes in Premium Silver color, and it also has a dust cover, which I respect.
The DP-300F record player specifications are fairly simple and standard for its price range. For example, it has a DC servo motor, belt drive, and two record speeds of 33 and 45 rpm.
Among the advantages, I would mention the built-in phono stage. Not all decks of this rank have it. The phono pre-amp is expectedly not of the highest quality. But if you choose the turntable by the price criterion, you will not have to pay extra money at the beginning. But later you can buy an external one to improve the sound quality.
Another bonus is the tonearm with a removable head. It has a CN-6518 MM stylus cartridge with a DSN-85 interchangeable needle. And it can be replaced, which is rare on a turntable like this. It is a great option because, initially, the stylus is not the highest quality, which is normal for this price. You can manually place the needle anywhere on the record if this is important to you.
On the downside, I refer to the built-in wires. For me, it does not seem possible not to have the ability to replace the wires at all. That is, in case of breakage, only to repair. But, of course, I may exaggerate; I have a dog, and the wires are my pain. So think about whether it matters to you.
Now a few words about how the Denon DP-300F sounds. It doesn't sound bad, even good, I should say. It is not an audiophile device but produces warm, uncluttered tones even in its original configuration. It lacks a bit of pitch and bass depth, but the overall picture is pleasing to the ear. Nevertheless, the important thing is that by buying a turntable for this price, you mustn't spend more money at first and later invest in details and get a much more advanced device.
Key specs
Drive type: belt.
Operation type: fully automatic.
Speeds, RPM: 33 1/3, 45.
Phono Pre-Amp: yes.
Speakers: no.
Bluetooth: no.
USB: no.
AUX: no.
The Denon DP-300F is the best fully automatic turntable in the price-performance ratio on my list. You will be impressed with its balanced sound, provided by quality components. If you are looking for a great fully automatic player with superior sound quality, the Denon DP-300F is an optimal choice!
Sony PS-LX310BT
This Sony PS-LX310BT review will be interesting for those who want to buy a turntable for a small amount of money but be confident in its quality. The deck doesn't look cheap in its minimalist design and doesn't require complicated setup and installation as it's completely ready to play out of the box. It also offers a Bluetooth feature that will certainly be useful to many.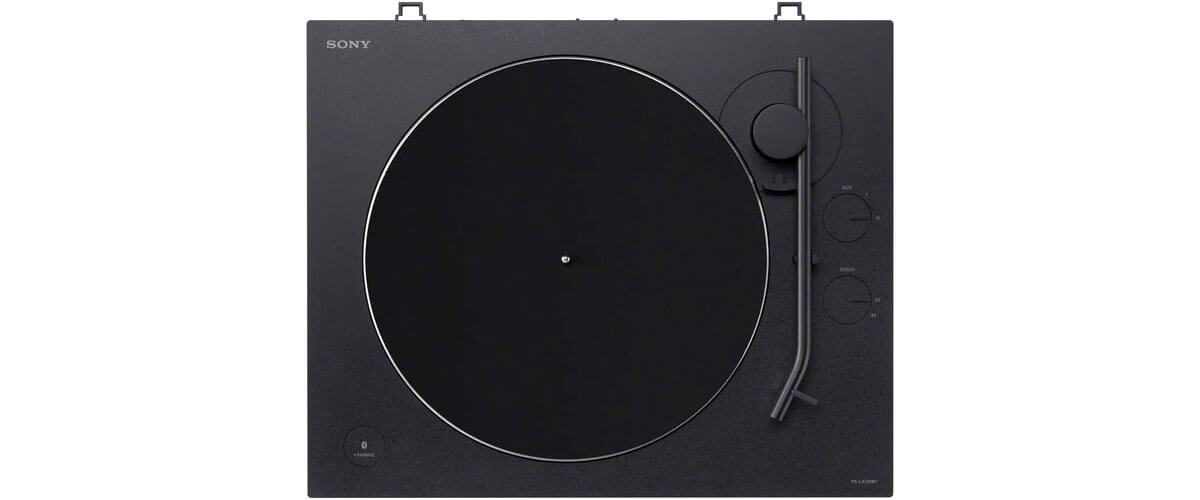 Very light (only 7.7 lbs), the body is made of plastic. Although the plastic here is dense and even looks like aluminum. Of course, it is too light, and stability is out of the question. This means you'll need weighting or a super smooth surface for the record to play without inaccuracy. But I was expecting something like this for this price range, so I do not consider it a serious disadvantage.
The design is elegant, though slightly reminiscent of 90's tech. I liked it- kind of retro. Heavy cast disc with a diameter of 11.65 inches is made of aluminum. And it handles anti-resonance issues quite well. You'll find a hole in the disc to slip the strap onto the passicle easily.
Again, the Sony turntable is very easy to handle, and all controls in the form of start, stop buttons, speed change, and switching the size of the record used (7 and 12 inches), together with the tonearm control button, are on the body. So it is easy to guess that the record player is fully automatic.
I also find its elegant curved aluminum tonearm attractive, but even so, you don't have to touch it if you don't want to. In addition, it's fully adjustable, and you won't have to worry if you don't know how to expose the load. All in all, a model for the lazy or beginner. It also comes with a dust cover.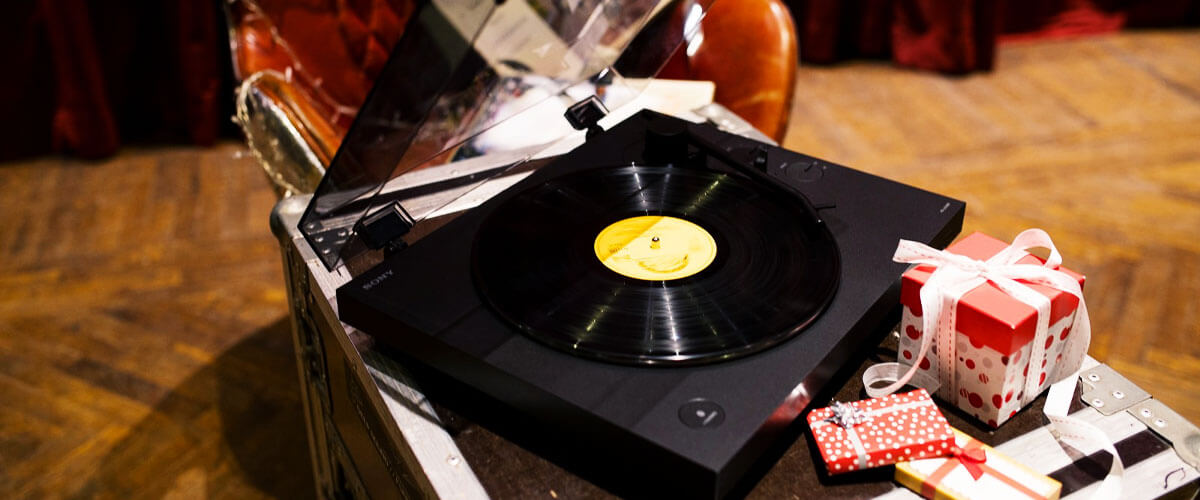 The specs of the PS-LX310BT are simple and quite expected to me, considering its price. First, it's fully set up, you take it out of the box, put the disc on the pulley and the shifting strap, and you can enjoy listening to your favorite music at two speeds of 33 1/3 rpm and 45 rpm.
The anti-skating and downforce of the built-in cartridge are also installed. By the way, as for the MM cartridge, it's removable here. It is a rarity for this price range; I've only seen it in a few models. And this option opens up the possibility of replacing it with another one of better quality over time.
The phono stage is also built-in. So if you want to pay once and get a finished product - this is it. But I advise buying an external phono amplifier because it is always better quality. On the back of the case, you will find a PHONO/LINE switch that allows you to use an external preamp as well as a built-in RCA cable. And this is where I was left unsatisfied. I don't understand the point of built-in cables unless you install the deck in one place and never touch it.
As a bonus, the turntable has Bluetooth and a Type-B USB output jack. It will appeal to those who like wireless headphones or speakers and don't feel the difference between analog and digitized sound.
Before I start describing what I heard, let me remind you that the PS-LX310BT is not much more expensive than budget players. And all of its parts are inexpensive, and of low quality, so you won't find something "that blew my mind" here. But Sony tried to make the most of the minimum. Moreover, all the parts that affect the sound are replaceable, so you can improve it yourself over time. And don't forget that many also depend on your speakers or receiver.
In its original configuration, the deck sounds very pleasant. It lacks detail and bass depth, but the weight is quite good in the middle frequencies. The sound is not mixed into one continuous "mush". The melody is distinct, without obvious errors. The turntable captures the tonal differences, rhythm, and drive. Very decent for its money!
Key specs
Drive type: belt.
Operation type: fully-automatic.
Speeds, RPM: 33 1/3, 45.
Phono Pre-Amp: yes.
Phono out: yes.
Speakers: no.
Bluetooth: yes.
USB: output port Type-B.
AUX: no.
The Sony PS-LX310BT is an auto-stop turntable with quality, clear sound from your records. For a low price, you get functionality, simplicity, and ease of use, and listening to your favorite tracks will delight you with warmth, good mids, and basses, whatever genre of music you prefer.
FAQ
Can you skip songs on an automatic turntable?
Yes, you can skip songs on a fully automatic turntable just as you would on a manual turntable. For example, to skip to another song, lift the tonearm and move it to the desired position on the record. However, it is important to note that some fully automatic turntables may not have a manual lift function (usually indicated by the finger lever on the tonearm) but instead rely entirely on the automatic tonearm movement feature. In this case, skipping songs manually might be a bad idea because you'll break the mechanism. If this is very important to you, discover the turntable's capabilities before buying.
Can you move the arm on an automatic turntable?
Yes, the tonearm of a fully automatic turntable can usually be moved manually, although this depends on the particular turntable model. Some models have a manual lift feature. Others may require you to turn off the automatic feature before you can manually move the tonearm. Read the manual before you experiment, or you may break your turntable. But in any case, handle the tonearm carefully and avoid touching the stylus directly.
How does the drive system (belt-drive or direct-drive) affect the performance of an automatic turntable?
Belt-drive turntables
use a belt to transfer power, resulting in less noise, greater accuracy, and smoother operation. On the other hand,
direct-drive turntables
have the motor directly attached to the platter, providing more torque and speed stability, making the unit more durable. Ultimately, the choice depends on your needs and preferences.
Can you use an automatic turntable manually?
Yes, you can use the automatic player manually if the design of your model allows it. Most automatic turntables have a manual mode that allows you to bypass the automatic features and use the turntable as a normal manual turntable. For example, if you have an up/down button in the up position, you can move the tonearm (it has a special finger hook for that). Be careful to thoroughly study the turntable's features, and don't damage the needle.