I'm sure that many of you, looking at the variety of turntables on the market, think that you can't afford this pleasure. But in preparing this article about best record players under $100, I aimed to dissuade you from this misconception. In fact, among the inexpensive turntables, you can find models that will satisfy the needs of an unsophisticated meloman who dreams of analog sound in his home. And who says your first turntable must cost as much as a car? Let's first get to the bottom of what you can expect from vinyl players of this rank and then consider in detail the beautiful turntables that can surprise you with their features. It will be interesting!
Our pick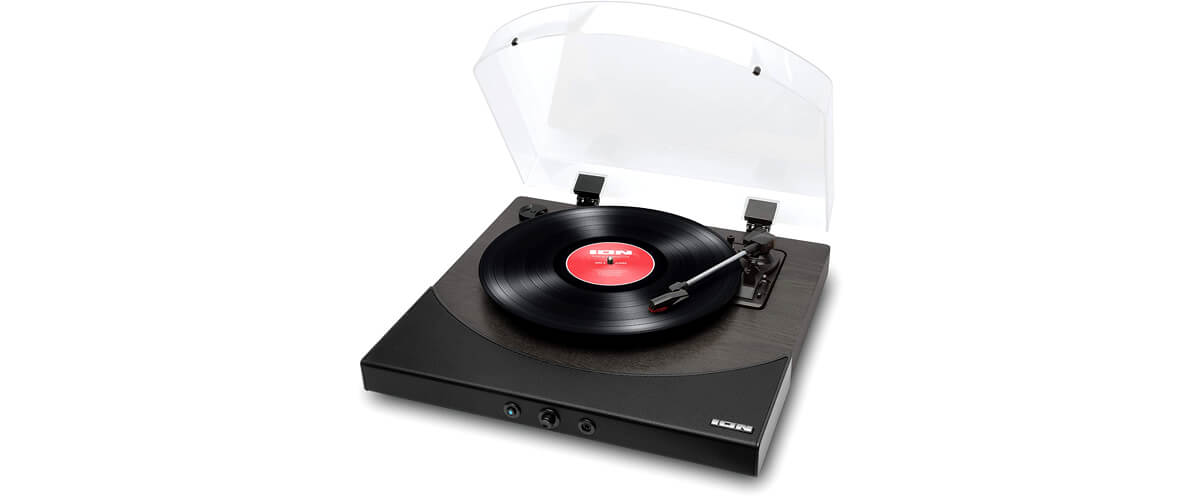 ION Audio Premier LP
Best record player under $100
The ION Audio Premier LP is a high-quality 3-speed turntable (33 1/3, 45, and 78 RPM) with a built-in phono pre-amplifier featuring Bluetooth and 1/8-inch Aux input to connect different media sources.
Read the full review
.
Record players under $100 comparison table
Name
Drive type
Operation type
Speeds, RPM
Phono Pre-Amp
Review
ON Audio Premier LP

best overall

belt
fully automatic
33 1/3, 45, 78
yes
Review
Audio-Technica AT-LP60X-BK

also great

belt
fully automatic
33 1/3, 45, 78
yes
Review
Crosley Cruiser Plus

portable

belt
manual
33 1/3, 45, 78
no
Review
What to expect from vinyl players under $100?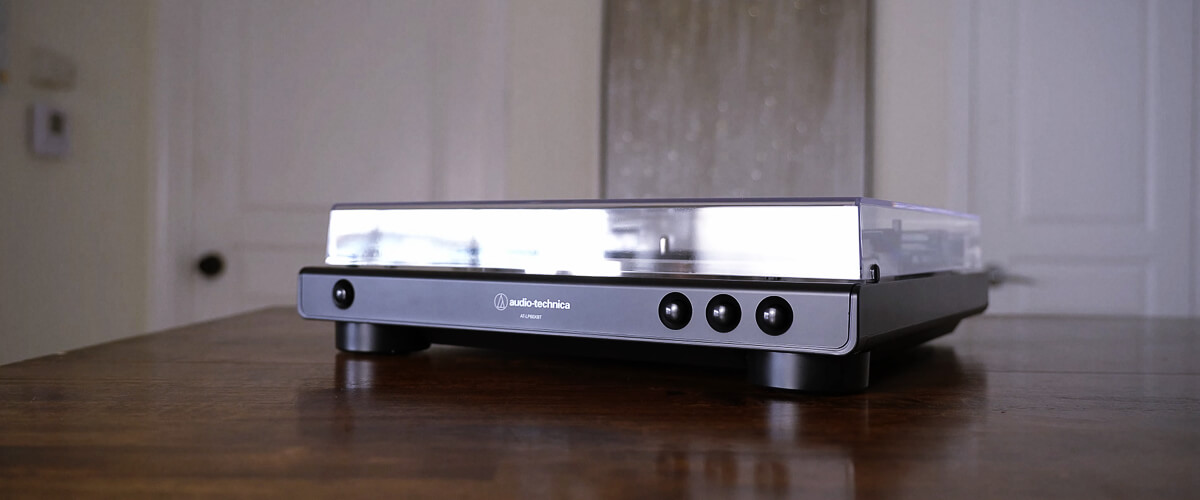 If looking for a record player in the under $100 category, you should first understand that it is significantly inferior in quality parts, assembly, and even sound to its more expensive counterparts. Nevertheless, you must consider the features and characteristics that will help you find the best turntable, especially if you are a beginner.
Build quality
As I have noted, the cheap record player does not have the same level of build quality as the more expensive models. However, the models I have chosen for our review are acceptable options for beginners or those who do not have a large budget. Although you may not get the same durability as the more expensive players, these models can still provide a good listening experience.
Features and functionalities
Despite the modest price, some record players I've selected include built-in speakers, Bluetooth connectivity, a phono amplifier, and a headphone port. You can also play records at all three available speeds of 33 1/3, 45, and 78 rpm. These features can enhance your listening experience and make using the turntable in various environments easier.
Design
While the look and design of the vinyl player may not be as important as its features, it may still be a factor for some of you. I've included various design options in my top models in retro, modern, and minimalist styles to suit different tastes. In addition, one of the turntables in my review is in a suitcase shape, making it easy to take on the road.
Best record player under $100 reviews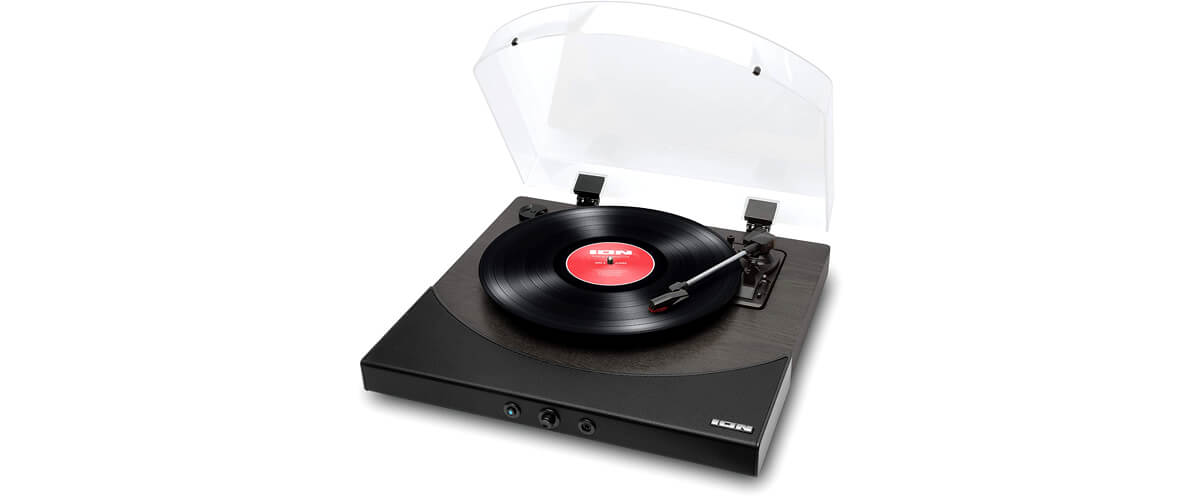 I'll start my review with the amazing ION Audio Premier LP all-in-one turntable. It looks extremely attractive and will easily "travel" around your apartment since it weighs about 7.7 pounds. However, that weight won't protect the vinyl player from vibration, so I recommend making it heavier. The unusually shaped dust cover will cover the record during operation while leaving the built-in speakers outside.
Before we get into the many features of this model, let me admit right away that the built-in speakers do not impress me at all with their quality. But in terms of functionality, it's a plus, as is the presence of a headphone input, Bluetooth function, a USB port with which you can make records (includes a free download of EZ Vinyl/Tape Converter software), and a built-in preamp. So you take the ION Premier out of the box, plug it in, put a record in, and you're ready to use it. And it spins records at all three speeds 33 1/3, 45, and 78 RPM, though you must buy a separate stylus from the same company for 78 records. And it automatically resets tonearm after a record is finished and is fully controlled with all sorts of knobs. Impressed? I assure you, not many turntables can offer such functionality.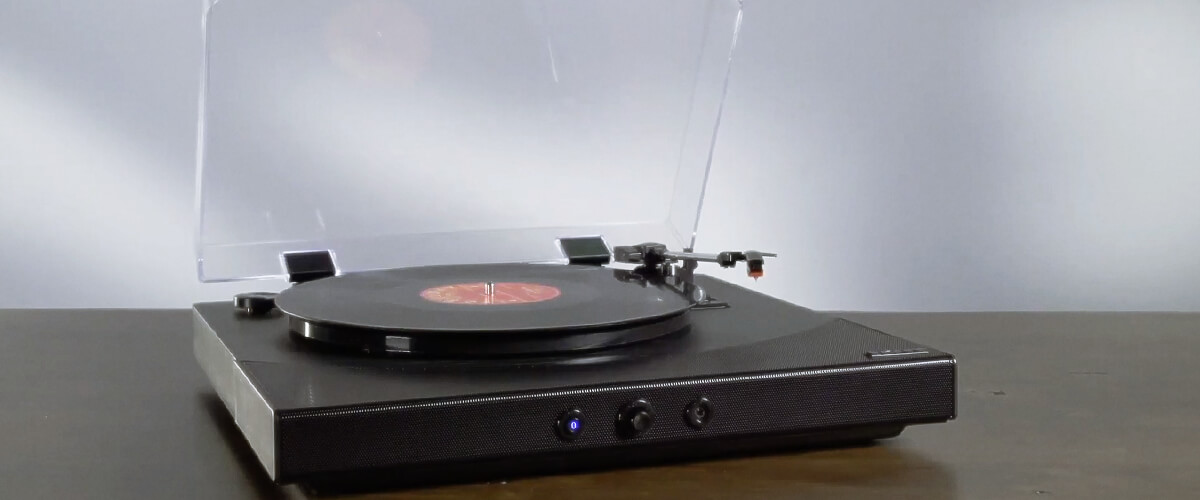 But how does the ION Audio Premier LP sound? I tried everything I could on it. So, I listened to Hozier through the built-in speakers. Let's just say…I can listen to this quality if I'm doing something in the kitchen, for example, and I need a backdrop. Not terrible, but I ended up preferring to plug in regular speakers. Plus, I wanted to try out Bluetooth. Yes, it was much better. The sound was pretty clear and with a weighty bass. And the connection worked well, too, with no interruptions, although it's not analog sound anymore. I also connected regular speakers, for which there is a 1/8-inch input, and the result also satisfied me.
ION Audio Premier LP is inferior to Audio-Technica AT-LP60X in sound quality, but it has features that few turntables in this category can boast. You get a portable Bluetooth record player with built-in speakers and a recording function; you can play all kinds of records on it without worrying about tuning. On my list, by all parameters, this is the best record player under $100.
Key specs
Drive type: belt.
Operation type: fully automatic.
Speeds, RPM: 33 1/3, 45, 78.
Phono Pre-Amp: yes.
Speakers: yes.
Bluetooth: yes.
USB: yes.
AUX: yes.
Pros
Automatically resets tonearm after a record is finished.
Can handle 33 1/3, 45, and 78 rpm records.
USB port for recording.
Headphone port.
1/8-inch input for regular speakers.
Bluetooth pairs great with speakers and works seamlessly.
Cons
Built-in speakers can't be compared to external speakers in terms of sound quality.
Audio-Technica AT-LP60X-BK – also great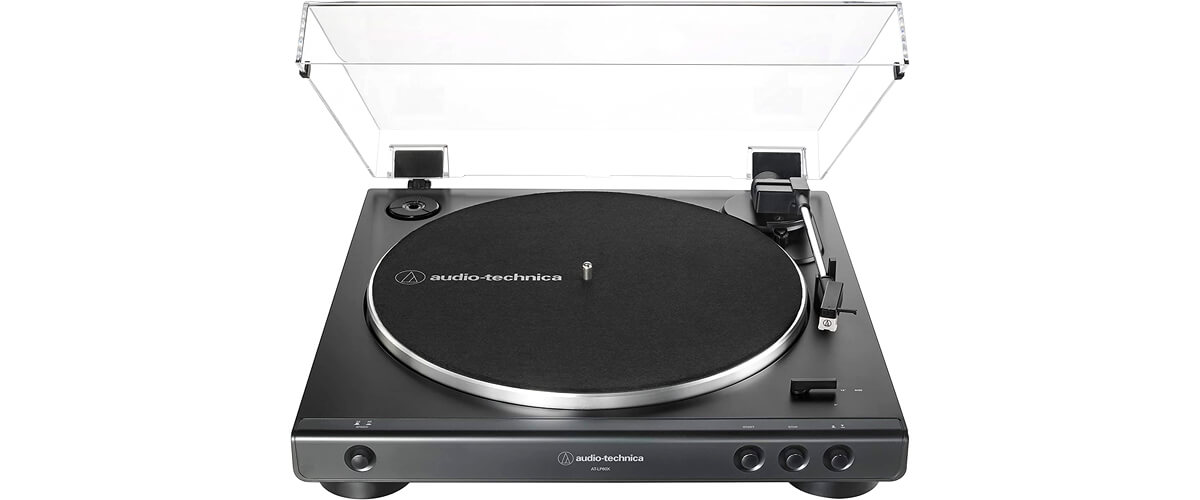 Ha-ha, I know you're going to say, "But this model is more expensive than 100 bucks!" I know, I know. I deliberately added it to the list to show you the difference if you spend a few dozen dollars more. First of all, this brand is incredibly popular. And it's famous for offering budget turntables of just great quality. So, let's make sure of that.
The LP60X is made of plastic, and that's its big downside, especially considering its weight of only 5.6 pounds, but it's an expected compromise for its price. But its cast aluminum disk makes up for that disadvantage somewhat. Plus, a servo-controlled DC motor and a remote AC/DC adapter reduce extraneous noise. That said, the turntable looks more like 90's tech than just a cheap device. And even a beginner in vinyl can control it, as it is fully automatic. But you will find a special tongue on the tonearm if you want to remove the needle from the record at any time and not damage the record.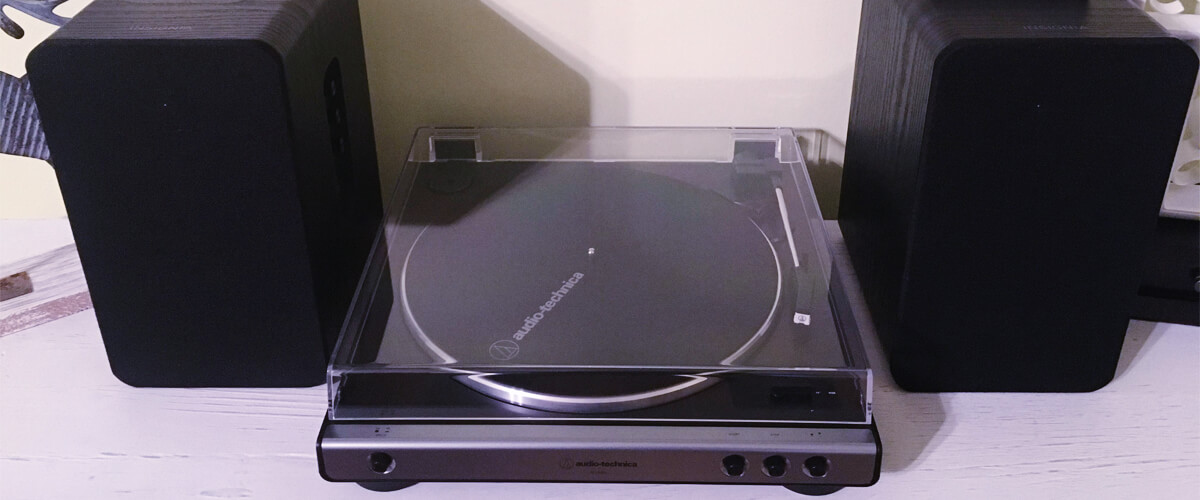 Unlike the ION Audio Premier LP, there are only two 33-1/3 operating speeds at 45 rpm. And no Bluetooth. But you can connect an external preamp to the LP60X, improving the already good turntable sound. And it also has a diamond stylus ATN3600L in a Dual Magnet cartridge, which can be replaced. And that's the main and important difference between a vinyl turntable and cheaper models because it means that by investing a little initially, you can make your AT-LP60X better later, and it will last you for years.
No, I'm not going to say that it's a super awesome turntable that will blow your mind in terms of sound, but if you compare it to some pretty good competitors, it's a head-turner. For example, playing my favorite Guardians of the Galaxy Vol.2 soundtrack on this turntable made me smile. The music is delivered with a wonderful sense of dynamism and energy and an impressive amount of moving but deep bass. No fuzz, and it made me want to dance.
I believe the Audio-Technica AT-LP60X is a turntable offering quality at this price, good warm sound, and, most importantly, the ability to upgrade the stylus and connect an external preamp. I highly recommend this real vinyl turntable, and it will suit anyone who wants to join the world of vinyl without breaking the bank.
Key specs
Drive type: belt.
Operation type: fully automatic.
Speeds, RPM: 33 1/3, 45.
Phono Pre-Amp: yes.
Speakers: no.
Bluetooth: no.
USB: no.
AUX: no.
Pros
Fully automatic; even a child can handle it.
The die-cast aluminum platter and remote AC/DC adapter provide stable performance in a lightweight design.
You can connect an external preamp to enhance the player's sound quality.
Diamond stylus ATN3600L is reliable.
You can replace the stylus over time.
Crosley Cruiser Plus – portable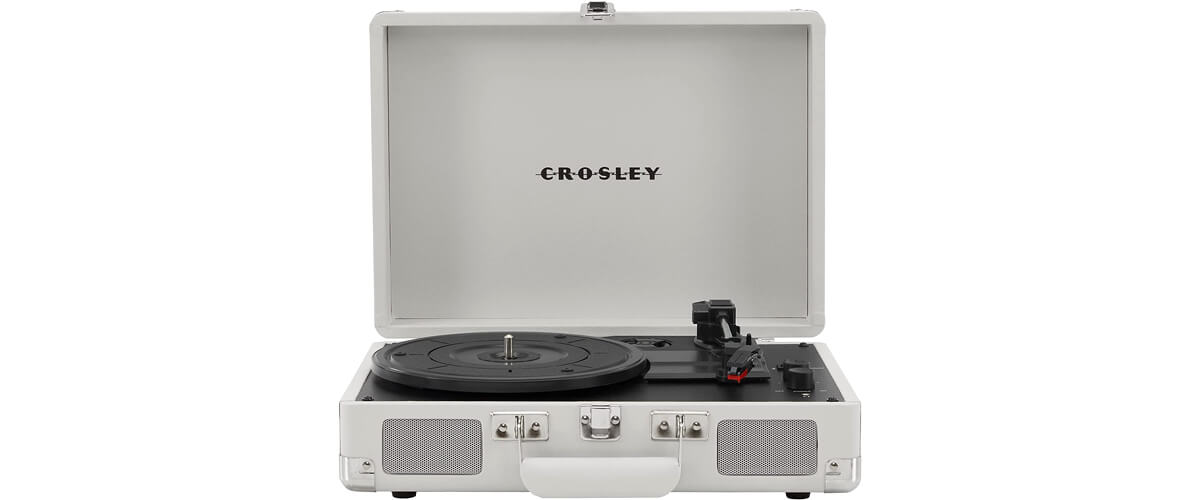 If you haven't seen a suitcase turntable yet, this is the most famous of them all, the Crosley Cruiser Plus. In my opinion, this is the most popular option for teenagers who are into various music while appreciating modern features and portability. After all, it's easy to carry with you to a friend's house or even take it on a trip. But be careful; the plastic can easily break, which would be a shame. In addition, the manufacturer offers just an incredible number of colors for the model.
So, Cruiser Plus is a fully ready-to-use case that has built-in speakers, three operating speeds of 33 1/3, 45, and 78 rpm, a headphone port, and a Bluetooth option, so you don't have to bother with wires when connecting speakers (just like ION Audio Premier LP). You can also connect your phone to it via the AUX port, but I wouldn't recommend doing that if you value sound. It's tolerable, but I'd rather plug in regular speakers. Of the specific features, it has pitch control, and that's very cool.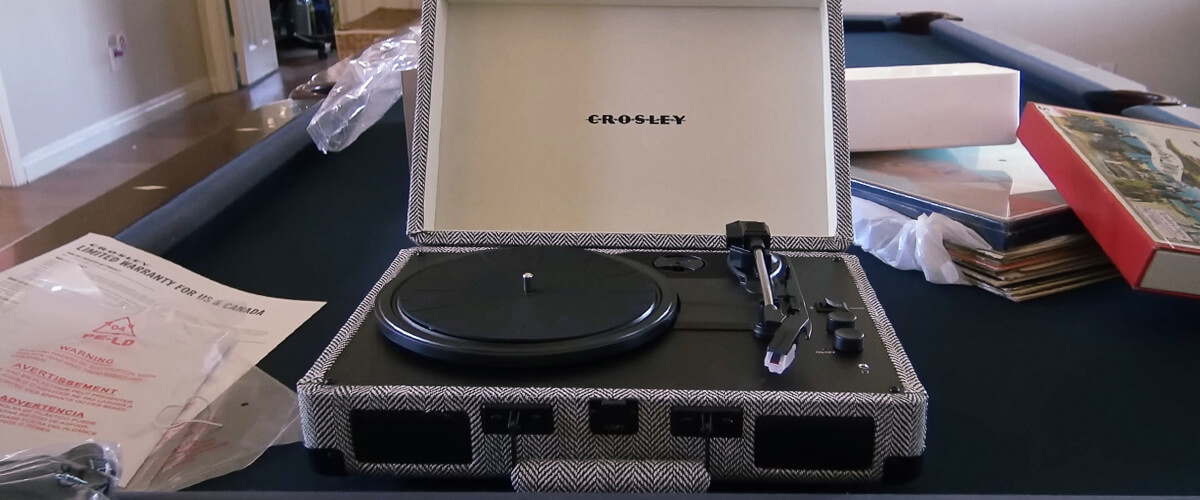 As I said before, the sound from the Crosley Cruiser's built-in speakers is tolerable rather than good. It doesn't croak or give outright mispronunciation, but it is weak and flat. But when I paired the vinyl player with my Bluetooth speakers, I was pleasantly surprised by the sound of Nina Simon's Feeling Good record. The brass instruments sounded very convincing, and Nina's gentle voice penetrated me, giving my body goosebumps.
The Crosley Cruiser Plus is one of the best turntables under $100 for beginners, teens, or those who want to listen to records without spending all their savings to purchase a record player. It offers a stunning retro suitcase style and modern options that make it easy to operate, portable, and adaptable to modern realities.
Key specs
Drive type: belt.
Operation type: manual.
Speeds, RPM: 33 1/3, 45, 78.
Phono Pre-Amp: no.
Speakers: yes.
Bluetooth: yes.
USB: yes.
AUX: yes.
Pros
A very comfortable and cute portable player in the form of a suitcase.
Three speeds of 33 1/3, 45, and 78 rpm.
Presence of pitch control.
Possibility to connect your phone via AUX.
Cons
The plastic case requires careful handling.
Built-in speakers do not give excellent sound quality; it is better to use external.
Victrola Eastwood Bamboo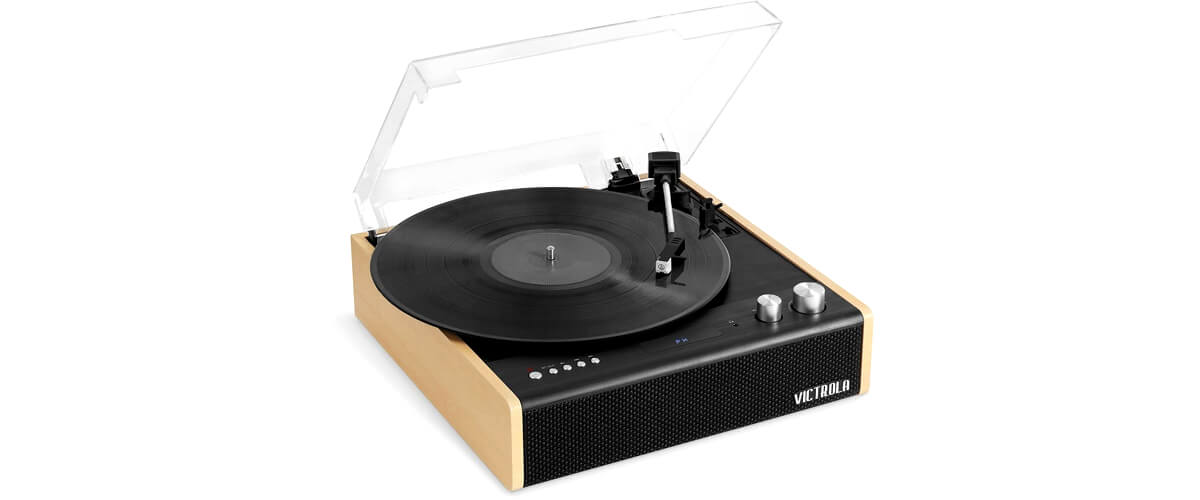 Since we are looking for good record players under $100, the Victrola Eastwood Bamboo is also worth considering. It looks amazing and will give not only an external vintage feel but it will sound the same.
Just like the other members of my list, the controls are push-button, which also includes automatic lifting and lowering of the tonearm, which will protect your record from unnecessary damage. In addition, the Victrola Eastwood has built-in speakers and Bluetooth and spins records at all three available speeds. And of the distinguishing features, only this vinyl turntable (other than the AT-LP60X, which is understandable) has a proprietary cartridge from Audio-Technica. Cartridges of this class, albeit low-end, mean a lot when choosing inexpensive equipment because it gives you a sense of reliability. And, after all, it's the main part that comes in contact with your LPs. Of minor disappointments, the cover broke almost immediately, so fragile it is. But at least it didn't completely break.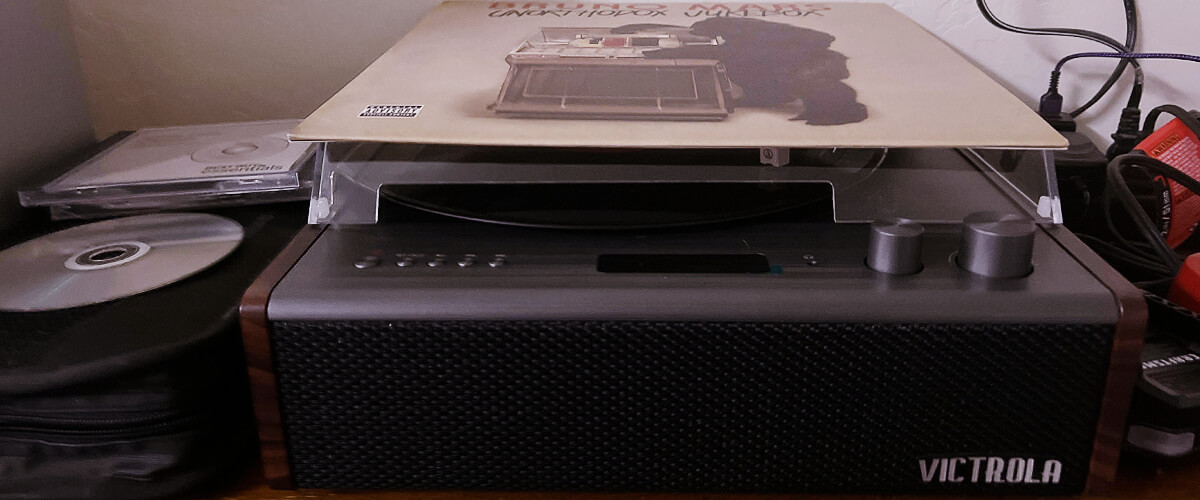 This time I got The Alan Parsons Project record. I even had to dust it off, but I didn't do it for anything. The thing is, I've heard that the Victrola Eastwood Bamboo sounds like old vintage turntables. And it's true! Yes, the native speakers have no bass at all, but the sound is clear and pleasant, though not voluminous. But after connecting the speakers, the sound filled the room, giving me pleasant memories and making the vocals stand out well against the background of the band's rising motifs.
I would happily recommend the Victrola Eastwood Bamboo to aspire fans of analog sound. It seems to be able to help you get into the idea of vinyl while still existing perfectly organically in today's world with wireless speakers.
Key specs
Drive type: belt.
Operation type: manual.
Speeds, RPM: 33 1/3, 45, 78.
Phono Pre-Amp: no.
Speakers: yes.
Bluetooth: yes.
USB: yes.
AUX: yes.
Pros
Audio-Technica's proprietary cartridge.
Vintage sound, just like the old turntables, but without the frills.
Automatic lifting and lowering of the tonearm.
Possibility to connect wired and wireless speakers.
Cons
Very fragile cover; a small piece broke off almost immediately.
No bass at all from the native speakers.
Vinyl Music On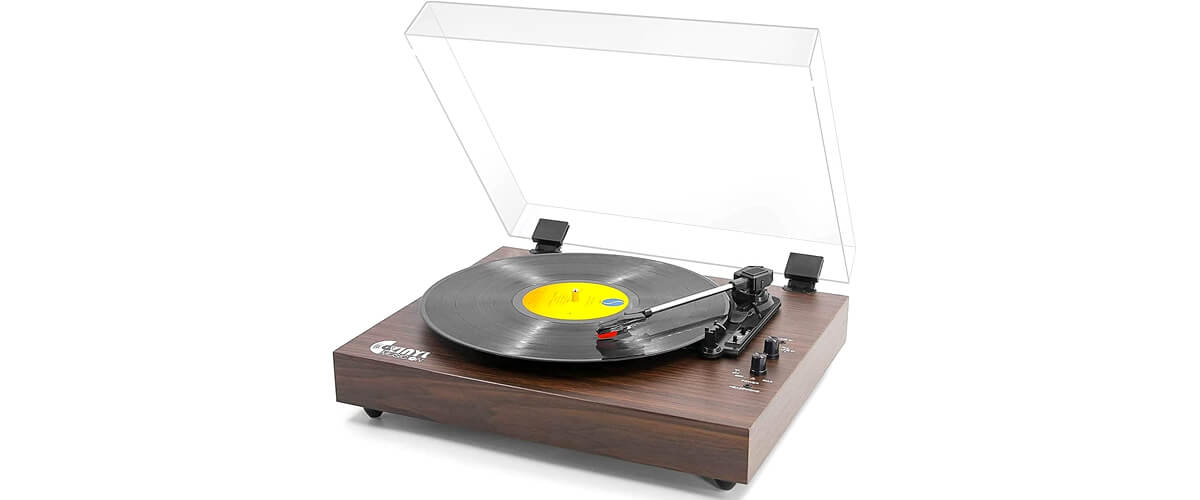 Last, on my list, the Vinyl Music On turntable will appeal to those who prefer the classic natural wood look. And unlike almost all the models listed above (which I didn't mention), you can close the lid while the record plays. I like this because I hate dusting.
In terms of functionality, Vinyl Music On is not much different from its predecessors. It plays records at 33 1/3, 45, and 78 rpm and has a built-in preamp, headphone input, and lever and button switching. Its ceramic cartridge is the simplest, but let's not forget that you can only listen to records cheaper at the store. But it has rubberized feet, which reduce vibration. See? There's always a silver lining if you look hard enough. What I thought was odd, I couldn't find a manual, but pairing via Bluetooth wasn't difficult, so I got by. And anyway, the player is ready out of the box, so don't be intimidated; you can handle it. I listened to a couple of songs from my phone over the wireless connection, and they sounded pretty good, although without the depth of bass where it was needed, but smooth and uninterrupted. Yes, you can't stream sound from a record via Bluetooth, only from your phone via the Vinyl Music On speakers. And that's what makes this model different from the Crosley, ION, and Victrola.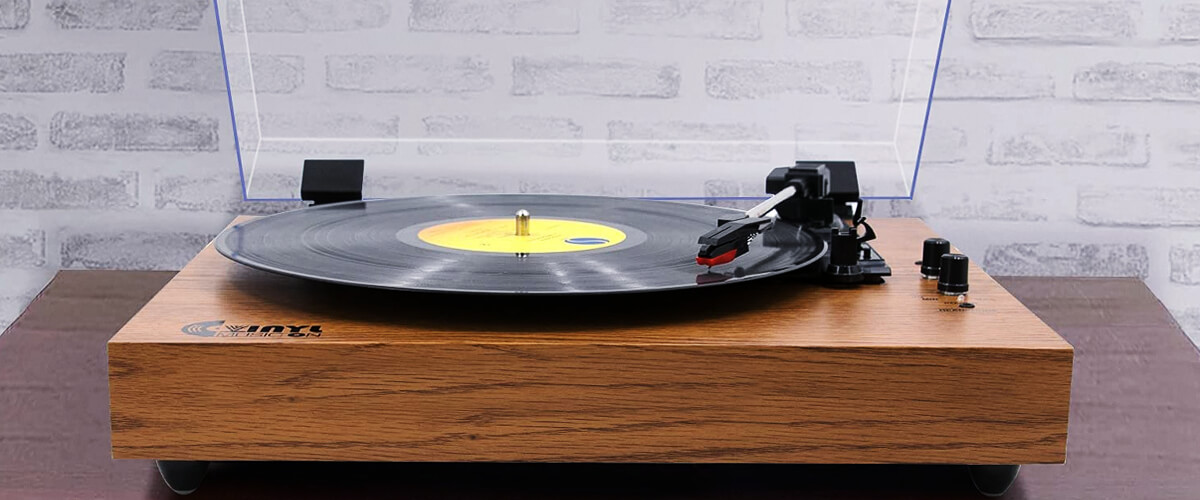 Of course, there are built-in speakers here too, and surprisingly they sound quite good. I would even say very decent. My Michael Kiwanuka record is very expressive and quite loud. But when I connected external speakers with an RCA cable, the record started to play pleasantly warmly, and the music played with its various details.
I would call Vinyl Music On a modern device for modern people who prefer to have everything compact at their fingertips. It's a good vinyl record player under 100 dollars that won't require you to make any extra investment or fuss with setup and tuning and will give a warm vintage sound to your records.
Key specs
Drive type: belt.
Operation type: manual.
Speeds, RPM: 33 1/3, 45, 78.
Phono Pre-Amp: yes.
Speakers: yes.
Bluetooth: yes.
USB: yes.
AUX: yes.
Pros
You can close the cover while the record plays to keep it from the dust.
Three record playing speeds.
Rubberized feet for greater stability.
Good clean, smooth sound.
Cons
The ceramic cartridge is of poor quality; try carefully handling the record.
Bluetooth is streaming only into the turntable, not out of it.
FAQ
Are cheap record players any good?
Cheap turntables are good in a way. Sure, they don't have the quality and functionality of expensive models, but they can be a great alternative for beginners or unassuming listeners with limited finances. They usually have an interesting design, and some low-quality parts that can break or even damage your record can be replaced without breaking your budget. But most importantly, they spin records, which means you can enjoy the analog sound.
Are turntables under 100 ideal for beginners?
Absolutely! Players in this price range can be a great starting point for beginners who want to try vinyl without spending too much money. These models can provide a good listening experience and be comfortable and easy to use.
Do cheap turntables ruin records?
Since cheap turntables are usually made of inexpensive materials, including such an important part as the needle, I could say yes, they can damage the record. However, you can replace the needle or cartridge in many cheap models. So with timely replacement and constant care of your records and vinyl turntable, you don't have to worry about the integrity of the LP. Everything is in your hands!