Analog sound is a gift for the ears of the audiophile. And if you are thinking about buying a quality turntable or upgrading your old vinyl turntable, you probably want to get the optimal value for money so that your new purchase will serve you for years to come. In this article, I want to tell you what to look for when buying a vinyl turntable and suggest you pick the best turntable under $1000 from my list, where each member is worth every penny invested in it. Spending more will save you from running to the repair shop or constantly replacing cheap components. So, get ready to be impressed and make a decision. Let's go!
Our pick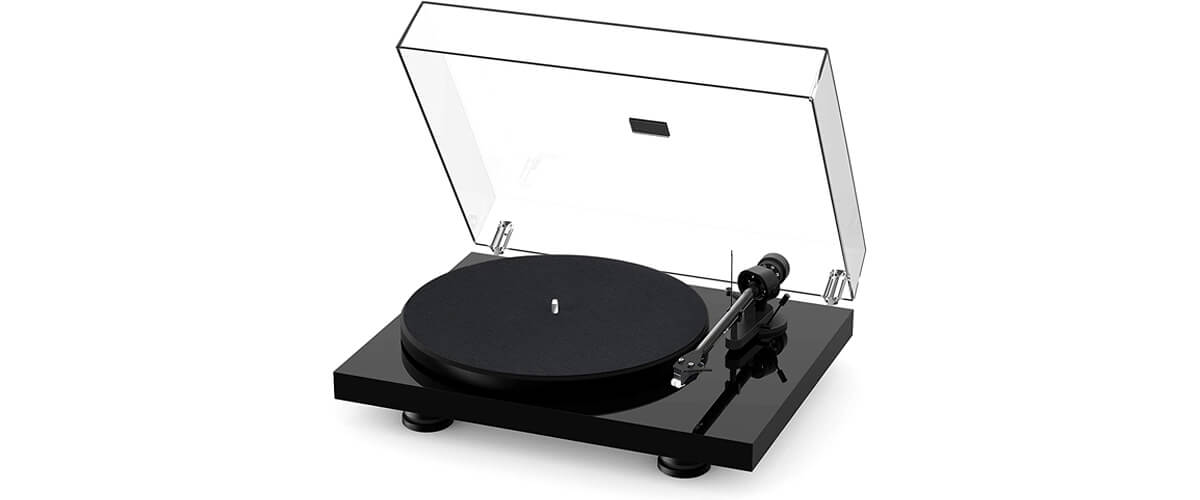 Pro-Ject Debut Carbon EVO
Best record player under $1000
The Pro-Ject Debut Carbon EVO features a newly designed motor suspension to reduce vibrations. Also, the rocker switch allows you to change speeds by pushing only a single button.
Read the full review
.
Record players under $1000 comparison table
Name
Drive type
Operation type
Speeds, RPM
Phono Pre-Amp
Review
Pro-Ject Debut Carbon EVO

best overall

belt
semi-automatic
33 1/3, 45, 78
no
Review
Pioneer DJ PLX-1000

for DJ

belt
Manual
33 1/3, 45
no
Review
Audio-Technica AT-LP7
belt
manual
33 1/3, 45
no
Review
Key considerations for choosing a turntable under $1000
Before you start choosing among the best turntables under $1,000, you should be sure to familiarize yourself with the features and specifications of the turntable, as they can make vinyl record player setup and future use much easier for you. It is especially true for those buying a turntable for the first time. So, what should you pay attention to?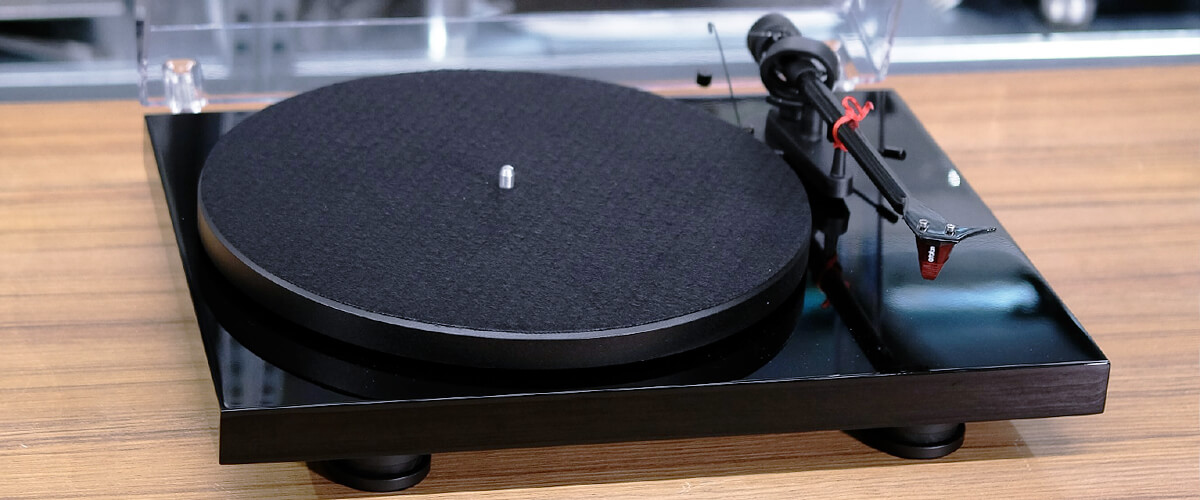 Drive type
There are two types of drive: belt drive and direct drive, each with advantages and disadvantages. Of course, your choice depends solely on your needs and preferences, but you should understand the difference.
Belt drives are more common among top turntables under $1000. They provide smooth and stable playback, which means they can provide excellent sound quality. However, they may require periodic belt changes and manual adjustments or movement when playback speeds change.
Direct-drive turntables can offer excellent torque and stability, making them a popular choice for DJs and those who need a powerful motor. However, they can produce more noise and vibration than belt-driven turntables.
Motor quality
Motor quality is critical in turntable performance because a good motor must provide a constant and stable rotation speed to guarantee accurate music reproduction. The main technical characteristics of a motor are torque and rotation speed. For example, higher torque is especially important if you have a large collection of old heavy or warped records; it can also handle those. A stable rotation speed ensures you hear your music without any pitch changes or distortion.
Platter material and weight
The platter is the rotating surface on which the vinyl record is placed. I strongly recommend that you pay attention to the following characteristics of such a seemingly simple part:
Material. Plates can be aluminum, metal, acrylic, or glass. You should know that the heavier the material, the better its damping properties. But heavier platters are harder to handle daily because they must be cleaned periodically, and you must remove them to move the tape. So be careful and take your time. Also, don't change the platter to a heavier one if your turntable isn't designed for it; you can damage the motor.
Surface. The platter's surface must be perfectly smooth and flat to ensure proper contact with the record. Look for plates with a precisely machined surface to reduce any wobble or deformation.
Bearing. A high-quality bearing should support the platter to minimize friction and ensure smooth rotation. So look for turntables with high-quality bearings, such as ceramic or inverted bearings.
Slip mat. It is not such an important factor when buying one. However, it's great if it already comes with it, right? You should look for felt, cork, or rubber mats for better insulation and resonance dampening.
Tonearm
A good tonearm should accurately track the grooves on the record without causing excessive wear or distortion. Therefore, in addition to the shape of the tonearm (curved ones are considered better because of accuracy), I draw your attention to factors such as:
Length. It affects the required tracking force and the amount of resonance possible. A longer tonearm may provide better tracking but may also be more resonance-resistant.
Counterweight. A quality tonearm has an easily adjusted counterweight and provides the right tracking force for your cartridge.
Anti-skate. This mechanism helps keep the tonearm centered in the record's groove and prevents it from shifting toward the center or outer edge. It is an excellent feature that provides an effective anti-skate system and prevents damage to your record.
Cartridge Compatibility. If your tonearm is compatible with a wide variety of cartridges, this will ensure that you can replace them. So you can experiment with different options and improve your setup without buying a new deck.
Best record player under $1000 reviews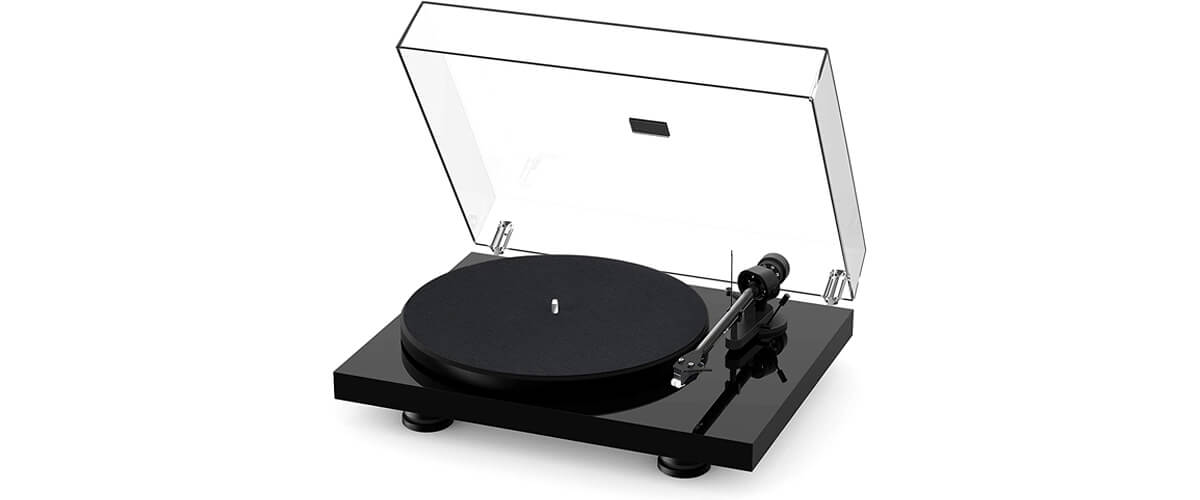 One of the top turntables for me in terms of quality/price ratio, and therefore at the top of my chart, is the Pro-Ject Debut Carbon EVO. You'll ask, "Why?" and I'll answer, "Because it's incredibly attractive, compact, easy to operate, and high quality".
As the mid-priced, most attractively priced of all the vinyl turntables listed here and an updated version of the popular Debut Carbon (DC), it offers you a variety of cabinet colors and a weighted 12″ steel TPE disc that, while minimalist and weighing only 12.35 pounds, makes the turntable stable. Adding to its stability are three height-adjustable, damped aluminum feet. Pro-Ject also bothered redesigning the motor suspension, and the vinyl turntable runs virtually silently.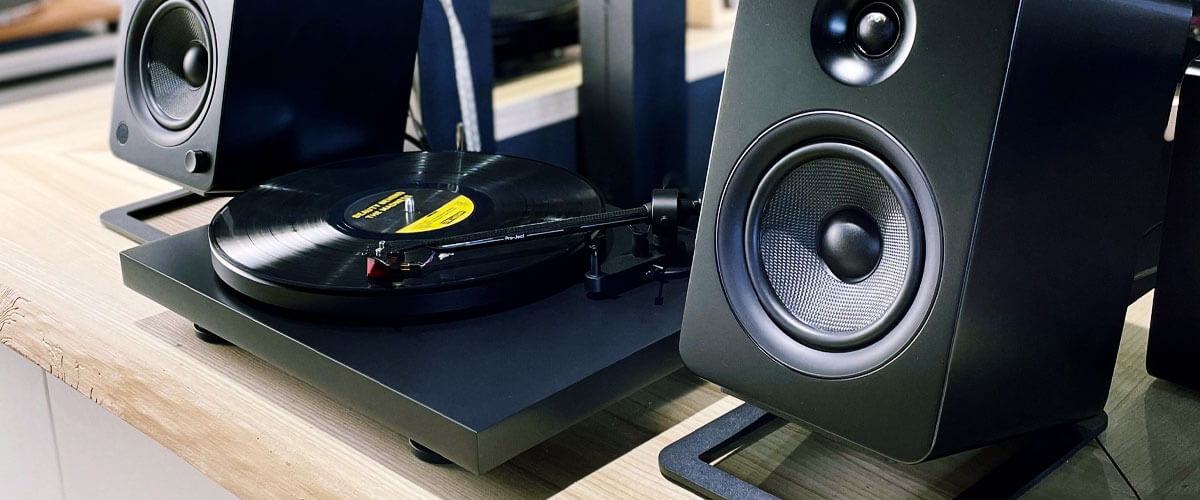 The 8.6-inch long carbon tonearm is beautiful, sturdy, and easily adjustable. And it would be perfect if it weren't straight. The tonearm has a wonderful Sumiko Rainier cartridge. And the Debut Carbon EVO plays records at all three available speeds, though you'll have to replace the strap for 78 rpm. Unfortunately, there's only one button to change speeds, but the tonearm return function was insufficient for me.
The Miles Davis Kind of Blue record sounded like I was near a recording studio. Each instrument listened clearly, not blending into one mishmash, with a well-defined deep bass. No additional noise; all frequencies were clear, detailed, and rich. I was left thrilled.
The Pro-Ject Debut Carbon EVO is truly the best record player under $1000 in every way. It sounds really cool and has high-quality parts, quiet operation, and semi-automatic control. And besides, it will be a great addition to your interior.
Key specs
Drive type: direct.
Operation type: semi-automatic.
Speeds, RPM: 33 1/3, 45, 78.
Phono Pre-Amp: no.
Speakers: no.
Bluetooth: no.
USB: no.
AUX: no.
Pros
The motor suspension makes the turntable almost silent.
Heavy-weighted 12″ steel TPE disc.
Carbon tonearm with high-quality Sumiko Rainier cartridge.
Operates at three speeds 33 1/3, 45, and 78 rpm.
Cons
No tonearm return function.
Pioneer DJ PLX-1000 – for DJ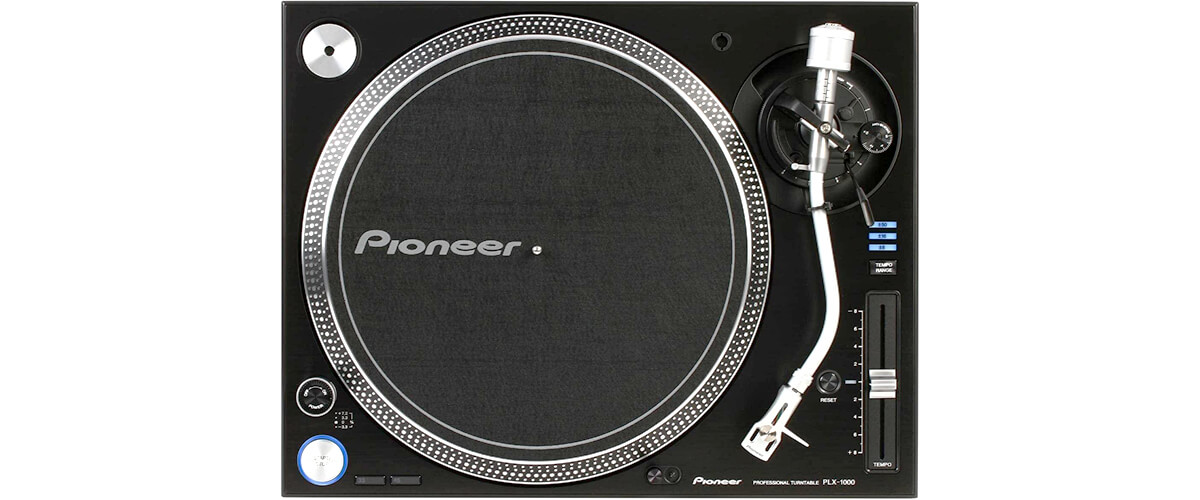 Do you dream of becoming a DJ and are looking for a professional turntable at a reasonable price? Well, I am happy to present to you the Pioneer PLX-1000, which is very similar to the famous Technics SL-1200, popular among DJs.
I'll be honest; I'm ecstatic about this turntable. You look at it, and you see a level beyond the reach of a beginner. Starting with its heavy weight of 28.9 pounds due to the zinc casting and additional bottom reinforcement, the cast aluminum disc, the drive method (quartz lock, servo, direct drive), and the multiple S-shaped tonearm and slider control on the plinth surface.
Going into more detail on the tonearm, it comes with counterweights for adjustment and a head with a removable weight, which has anti-skating and thick rubber insulation. But it may come as a surprise that there is no cartridge or needle for it in the package. It is because the claim to professionalism implies a separate purchase of parts that are fundamental to the work. Whether that's a plus or a minus is up to you, but I'd prefer the complete kit. It's worth noting that the PLX-1000 runs only at 33 1/3 and 45 rpm.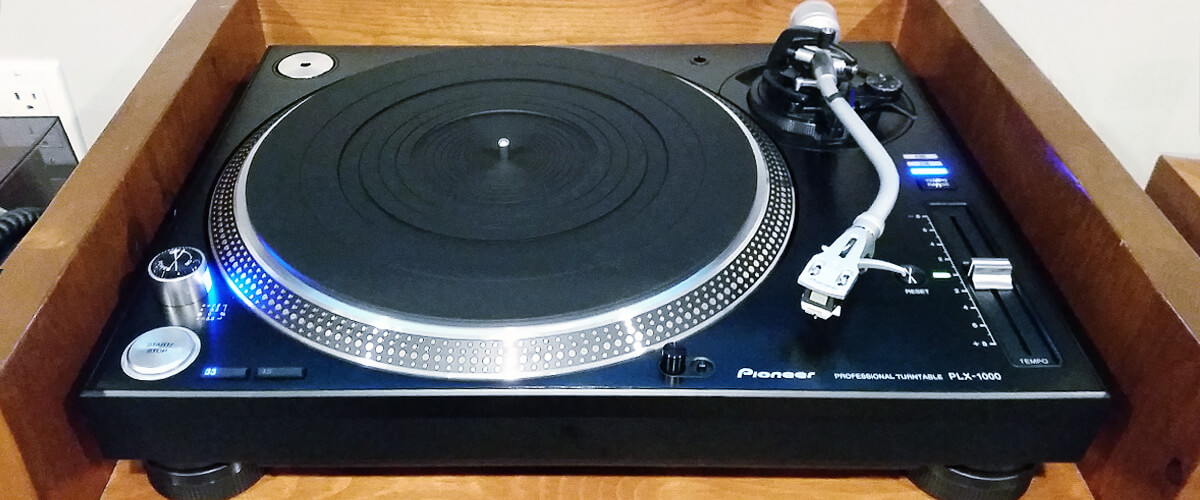 Another feature that comes in handy for you as a DJ is the Tempo slider with a pitch reset button, with which you select the pitch range of +/- 8, 16, or 50%. And the rest of the button controls are simple for quickness during performances, and there's even a backlight for easier orientation in the darkness of the disco room.
So, I got ready to listen to the sound of divine melodies, put on Radiohead, OK Computer, turned it on, and almost lost my eardrums from the hum! Apparently, it's also something "professional" when the PLX-1000 stands too close to the speakers. No, no, you don't have to do that. After pushing the speaker to a safe distance, I didn't notice how the time flew by, fully immersed in the tunes of my favorite band. The tone, beat, dynamics, and rhythmic mid and low frequencies were deep, clear, and clean.
I hasten to conclude that the Pioneer PLX-1000 is a quality DJ player for excellent money and a worthy alternative to more expensive decks. But even if you're buying the turntable for your home, its quality will serve you well, both in longevity and in the sounds that fill it.
Key specs
Drive type: direct.
Operation type: manual.
Speeds, RPM: 33 1/3, 45.
Phono Pre-Amp: no.
Speakers: no.
Bluetooth: no.
USB: no.
AUX: no.
Pros
The heavy weight provides incredible stability when operated.
Drive method: quartz lock, servo drive, direct drive.
An S-shaped tonearm is more accurate than a straight drive.
Ability to install any cartridge you like.
Professional push-button control with backlighting, including Tempo slide control.
Cons
No cartridge or needle is included; you must buy one separately.
Strong hum when the speakers are close to each other.
Audio-Technica AT-LP7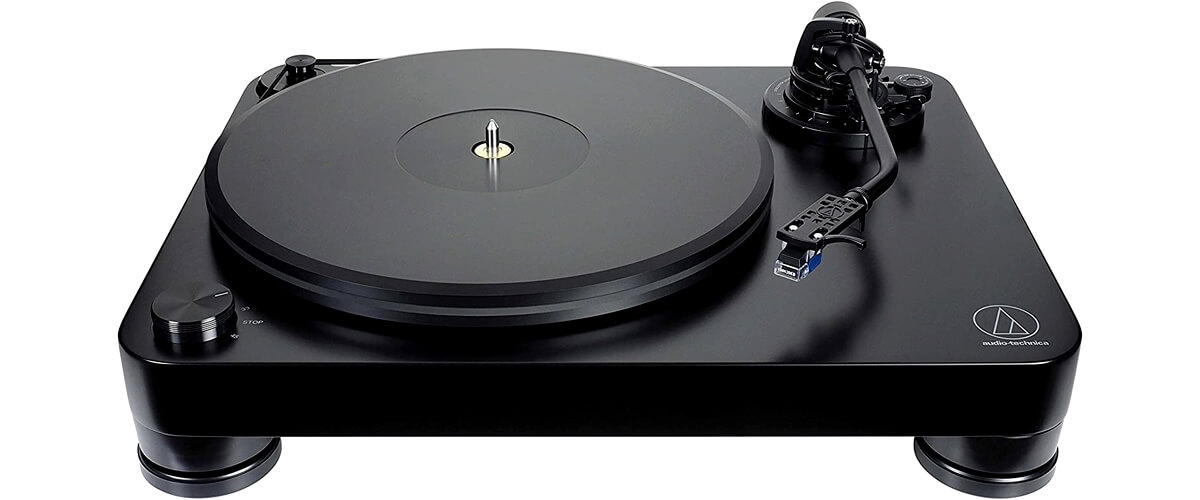 If the Pro-Ject Debut Carbon EVO was still semi-automatic, the Audio-Technica AT-LP7 is completely manual, but like the EVO, it has a belt drive. In general, in my rating, only Pioneer PLX-1000 has direct drive, so I will not dwell on it anymore. And although I'm not a beginner, I prefer automatics either, so don't take it personally.
Externally AT-LP7 has a simple MDF plinth without any frills of a small shape, completely black and matte, and the platter is made of polyoxymethylene with 20 mm thickness.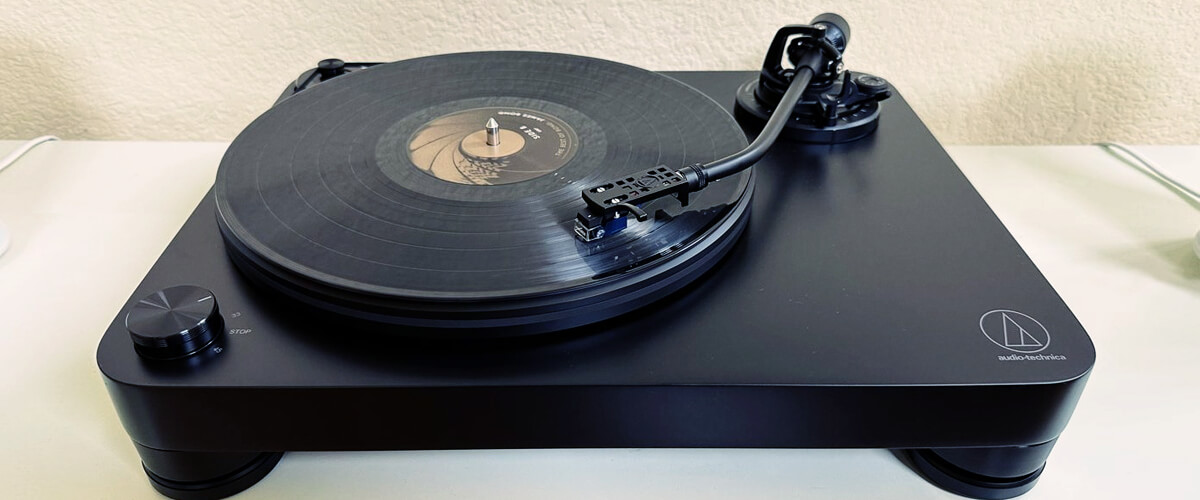 Unlike the Carbon EVO, the AT-LP7 has two speeds of 33 1/3 and 45 rpm instead of three and a J-shaped tonearm with a metal gimbal instead of a straight one. That's a big plus for me because I appreciate curved tonearms. Also, you can always replace the VM520EB with the double-moving magnet that comes with a turntable with any other VM. That's the brand's thing; the replaceable cartridges are available in a wide range. There's also a built-in phono stage, which is great for those who want to get "plug and play" equipment without too much expense. Moreover, you can install a more audiophile-level MC cartridge and change the phono preamp operation for both cases.
As for the sound of the AT-LP7, Audio-Technica didn't let me down. The brand's turntables always perform consistently well. I listened to Horses and heard everything I needed: crisp beats, clear midrange, no ringing on the tops, and all the nuances of Patti Smith's distinctive vocals.
If the best $1000 turntable needs to be reliable, with quality parts, upgradable and great sound, then this is the Audio-Technica AT-LP7. You won't need the extra cost with it, but it will make you fully interact with it. But is that a bad thing when you and I are all such avid music fans?
Key specs
Drive type: direct.
Operation type: manual.
Speeds, RPM: 33 1/3, 45.
Phono Pre-Amp: no.
Speakers: no.
Bluetooth: no.
USB: no.
AUX: no.
Pros
The J-shaped tonearm with a metal gimbal provides more precision.
The VM520EB with a dual MM cartridge can be replaced with any other VM, including an MC cartridge.
The built-in phono stage makes a plug-and-play branch without any extra cost.
Cons
Only two record speeds.
It cannot be easy to control because it is fully manual.
Rega Planar 2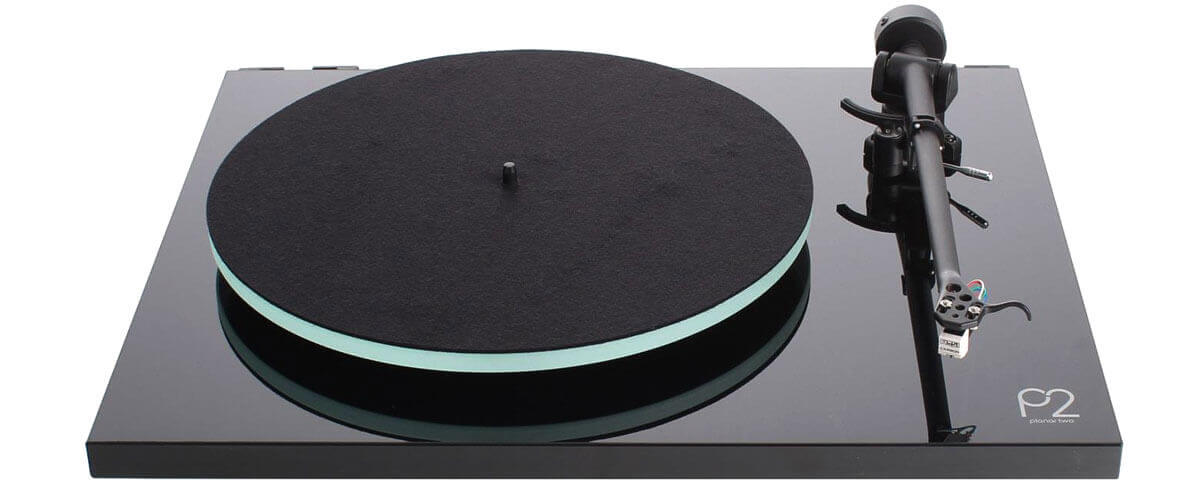 Can a high-end turntable be representative of the entry-level line? My answer is "Yes if it's a Rega turntable. Created in 1976, it got a new lease on life in 2016 as the Rega Planar 2 and has won millions of fans for its combination of mega quality and affordable price.
Externally and functionally, the Planar 2 is similar to the Debut Carbon EVO. The thin plinth is very resistant to vibration thanks to the anti-damped feet, and the only on/off button is hidden under the case. A 10mm 'Optiwhite' floating glass dish with an 11mm self-locking brass bearing provides additional weighting and anti-resonance. The turntable is manually operated but so simple that even a teenager can handle it because you're dealing with a straight 9-inch hand-assembled RB220 aluminum tonearm with ultra-low-friction ball bearings, and automatic offset adjustment, a Carbon Moving Magnet cartridge, a 24-volt, low noise motor and an EBLT belt drive for two-speed changes. The Planar 2 does not have a phono stage, though, which at this price point is an additional cost.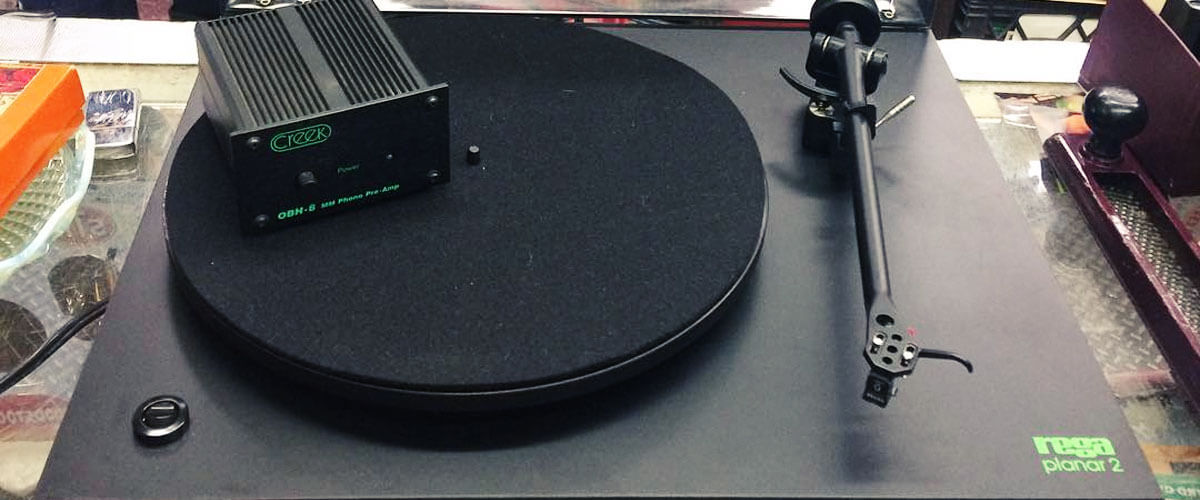 Rega's sound is unmatched among turntable manufacturers. Maybe absolutely everyone won't say so, but I think so. So when I turned on the Planar 2 and put on my most precious record (without any fear of damaging it), Rumours, Fleetwood Mac, I experienced some excitement at the first chords of The Chain… The sounds of the guitar, Stevie Nicks' voice, and even her tambourine sounded like they were right next to me, voluminous, powerful, and deep, filling the room with bass and high tones of the song. With the caveat of belonging to a certain wench category, it was almost perfect.
I have some reverent respect for the Rega, and I would call the Rega Planar 2 – understated chic or just the best audiophile turntable on my list. All the parts are made with a deep sense of professionalism, albeit with some simplicity. It can satisfy even a sophisticated fine ear.
Key specs
Drive type: belt.
Operation type: manual.
Speeds, RPM: 33 1/3, 45.
Phono Pre-Amp: no.
Speakers: no.
Bluetooth: no.
USB: no.
AUX: no.
Pros
Excellent vibration resistance despite the outwardly fragile construction.
24-volt motor with a low noise level.
The Optiwhite 10mm floating glass dish is one of the most reliable and durable.
The extended tonearm provides excellent sound pickup.
Cons
No built-in phono stage; additional investment is required.
Denon DP-450USB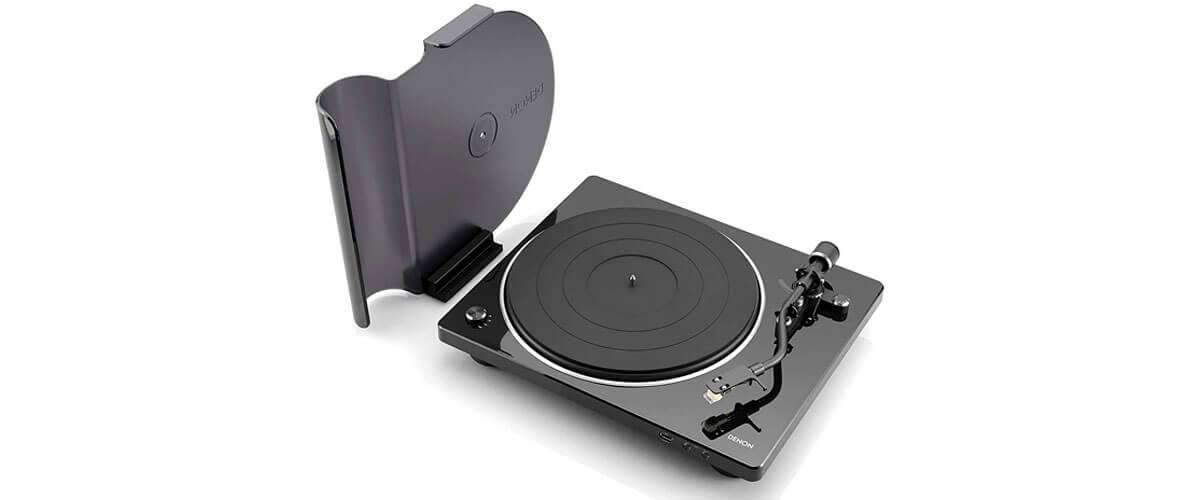 The Denon DP-450USB is essentially the same as the Denon DP-400 with a DC motor, only with the function of recording tracks from records to a USB memory stick in MP3 or WAV format. It has an interesting protective cover design that you don't have to lift while operating this semi-automatic turntable (there's a knob for switching speeds). But there are problems with stability (weight 12 pounds), so try to choose as flat a surface as possible so the records do not rattle while playing, although the heavy platter somewhat compensates for this drawback.
On the plus side, the Denon DP-450USB has an S-shaped tonearm equipped with a Denon MM cartridge with a DSN-85 stylus with a diamond tip. It's a nice mid-range, but its main advantage is that it's replaceable. And you can also install an MC cartridge, but the built-in phono stage won't work with it. There is an auto-off function, which can also be disabled, and a mode switch called Phono Equaliser (actually, it just activates the line signal in On mode).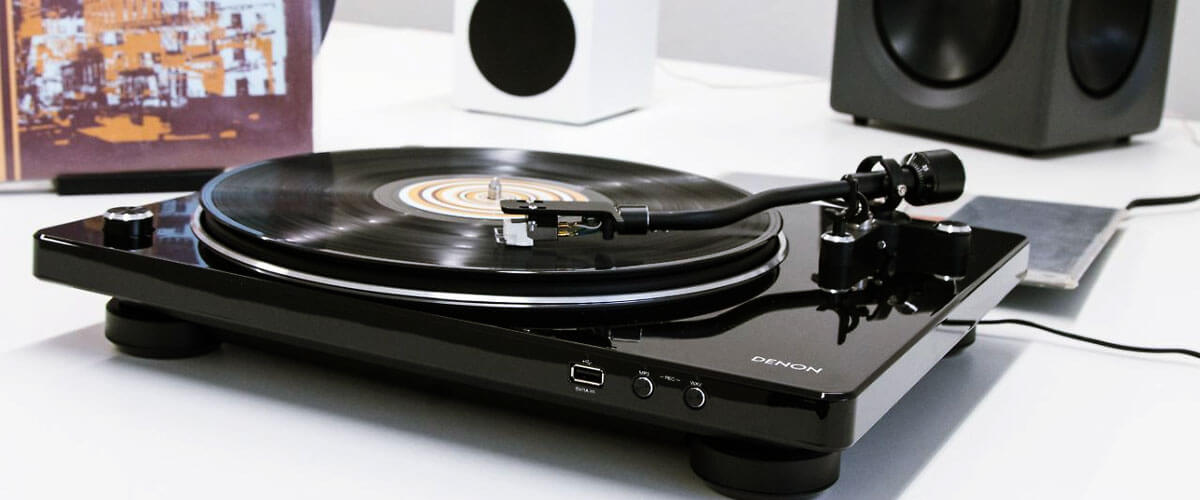 In operation, this belt drive turntable proved to be excellent. And though I don't trust too many manufacturers who don't focus all their attention solely on turntables and their parts, I must say that Denon – DP-450USB sounds great. After all, they know a lot about sound. I listened to Queen, AC/DC, Nina Simon, and a few other challenging artists to find flaws, but there were none. In the sense of outright crap. No. The sound was clear at all frequencies, quite detailed, enveloping warmth, and just plain quality.
Are you looking for a quality record player for reasonable money with modern features and upgradability? Then, you will find it in the guise of the Denon DP-450USB. It is a great plug-and-play turntable for your system, simple and straightforward.
Key specs
Drive type: belt.
Operation type: semi-automatic.
Speeds, RPM: 33 1/3, 45.
Phono Pre-Amp: yes.
Speakers: no.
Bluetooth : no.
USB: yes.
Aux: no.
Pros
Record tracks from records to a USB drive.
The S-shaped tonearm is better than the straight one.
Good quality cartridge and can be replaced.
Automatic turntable shutdown.
Cons
Lightweight, not resistant to vibration.
The built-in phono stage does not work when the cartridge is changed to MC level.
FAQ
What is the difference between a manual and automatic turntable?
The main difference between a manual turntable and an automatic turntable is how the tonearm moves onto the record. With a manual turntable, you have to lift and place the tonearm on the record yourself, while an automatic turntable has a mechanism that moves the tonearm onto the record for you.
How often should I clean and maintain my turntable?
Regular maintenance
is necessary to keep the turntable functioning properly and ensure your vinyl collection's longevity. Therefore, I clean the stylus after each use and the entire turntable and tonearm every few weeks.
Can I connect my turntable to a wireless speaker system?
Some turntables are equipped with Bluetooth, which allows you to connect the record player to a wireless speaker system. However, if your turntable is not equipped with Bluetooth, you can still connect it to a wireless speaker system using a Bluetooth transmitter.